Niese makes start as wife gives birth
Mets left-hander allows six runs over three innings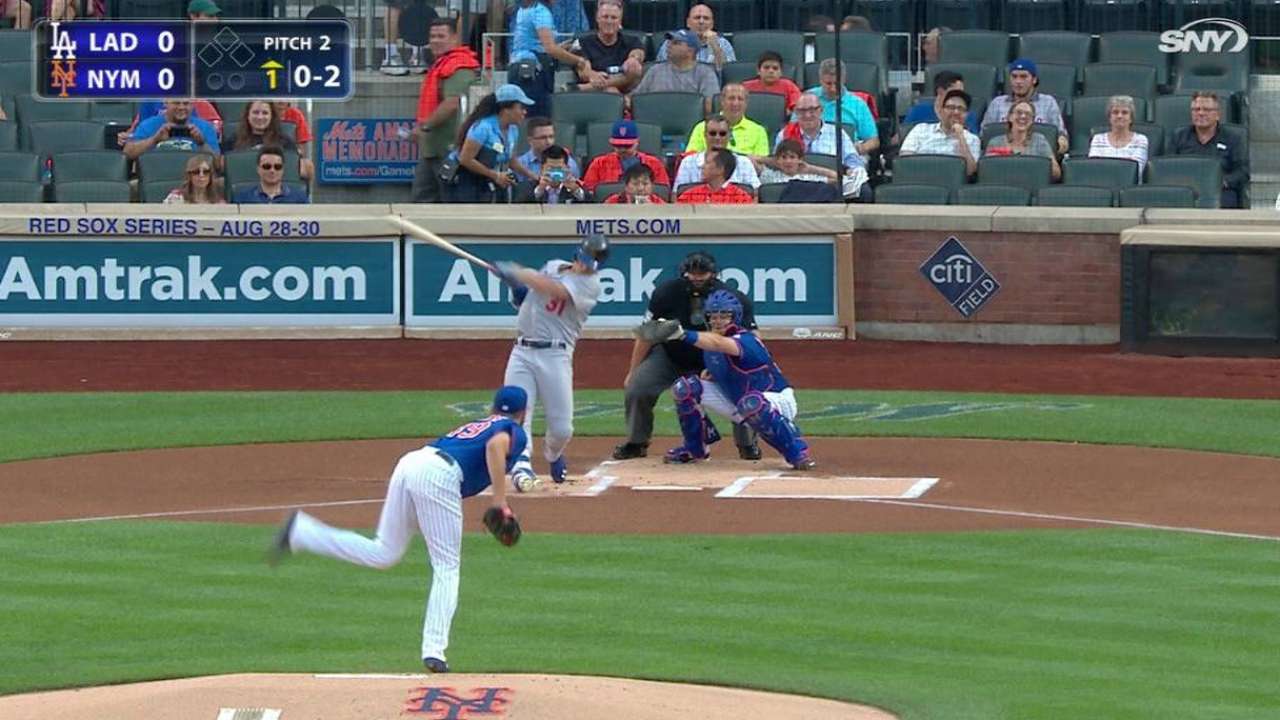 NEW YORK -- Jon Niese will surely remember Friday night, but he may try forgetting the game, a 7-2 loss to the Dodgers at Citi Field. With his wife, Leah, about to deliver the couple's second child in Toledo, Ohio, Niese spent Thursday afternoon more than 500 miles away unsure if he would even pitch at all.
As late as batting practice the Mets weren't sure if Niese would start or become the second pitcher in this series to require the paternity list -- Dodgers righty Zack Greinke was scratched from Friday's game on Thursday to attend the birth of his first child.
Instead, Niese became the second Mets pitcher to become a father while appearing in a game this season when he watched on FaceTime from the dugout as Leah gave birth to a boy. Jeurys Familia earned a save June 12 while his fiancée gave birth to a boy named Jeurys Jr.
"I know he wanted to be with his wife, especially today," catcher Kevin Plawecki said of Niese. "It showed his character to even want to be here and compete, and I think he gave 110 percent and that's all we can ask."
That effort didn't translate into results. The veteran lefty finished just three innings, his shortest start of the season, allowing eight hits and six earned runs.
"I wouldn't be at all surprised if [the birth] played a fairly large factor," Mets manager Terry Collins said of Niese's performance. "He was on call up until about 5 o'clock, when he determined he wanted to pitch. Probably later than that, like 5:30."
Niese entered play cruising with a 2.01 ERA over his last seven starts and two wins in his last three outings. But nothing was working Friday. Former Mets infielder Justin Turner opened the scoring with an RBI double off a two-seamer in the first inning, and he crushed another two-seamer for a solo homer in the third. Two batters later, Yasiel Puig tagged a changeup for a two-run shot to make the score 6-0. Niese did not return after the inning.
He headed to the airport.
Joe Trezza is an associate reporter for MLB.com. This story was not subject to the approval of Major League Baseball or its clubs.