MLB.com Columnist
Fred Zinkie
Twins trio ready to take cuts vs. CC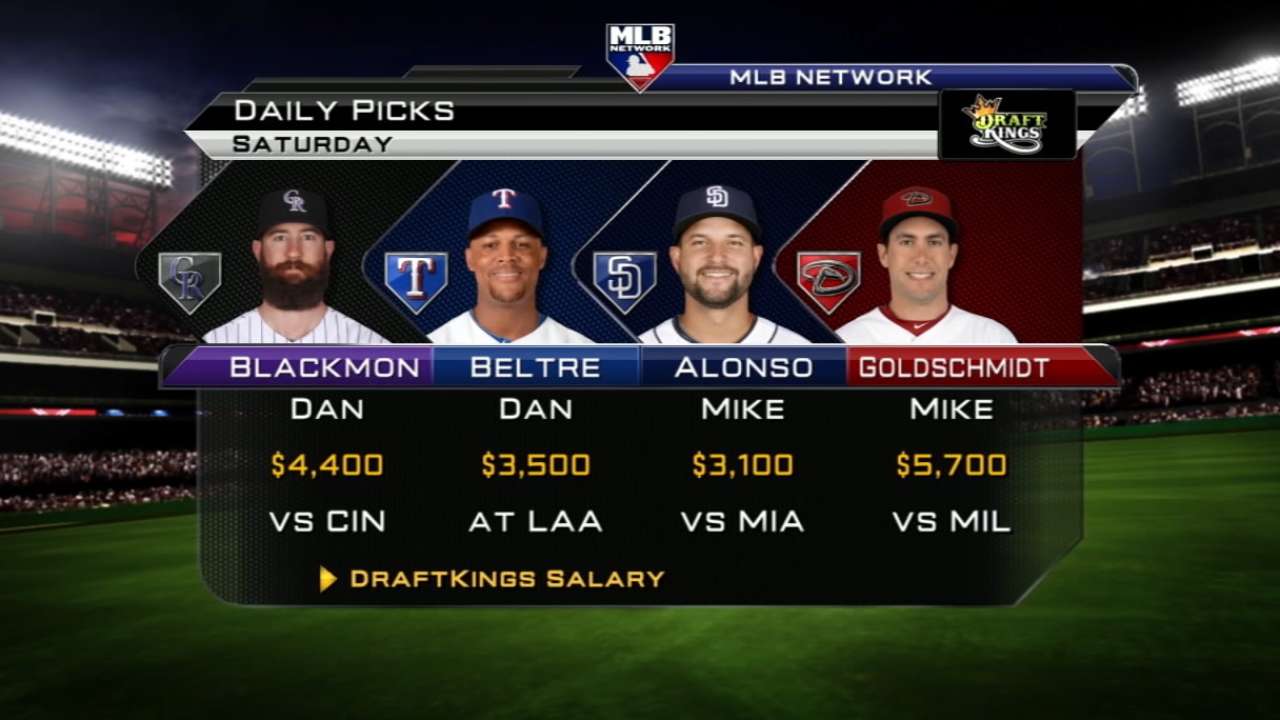 Welcome to DraftKings fantasy baseball, the Official Daily Fantasy Game of Major League Baseball.
The players listed below could provide difference-making stats for DraftKings participants today.
Brian Dozier (Twins): With 20 homers across 367 at-bats, the second baseman has been the most powerful player at his position this season. Dozier could smack another homer when he brings his lifetime .856 OPS against left-handers (.696 vs. righties) into a matchup Yankees southpaw CC Sabathia, who has allowed 57 long balls across 58 starts since the outset of 2013.
Trevor Plouffe (Twins): With a lifetime .803 OPS against left-handers (.703 vs. righties), the third baseman is another candidate to put one of Sabathia's offerings into the outfield seats. DraftKings participants could stack Plouffe with Dozier in hopes that the former can drive in the latter on multiple occasions.
Torii Hunter (Twins): Having compiled 14 homers across 325 at-bats this season, the outfielder is on pace for his most powerful campaign since 2011. Hunter could add to his season-to-date production totals at the expense of Sabathia (5.25 ERA, 1.40 WHIP in 2015).
Adam Lind (Brewers): In his career, Lind has handled right-handers to the tune of an .867 OPS (.589 vs. lefties). Hitting .289 with 16 homers and 58 RBIs across 311 at-bats this season, the first baseman could have a productive game when he faces D-backs righty Rubby De La Rosa (career 4.54 ERA, 1.41 WHIP) at hitter-friendly Chase Field.
Scooter Gennett (Brewers): The second baseman owns some of the most lopsided lifetime splits in baseball, with an .829 OPS against right-handers that dwarfs his .296 mark vs. lefties. Facing De La Rosa (4.83 ERA, 1.32 WHIP in 2015) at Arizona's offense-inducing park, Gennett could be part of a Brewers stack that could also include Lind and outfielder Gerardo Parra.
Josh Donaldson (Blue Jays): With a career .297/.374/.593 slash line against left-handers, the third baseman has proven to wield a potent bat in those matchups. Donaldson could post difference-making statistics when he faces Mariners southpaw J.A. Happ (career 4.23 ERA, 1.38 WHIP).
Russell Martin (Blue Jays): Martin has long fared best vs. left-handers, against whom he has a lifetime .807 OPS (.743 vs. righties). The catcher could provide production at a premium position when he faces Happ (1.34 WHIP in 2015). Martin may also score several times as part of a productive lineup, as the Blue Jays lead the Majors with an .836 OPS against southpaws.
Danny Valencia (Blue Jays): The slugger owns notable lifetime splits, with an .865 OPS against left-handers in comparison to a .637 mark vs. righties. Valencia could be part of a Blue Jays stack against Happ that may include Donaldson, Martin, Jose Bautista or Kevin Pillar.
Marlon Byrd (Reds): With a career .805 OPS against left-handers (.743 vs. righties), the outfielder could be in prime position to hit his 17th homer of the season when he faces southpaw Chris Rusin (lifetime 4.58 ERA, 1.48 WHIP) at offense-inducing Coors Field. Byrd could also excel late in the game against a Rockies bullpen that ranks last in the Majors with a 4.64 ERA.
Brandon Phillips (Reds): The second baseman will be in position to improve on his lifetime .800 OPS against left-handers (.718 vs. righties) when he faces Rusin (1.49 WHIP in 2015) at Coors Field. Of note: Phillips and his teammates will attempt to put balls into play against a Rockies defense that ranks 27th in the Majors with a .676 defensive efficiency ratio.
Jose Altuve (Astros): With a lifetime .346/.391/.485 slash line against left-handers, the second baseman has proven to be among the best in baseball in those matchups. Altuve may reach base often or score multiple runs when he squares off with Royals southpaw Danny Duffy (career 1.37 WHIP).
Carlos Correa (Astros): Having compiled eight homers and five steals across 166 plate appearances, the rookie shortstop has been a major factor in recent DraftKings contests. With a .321/.371/.625 slash line against lefties in his brief career, Correa could contribute in multiple ways when he meets up with Duffy (4.24 ERA, 1.47 WHIP in 2015).
Jake Arrieta (Cubs): Having produced a 2.70 ERA and a 1.01 WHIP since joining the Cubs during the 2013 season, Arrieta has established himself as an ace-level starter. He could continue to dominate when he works at home against a Phillies lineup that ranks last in the Majors with a .649 OPS against right-handers.
Ian Kennedy (Padres): With a 4.78 ERA, the right-hander could be a cost-effective option for DraftKings participants when he works at his pitcher-friendly home park against a Marlins lineup that ranks 26th in the Majors with a .664 OPS against righties. Of note: Miami will be without offensive centerpiece Giancarlo Stanton, who is on the disabled list.
Chris Sale (White Sox): With a 163-to-24 strikeout-to-walk ratio, Sale has put himself in the discussion as the most dominant pitcher in baseball. The southpaw will be primed for another stellar start when he squares off against an Indians lineup with many left-handed hitters. In his career, Sale has dominated same-sided batters to the tune of a .510 OPS against (.649 OPS allowed to righty batters).
Carlos Martinez (Cardinals): Having produced a 2.51 ERA with 115 strikeouts across 111 1/3 innings, Martinez has been among this season's breakout pitchers. The right-hander has the stuff to silence a light-hitting Braves lineup that ranks last in the Majors with 58 homers and will be without centerpiece Freddie Freeman, who is on the disabled list. Once he leaves the game, his quest for a win may be helped by a St. Louis bullpen that sits second in the Majors with a 2.37 ERA.
All statistics are accurate through the completion of Thursday's games.
Fred Zinkie is the lead fantasy baseball writer for MLB.com. Follow him on Twitter at @FredZinkieMLB. This story was not subject to the approval of Major League Baseball or its clubs.