Competitive Cashner escapes jam in seventh
Padres starter persuades manager to let him finish inning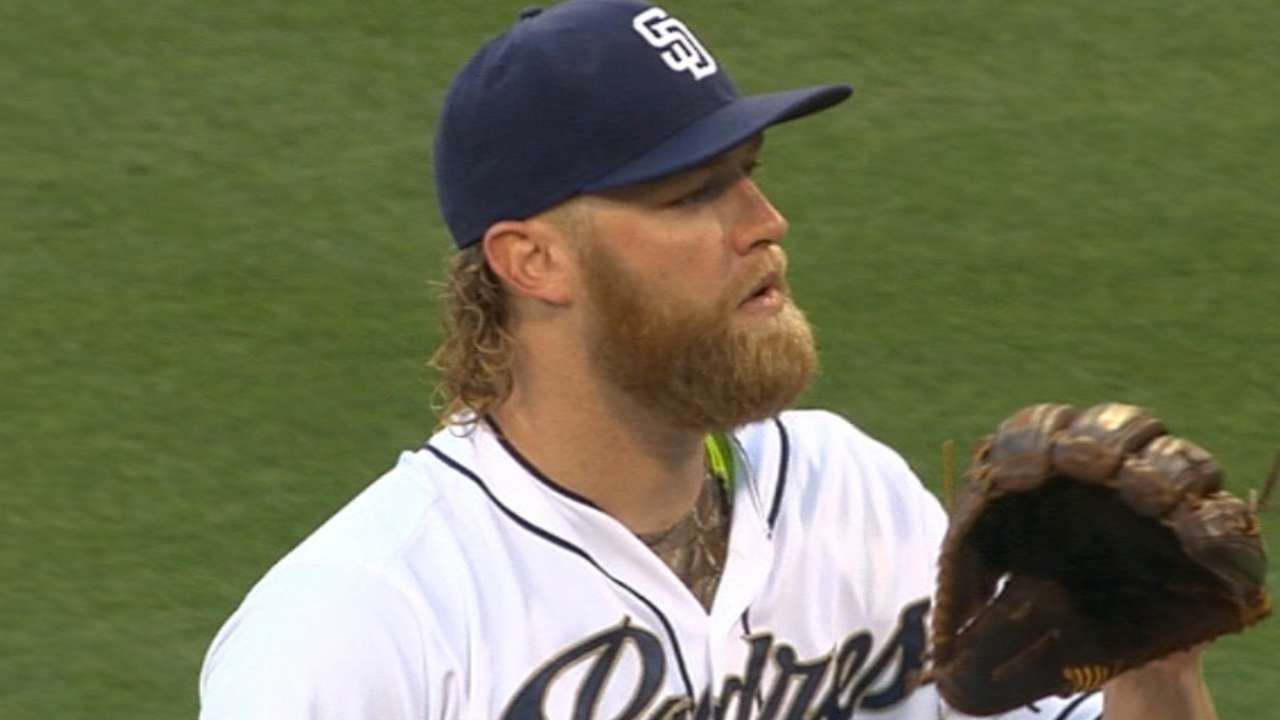 SAN DIEGO -- Andrew Cashner picked up his first win since July 3 and helped the Padres snap a three-game losing streak as they defeated the Marlins, 3-1, on Friday night.
The right-hander had a shaky first inning, walking the leadoff hitter Ichiro Suzuki, who then stole second base. After striking out the next two batters, Justin Bour hit an RBI double, the only run Cashner would allow.
Cashner pitched seven innings, allowing five hits and striking out five.
"What I saw from him tonight was a guy that gave up a run in the first after a leadoff walk and then settled down and was just on it," interim manager Pat Murphy said. "You know we taxed our bullpen pretty good and we were just looking for an opportunity to keep him in there."
But it wasn't without extra pressure that Cashner would allow only one run. In the fourth and sixth innings Cashner got out of jams with runners in scoring position and two outs.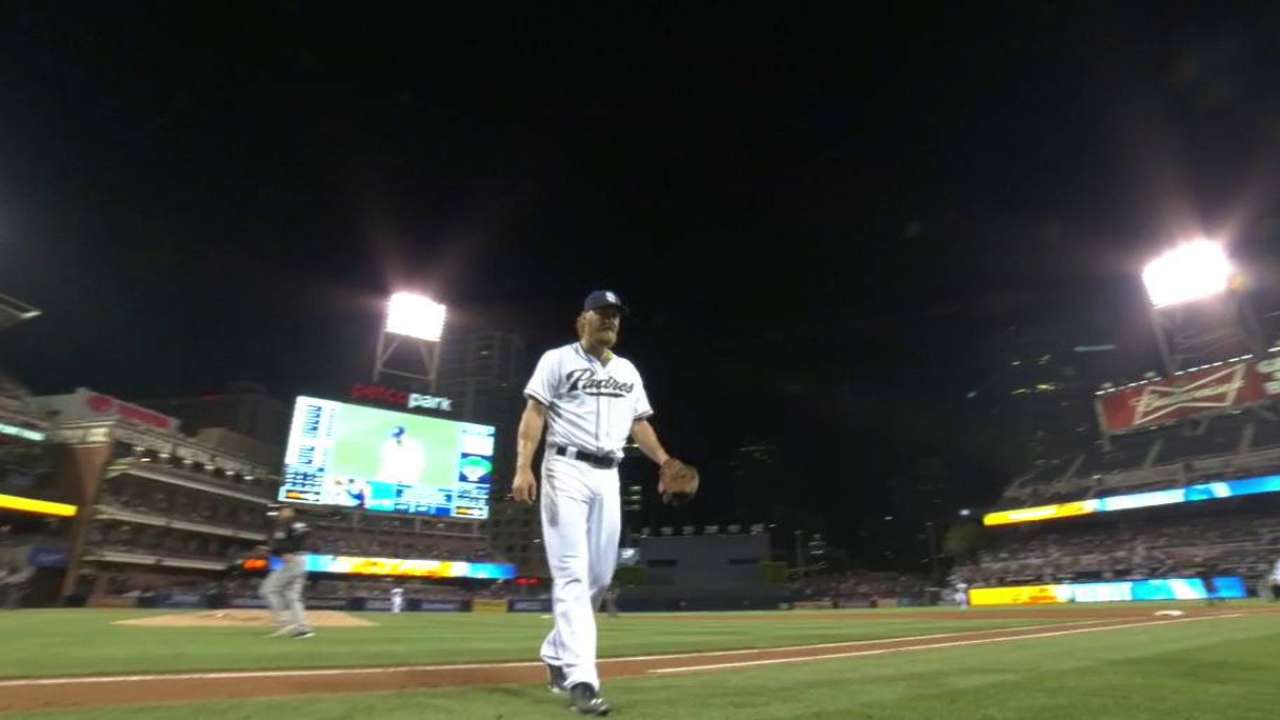 "I had a really good command of that fastball today. I made some mistakes in the first inning but was able to settle down," Cashner said.
However, the seventh inning would prove to be another test for Cashner.
Cole Gillespie hit a triple to start out the inning. That prompted Murphy to visit the mound, but was greeted by an adamant Casher, who wanted to continue in the game.
"When I went out in the seventh, he looked me right in the eye and said 'I got this.' ... And he got to me early and his teammates said 'Yeah we can do this,'" Murphy said. "It was a great moment in the game and he got out of it. You show trust in him like that and he responds and it's all about trust.You trust a player and things work out sometimes."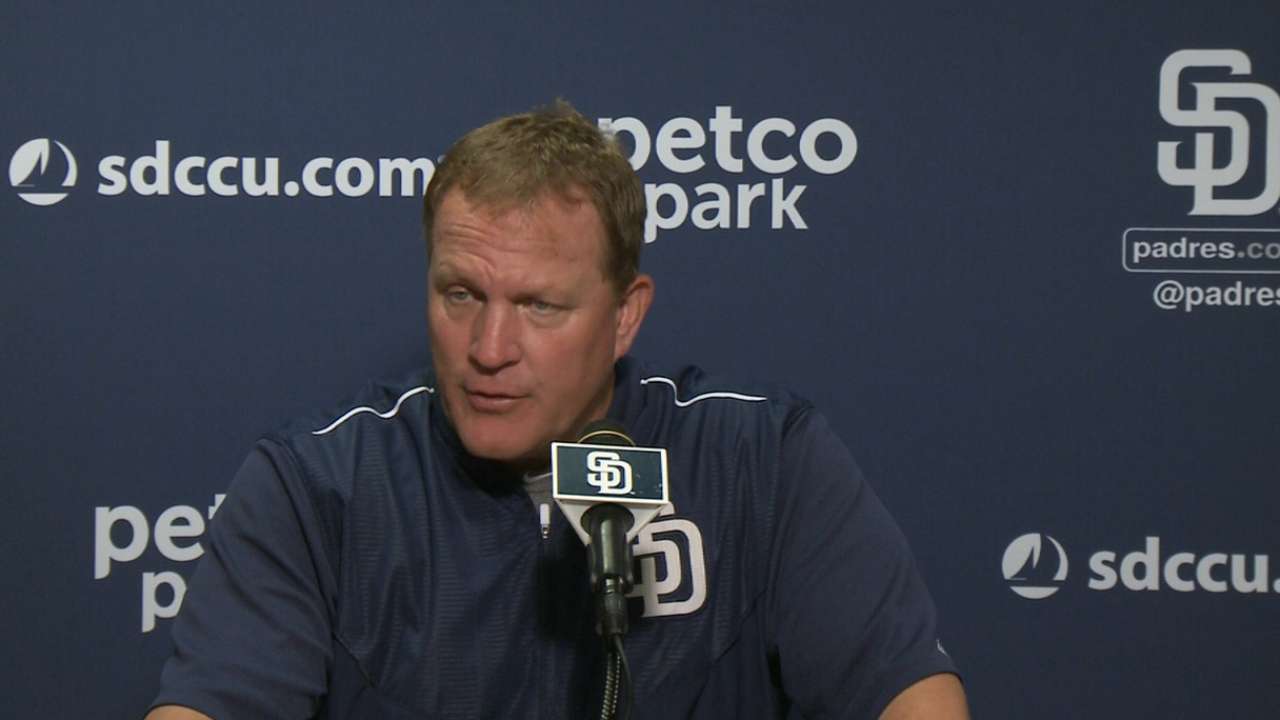 Cashner also received support from his teammates, as many came to join the discussion on the mound before Murphy headed back to the dugout.
"When he came out, Cash wanted to stay back in there and we had his back," first baseman Yonder Alonso said. "I think the whole infield had his back. He was throwing some pretty good pitches, he had some good velocity still on his fastball. You look here in this clubhouse, he is one of our biggest competitors. He does grind and I feel like it was really good for him and good for this team."
After striking out the next two batters, Derek Dietrich took first base after being hit by a pitch. But second baseman Jedd Gyorko was there to catch Suzuki's line drive for the last out.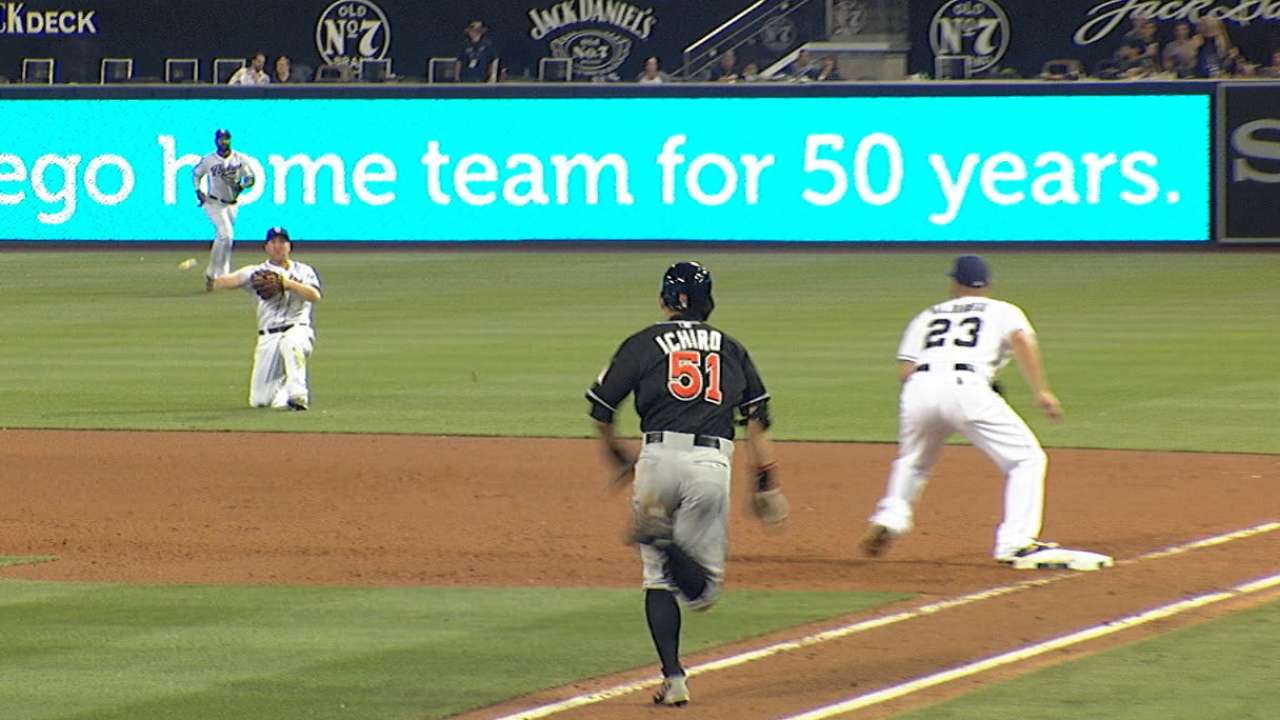 "I just felt like I had some good stuff and I just told him I could get out of this. You know he trusted me and left me in there," Cashner said about his conversation with Murphy at the mound. "I felt like where I was at in the game and the way I was holding up, I felt like I could stay in there and get out of it."
After having his start cut short Sunday by a rainout against the Rockies, Cashner has a 3.93 ERA in his last six starts.
"I feel like I have had a good feel for the last six, seven starts," Casher said. "It's just, keep building off that and keep getting better each time I go out."
Beth Maiman is an associate reporter for MLB.com. This story was not subject to the approval of Major League Baseball or its clubs.