Hamilton opens up before Angel Stadium return
ANAHEIM -- The right-center-field fence sits 365 feet from home plate at Angel Stadium, with a scoreboard that raises it about 15 feet above the ground and a marine layer that knocks baseballs down on most summer nights. Hitters have often said it is the most difficult place here to drive the ball. And few know that better than Josh Hamilton, the left-handed-hitting slugger who came to bat at Angel Stadium 188 times last season and never once managed a home run.
Hamilton made his return to Southern California in a 4-2 Rangers win on Friday, with a new team and a new perspective, and was asked if the intimidating dimensions of the ballpark seeped into his mind when he played for the Angels.
"I think there's a lot of other things that seeped into my mind other than hitting the ball out of the ballpark," Hamilton said, before batting sixth and playing left field for the Rangers. "I think it's more off-the-field things that were going on that I kind of carried into the field. You've got that, and you're not performing how you want to perform, all these things can wear on you and you start to search for things mechanically or whatever and try to do more and you actually do less."
Hamilton started five straight All-Star Games for the Rangers from 2008-12, batting .305 while averaging 28 home runs and 101 RBIs per season. Then he signed a five-year, $125 million contract with the Angels in December 2012, and then he did less -- far less.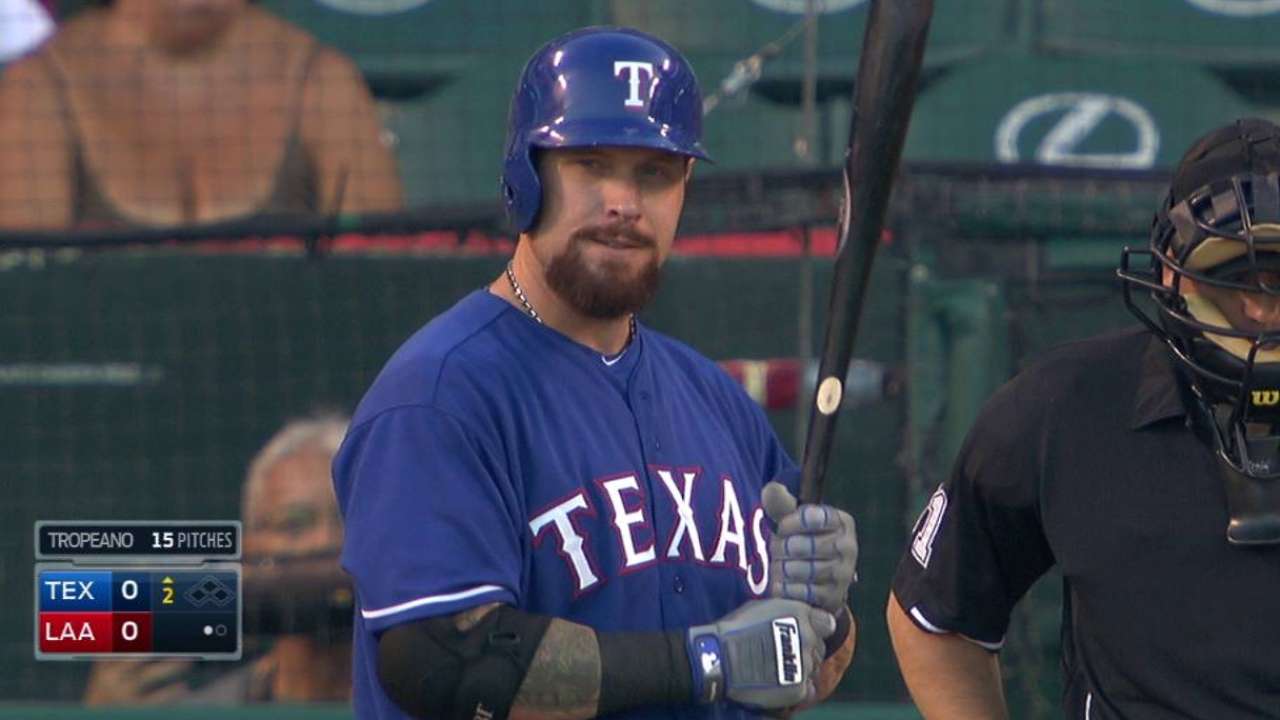 • Hamilton steps up despite Big A boo-birds
He needed a late push just to finish the 2013 season with a .250 batting average, and he finished the 2014 season batting .263, with 10 home runs and 44 RBIs. That was before sitting out the last two weeks of the regular season with ailments along his right side, and an 0-for-13 showing in an American League Division Series sweep to the Royals.
Hamilton went 2-for-4 in his first game back on Friday, hitting a single and a double, scoring a couple of runs and drawing the boos he was expecting.
"It wasn't too bad," Hamilton said postgame. "They booed me when I was there, they boo me when I'm not here."
Hamilton, a little more filled out than he was with the Angels, is still trying to find his way after a long rehab from shoulder surgery and a brief bout with a left hamstring strain. He entered the weekend series batting .273 over his last five games, though, and said "physically, I'm getting there."
"I hate the way things went down, I hate the way they happened," Hamilton said of his time with the Angels.
But it ends there. Shortly after the April 27 trade, Angels manager Mike Scioscia said he was "disappointed" that Hamilton didn't show any "accountability" toward owner Arte Moreno and his ex-teammates in the news conference that re-introduced him to the Rangers.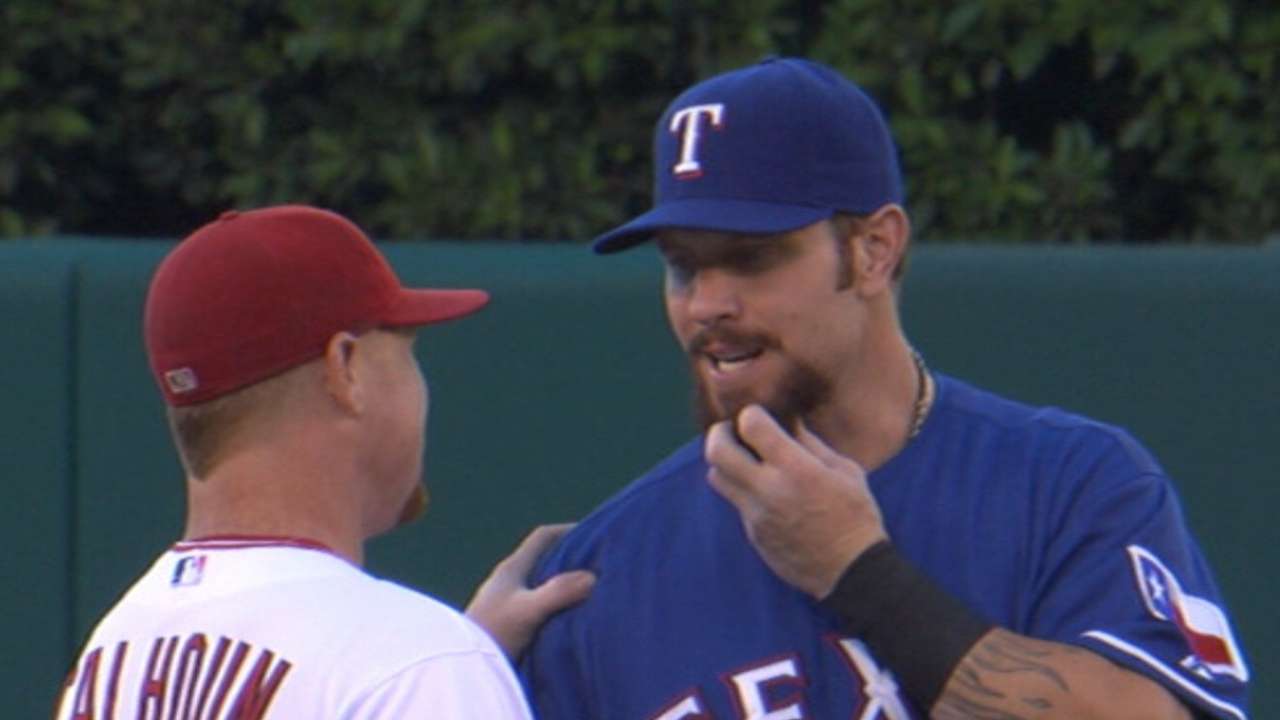 "I don't think I need to go to Arte and apologize for anything," Hamilton refuted. "I talked to many guys on that team, and they know where I'm at. They told me I don't owe them anything. So as long as I'm OK with those guys, then I ain't worried about anything else."
Hamilton said it was his decision to undergo surgery on his right AC joint on Feb. 3, because his shoulder started to hurt when his workouts became more intense and he didn't want to deal with it all year. He had the surgery, and right around that time he had a drug relapse. Then, a couple of weeks before the start of Spring Training, Hamilton checked in with the Angels about when to report.
"They said, 'Well, we don't want him to show up in spring,'" Hamilton said. "'He can rehab in Dallas; he can rehab in Houston; he can rehab in Timbuktu; just don't come here.'"
"When that comment was made," Hamilton added, "I felt like they were done."
Asked how that made him feel, the 34-year-old outfielder said: "A little frustrated, probably a little kind of scared, I guess you can say. Fearful, maybe, in terms of the certainty of what was going on. Because after that, there was really no contact.
"It never was like when I was in Texas. It never was that support, or wanting the best for him, or coming back, helping us win a championship, or anything like that."
Alden Gonzalez is a reporter for MLB.com. Read his blog, Gonzo and "The Show", follow him on Twitter @Alden_Gonzalez and listen to his podcast. This story was not subject to the approval of Major League Baseball or its clubs.