Rangers, Phils reboot Hamels discussions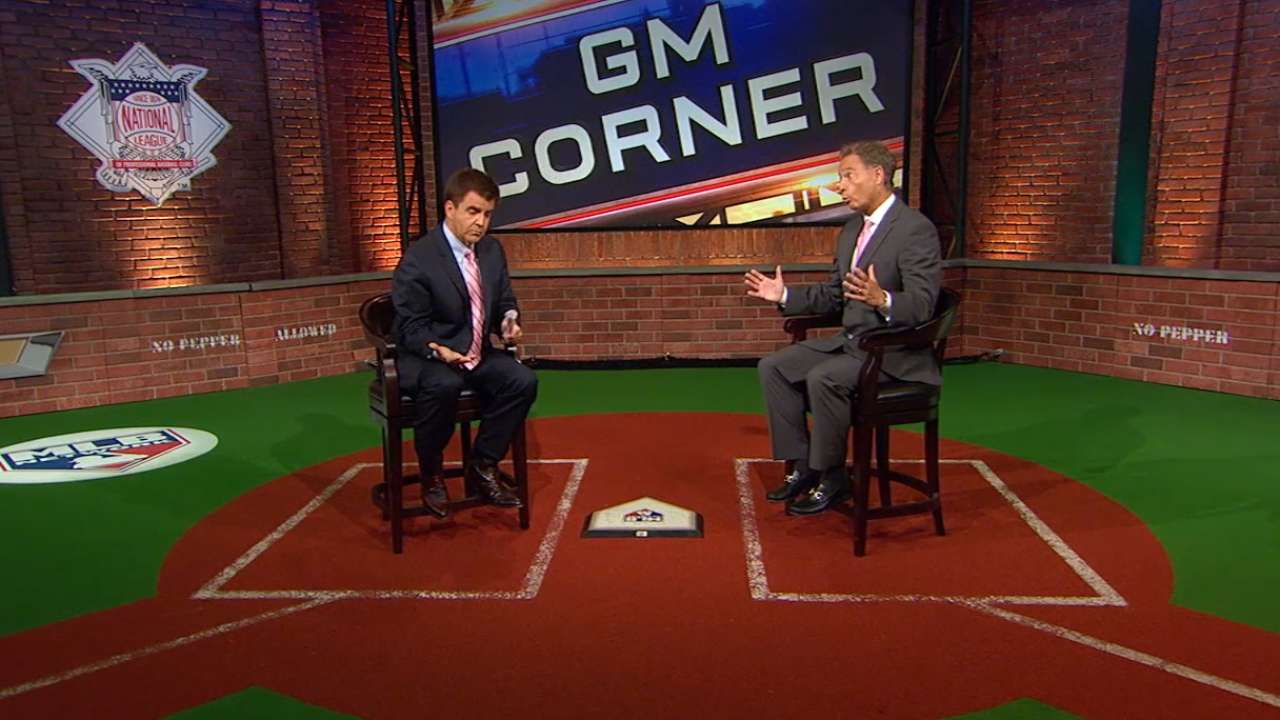 ANAHEIM -- The Rangers have re-engaged the Phillies in trade discussions concerning left-hander Cole Hamels. There is still no indication if a deal will get done because the Rangers remain uneasy about the quality of prospects they would have to give up and the size of the contract they would have to take.
But the talks appear to be back on because the Phillies like the Rangers' farm system and because Hamels is exactly what general manager Jon Daniels is looking for right now. Daniels would like to add a starting pitcher who would be with the Rangers for beyond 2015.
"Most of the guys we talked about are multi-year fits," Daniels said. "From an acquisition standpoint, guys that fit now and fit into our offseason plan. If we were to acquire starting pitching, it would much more looking at players beyond this year."
Hamels, who turns 32 in December, is signed through 2018 at $22.5 million annually. There is also a $24 million option for '19. Hamels is 5-7 with a 3.91 ERA in 19 starts but has allowed 14 runs in 6 1/3 innings over his last two starts. He is scheduled to pitch on Saturday and the Trade Deadline is 3 p.m. CT next Friday, July 31.
Daniels, meeting with the media before Friday's series opener vs. the Angels, declined to discuss specific trade possibilities.
"We have had conversations with clubs, and it's possible we could make a trade by the end of next week," Daniels said. "But making a trade is not the goal. We'll make a trade only if it helps us. I am not going to handicap it."
Yovani Gallardo is also scheduled to pitch Saturday. He will be on the mound for the Rangers against the Angels, and there is likely to be several interested teams watching.
Gallardo is a free agent after the season, and other clubs have expressed interest in trading for him. The Dodgers, Royals, Cubs and Blue Jays are among the teams looking for a starting pitcher.
"I'm trying not to think about it," said Gallardo, acquired from the Brewers in January. "If it happens, it happens. I understand the business side of the game. I have been traded once, it was the offseason. If it happens, I'll go out every fifth day and try to win for whatever ballclub it is."
The upside is Gallardo could be pitching for a playoff-bound team by the end of the next week.
"That was the goal here in Spring Training, and it hasn't worked out," Gallardo said. "We are still very confident in the team we have. We're not far behind, if you have 1-2 good weeks, you can find yourself on top again. I'm trying not to think about it. We still feel we're in it and have a chance to win."
Gallardo, who is from Fort Worth, said there have been no discussions about a multi-year deal beyond this season. He appears to be determined to test free agency.
"I like playing at home … good organization, good teammates," Gallardo said. "But being my first time as a free agent, I'm looking forward to it. Who knows what will happen. Even if I'm traded, I will still be a free agent."
Worth noting
• Right-hander Ross Ohlendorf's medical-rehabilitation assignment expires after Saturday, and the Rangers will then have 48 hours to make a decision on his status. He'll likely be added to the Major League roster but Daniels said the club needs to talk about it.
• Left-hander Derek Holland, on the disabled list with a torn muscle in his left shoulder, is scheduled to throw live batting practice on Saturday. If that goes well, he'll throw in a bullpen session in Arlington next week and then begin a rehab assignment.
• Catcher Carlos Corporan took batting practice on Friday for the first time since he went on the DL with a sprained thumb and said it went well. He is eligible to be activated on Tuesday and manager Jeff Banister said Corporan won't likely need a rehab assignment.
T.R. Sullivan is a reporter for MLB.com. Read his blog, Postcards from Elysian Fields, follow him on Twitter @Sullivan_Ranger and listen to his podcast. This story was not subject to the approval of Major League Baseball or its clubs.