With Castillo out, Hernandez gets 3rd straight start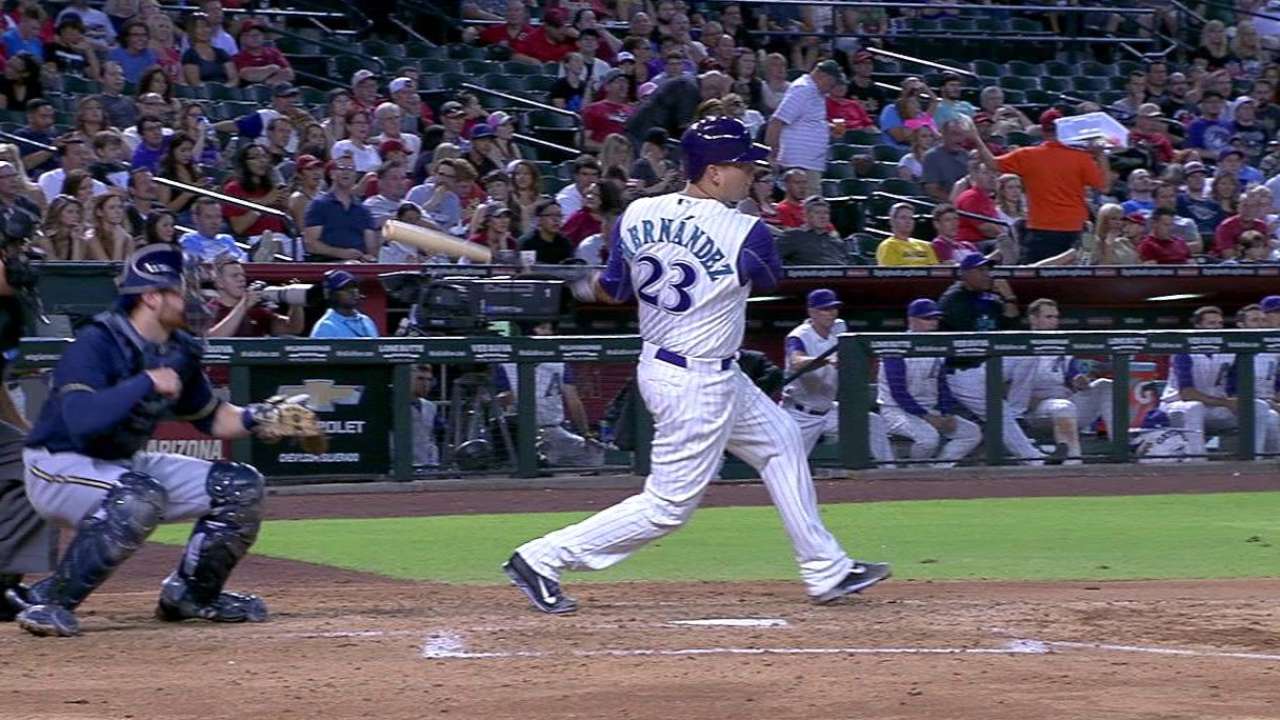 PHOENIX -- D-backs catcher Welington Castillo was out of the starting lineup for the third straight game on Friday night against the Brewers.
Castillo has dealt with left hamstring tightness, which he aggravated prior to Wednesday's game against the Marlins. D-backs manager Chip Hale said Castillo was at 80 to 90 percent healthy on Friday and that he should return to the lineup on Saturday.
"He's really close. He wanted to play, he probably could've played," Hale said. "We just felt like, give him another day and he'll be much better."
In Castillo's absence, rookie Oscar Hernandez has gotten more playing time, starting for the third straight night on Friday, when he went 1-for-2 with a walk in the D-backs' 2-1 loss. The D-backs' Rule 5 Draft selection had started just once prior to Wednesday since coming off the disabled list on July 4.
In Thursday's 8-3 win over the Brewers, Hernandez collected his first career RBI on a single in the fourth inning. However, Hale has said Hernandez's defense is his biggest strength and the D-backs want to keep the 22-year-old on the Major League roster all season.
While Castillo is out, Hernandez has worked with several D-backs starters for the first time. He caught Zack Godley in his big league debut on Thursday and then worked with Patrick Corbin for the first time on Friday.
Even though Hernandez has struggled offensively, Hale said that he has seen the young catcher's effort to get better.
"He realizes that part of the game isn't quite there yet with his defense," Hale said. "But we're seeing a lot of improvement, in batting practice he's been really working hard and we're really encouraged by some of the things he's doing."
Jake Rill is an associate reporter for MLB.com. This story was not subject to the approval of Major League Baseball or its clubs.