Twins, Plouffe prepare for baby's arrival
Third baseman's wife expected to deliver during homestand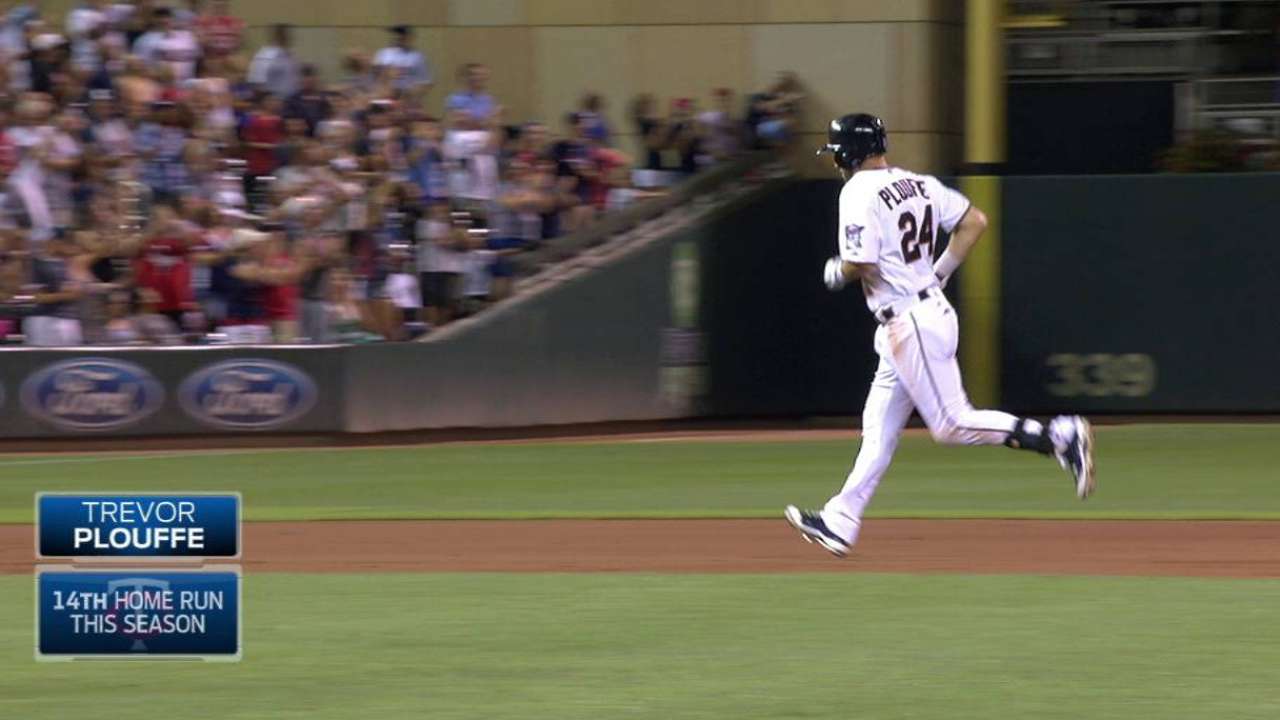 MINNEAPOLIS -- By the time the Twins' current homestand ends in early August, third baseman Trevor Plouffe expects to be a father. His wife, Olivia, is due Saturday, and Plouffe said the latest his firstborn, a son, is coming would be Wednesday.
"We're preparing as much as we can, but yeah, it is just a waiting game. It could be any moment, so it's a little nerve-wracking, but it's just exciting," Plouffe said before homering in Friday's game, a 10-1 Twins victory over the Yankees.
It's a situation made easier by the fact that the Twins are now back in Minnesota for a nine-game, 10-day homestand. They recently concluded six games in California.
"If I'm not by my phone, if we're playing the game, [director of team travel] Mike Herman's going to be my point man," Plouffe said. "If he gets the call, he's going to come get me. Luckily we're here now where it's not as drastic as it would have been if it happened in Anaheim."
The Twins have Monday off, but no matter when baby comes, the Twins will be ready and they'll adjust as necessary. If needed, the Twins can put Plouffe on the paternity list for up to three days.
"Whether he's going to take a day or maybe two or try to get out to the park, we haven't specifically talked about that," manager Paul Molitor said. "You just hope and pray there's no complications and things go well and he'll take the time that he needs to tend to something more important than baseball, and we'll go from there. I haven't thought about who's going to play or when, how we'll fill that spot when he's gone."
Rookie Miguel Sano, who has primarily served as the team's designated hitter since being called up, is a logical option. But Sano -- a third baseman by trade -- sprained his right ankle last weekend stepping on a ball and hasn't played the field since.
Molitor said Sano took grounders at third Friday for the first time since his injury and they're monitoring his situation. However, Molitor didn't think Sano would be his best option Friday.
"I don't think he's 100 percent to play defense," Molitor said.
Plouffe was in the starting lineup Friday night, batting fifth. For the time being, he's been getting tips from his teammates on balancing fatherhood during the season.
"It's really exciting. To think that my wife and I could bring a human into the world is surreal. I think it's cool that it's half me, half her," Plouffe said. "I just hope … to have as much of an impact on his life as my dad did on mine."
Betsy Helfand is an associate reporter for MLB.com. This story was not subject to the approval of Major League Baseball or its clubs.