Red-hot stretch continues for Francoeur
Veteran outfielder delivers winning HR, his third blast in eight days for Phillies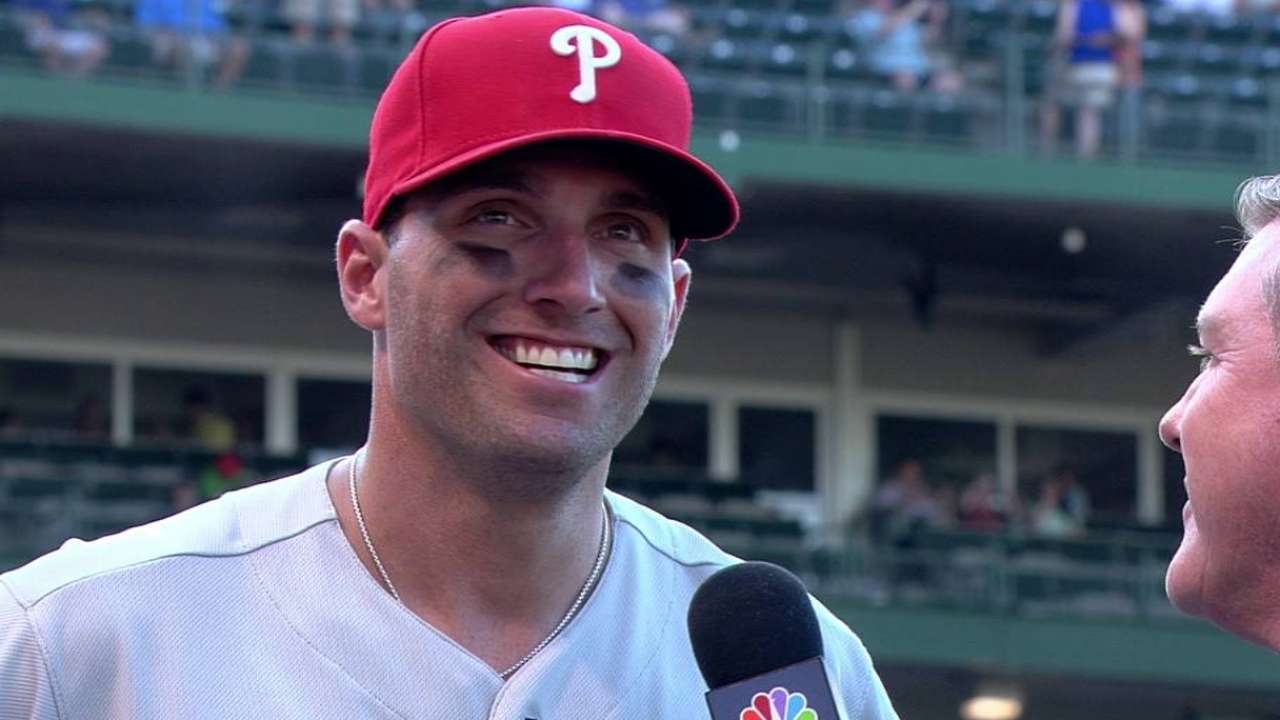 CHICAGO -- Jeff Francoeur said again Friday that he would like to stay in Philadelphia and even rejoin the Phillies next season. But he sure keeps playing like somebody who could help a contender down the stretch.
Francoeur hit a two-out, two-run home run in the 10th inning of a 5-3 victory over the Cubs at Wrigley Field. It was his third big homer in eight days as the Phillies improved to 6-1 since the All-Star break.
"I enjoy it here. I enjoy these guys," Francoeur said. "I enjoy playing with the young guys, and I would like to be part of this thing next year. I enjoy the role I'm in right now. It's fun coming here knowing that even when you don't play, there's a good chance you'll pinch-hit and have a chance to help the team win."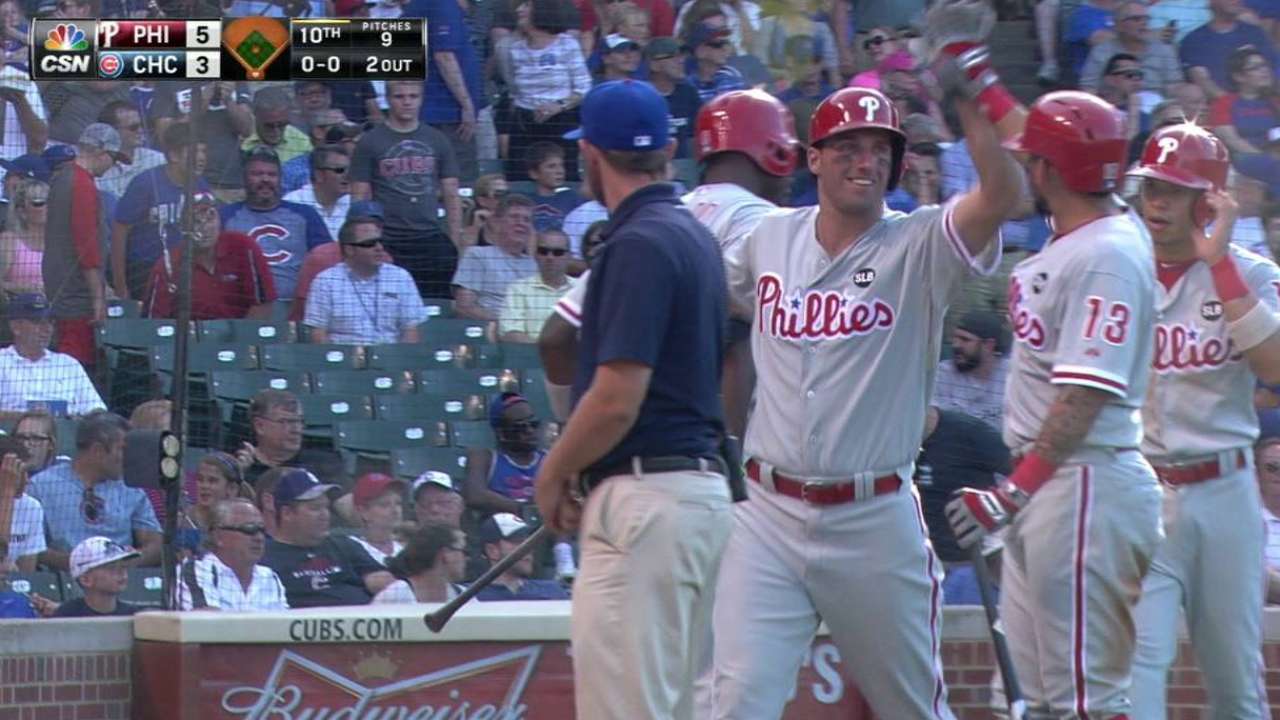 Francoeur hit a pinch-hit three-run shot in the eighth inning of a 6-3 victory over the Marlins on July 17 at Citizens Bank Park. He then hit a walk-off two-run home run in an 8-7 victory Sunday over the Marlins.
Francoeur is hitting .265 (52-for-196) with 11 doubles, one triple, nine home runs, 33 RBIs and a .767 OPS in 73 games. He is hitting .417 (8-for-17) with two doubles, one home run and nine RBIs as a pinch-hitter.
These past eight days have been some of Francoeur's best in the big leagues in a few years.
"Absolutely," Francoeur said. "I remember when we were in Spring Training, I'd hear Charlie [Manuel]. The one thing he'd try to get back in me was confidence and relaxing myself. And when you're doing that, you give yourself an opportunity so you can kind of get out of your own way. The last year and the year before, I was always in my own head trying to do too much. Now it's just, 'Show up and have fun.' So far it's working out."
Frenchy's teammates are enjoying his renaissance.
"The pinch-hitting ... home-run hitting ... kiss stealin' ... wheelin' dealin' ... son of a gun ... woo!" Jonathan Papelbon belted in the tiny visitors' clubhouse after the game, rewording the Ric Flair speech that plays whenever Papelbon enters the game at Citizens Bank Park.
"Woo!" a few teammates responded.
Todd Zolecki is a reporter for MLB.com. Read his Phillies blog The Zo Zone, follow him on Twitter and listen to his podcast. This story was not subject to the approval of Major League Baseball or its clubs.