Braves deal Uribe, K. Johnson for Minors pitchers
Atlanta adds prospect Whalen, Georgia native Gant in exchange for veterans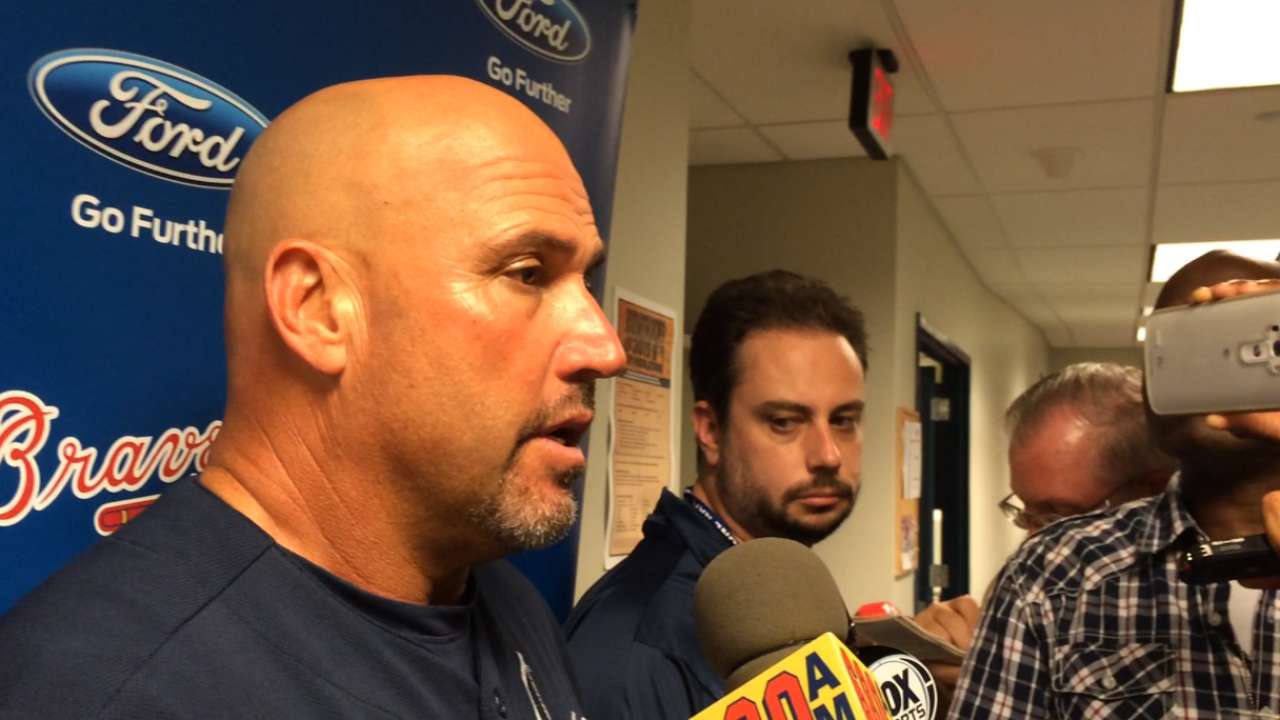 COOPERSTOWN -- The Braves began unloading some of their veterans, trading Juan Uribe and Kelly Johnson to the Mets in exchange for Minor League pitchers Rob Whalen and John Gant, the teams announced Friday night.
This will likely be the first of several moves the Braves make over the next week before the July 31 non-waiver Trade Deadline as they attempt to gain some value for their veterans who will become free agents at the end of this season.
Whalen has posted a 3.36 ERA in the 15 appearances (14 starts) for Class A Advanced Port St. Lucie. The 21-year-old right-hander has recorded 61 strikeouts and issued 34 walks in 83 innings. MLB.com had ranked him as the Mets' 18th-best prospect, and he's now the Braves' 24th-best.
Gant has posted a 3.52 ERA in 17 starts for Port St. Lucie and Double-A Binghamton this year. The 22-year-old Savannah, Ga., native produced a 1.79 ERA and recorded 48 strikeouts in the 40 1/3 innings he completed for Port St. Lucie before being promoted.
Rumblings of the move surfaced while the Braves were on the field for batting practice before a 4-2 loss at St. Louis.
"It's tough because, what, an hour, hour and 10 minutes before the game starts, you get pulled off the field, and this is going to happen and you've got to make some lineup changes and you get ready to lose two guys that are pretty good guys on our club," Braves manager Fredi Gonzalez said.
Atlanta will save approximately $2.7 million with this deal that will take two key components out of its lineup for the remainder of this season, which has long been considered one aimed toward rebuilding.
Johnson resuscitated his career after rejoining the Braves this year and earning a roster spot out of Spring Training. The veteran utility man has batted .275 with nine home runs and a .772 OPS in 197 plate appearances with Atlanta.
"It's tough. It's a really good group of guys in this clubhouse," Johnson said. "I've known all the coaches forever, the clubhouse guys and everything. So it's like the first time I left Atlanta, it kind of feels like that a little bit. It's home, too."
After spending last year with three different American League East clubs -- the Yankees, Red Sox and Orioles -- Johnson found some consistency with the Braves, who drafted him in 2000 and kept him in the organization through 2009. He produced a .777 OPS in 172 plate appearances against right-handed pitchers and a .737 OPS in 25 plate appearances against left-handed pitchers.
"This is my fourth time being traded," Johnson said. "I don't have that feeling of, 'Oh, whoa, what just happened?' It's more shock, I guess, in being traded to a team in our division and just the circumstances, too. You know the deadline is coming, but the date can be anytime, obviously. Being a week out is unique."
Uribe enriched the Braves' clubhouse and provided some much-needed stability at third base after he was acquired from the Dodgers on May 27. The 36-year-old veteran batted .285 with seven home runs and an .817 OPS in the 46 games he played for Atlanta.
"I was very surprised today, but I know I had no control over it," Uribe said through a translator. "I know that it's going to happen sometimes, but it was not expected today."
Uribe was penciled in to bat fifth and play third base on Friday night, but Chris Johnson moved across the diamond from first, where Joey Terdoslavich took over.
"I feel very good because I got traded to a contender," Uribe said. "I would have felt bad if I got released or sent home. I know I'm going to a good team and have a chance to be in the playoffs."
Mark Bowman is a reporter for MLB.com. David Cobb is an associate reporter for MLB.com. This story was not subject to the approval of Major League Baseball or its clubs.