Rockies activate Dickerson, option Brothers
Outfielder will be slowly incorporated into Colorado's lineup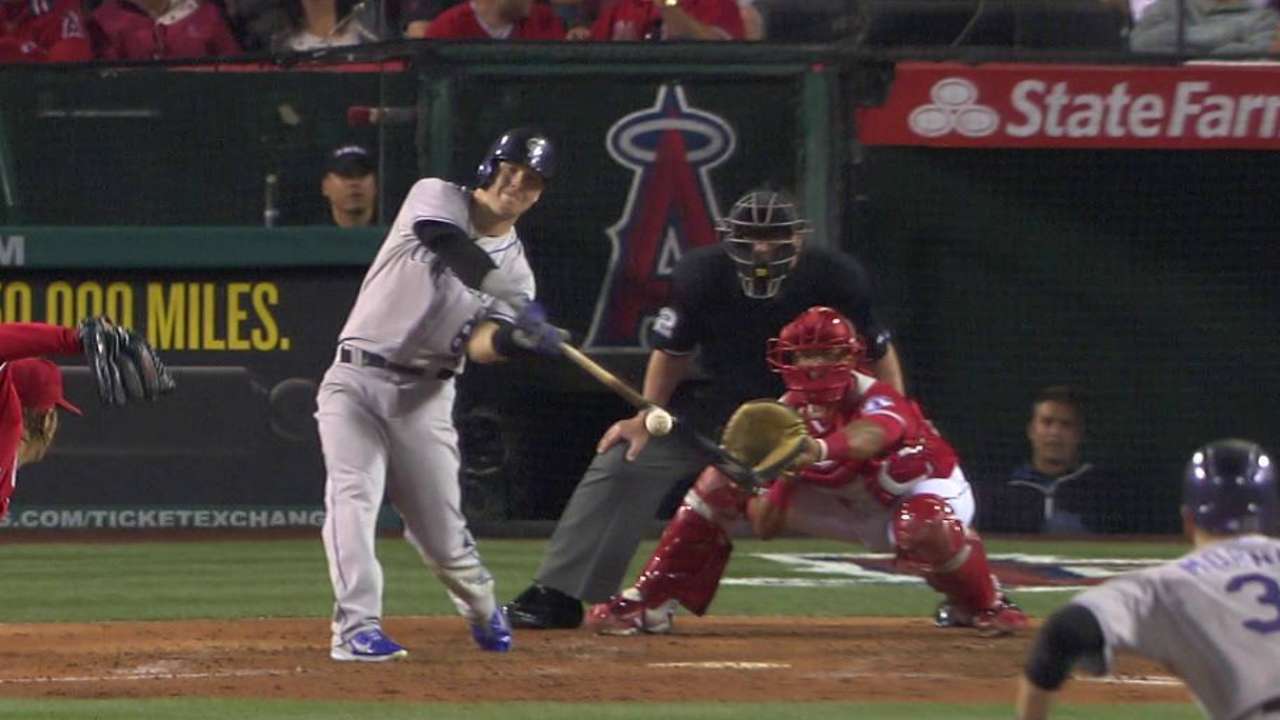 DENVER -- Corey Dickerson is confident this time will be better.
After requiring a second disabled list stint this season for an ongoing case of plantar fasciitis, the Rockies outfielder was activated before Friday's series opener against the Reds. Additionally, left-hander Rex Brothers was optioned to Triple-A Albuquerque.
Dickerson initially missed nearly a month before being activated on June 11. He played in just five games, though, and was ultimately sent back to the DL on June 17.
"The last time I was itching so bad to play, but this time, I took my time and tried to find a pace I could play at and stay healthy," Dickerson said. "Right now, I feel pretty good."
Before his activation, Dickerson played in four rehab games, which were equally split between Class A Modesto and Triple-A Albuquerque. He went 5-for-15 with two RBIs, a walk and two runs scored, but more important, perhaps, is that Dickerson was able to play the outfield for at least seven innings in all four contests.
Overall, Dickerson left his rehab assignment feeling pleased.
"I started off kind of worried about it, but it went really well," Dickerson said. "So I kind of got those worries out of my mind and had a good time with those guys down there."
Rockies manager Walt Weiss said there will be some limitations with Dickerson, mostly with the amount of playing time he'll receive while trying to reestablish himself as a consistent presence in the Colorado lineup.
"I'll be a little be more careful with him as far as running him out there every day," Weiss said "I'm going to pick my spots to give him days off, so I'll be trying to stay out in front of that.
"The bottom line is just to not run him into the ground with that thing."
Brothers, meanwhile, heads back down after making just three appearances this season with the Rockies. His return to the Major Leagues was an anticipated one, but the left-hander experienced many of the same problems that have plagued him over the last two seasons.
In only 2 2/3 innings, Brothers yielded two runs, four hits and four walks.
"I know the results aren't what he probably wanted," Weiss said, "but I feel like he looked a lot more free on the mound -- more loose and athletic. I thought the ball was coming out like we've seen it before. He'll be back."
Dargan Southard is an associate reporter for MLB.com. This story was not subject to the approval of Major League Baseball or its clubs.