Alvarez tags Scherzer with Allegheny blast
Reaching river for fourth time, Pirates slugger goes deep for second straight game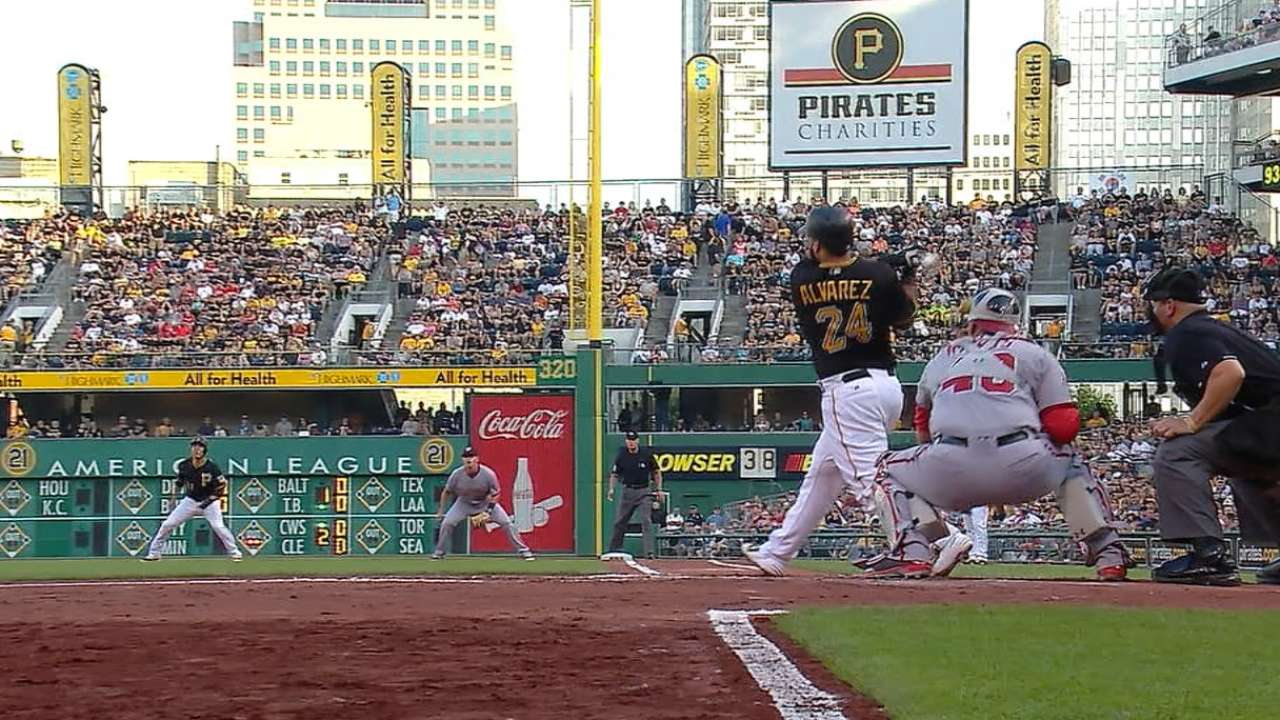 PITTSBURGH -- Before Thursday's game, Pirates manager Clint Hurdle recalled a recent conversation with Pedro Alvarez. The Bucs have been trying to get their first baseman back "in the productive place that we've seen him," Hurdle said, even as his name continues to pop up in trade rumors.
Alvarez has been back in that productive place the last two days. A night after homering to left field, Alvarez launched a two-run shot off Nationals ace Max Scherzer all the way out of PNC Park in right-center on Friday and bounced it into the Allegheny River, giving the Pirates a lead in the second inning en route to a 7-5 win.
The blast was Alvarez's team-leading 14th home run of the season. According to Statcast™, the ball left Alvarez's bat at 111 mph and traveled 439 feet from home plate.
• Cut4: Alvarez continues his assault on the high seas
"The one he covered [Thursday] night and drove to the left of the notch, that's such a pretty swing," Hurdle said. "When he goes that way, it has a tendency sometimes to get him in a better place to cover. That ball that he did tonight, the ball's up over the plate, he covers it."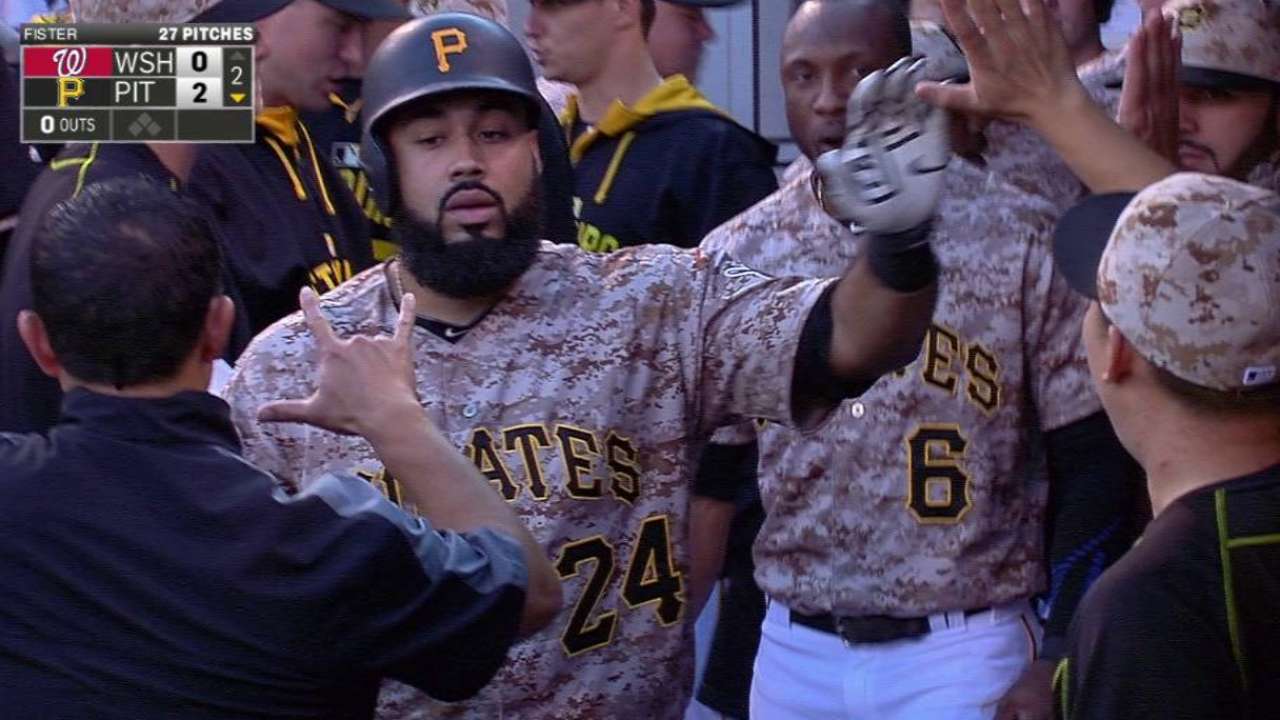 The ball Friday landed on the lower riverwalk beyond the right-field bleachers before bouncing into the river. With a two-run lead against Scherzer, Pittsburgh could breathe at least a temporary sigh of relief.
"We didn't get a hit for [10] straight innings off him," second baseman Neil Walker said. "One hit, we were cheering in the dugout. For Pedro to give us the early lead, that's huge."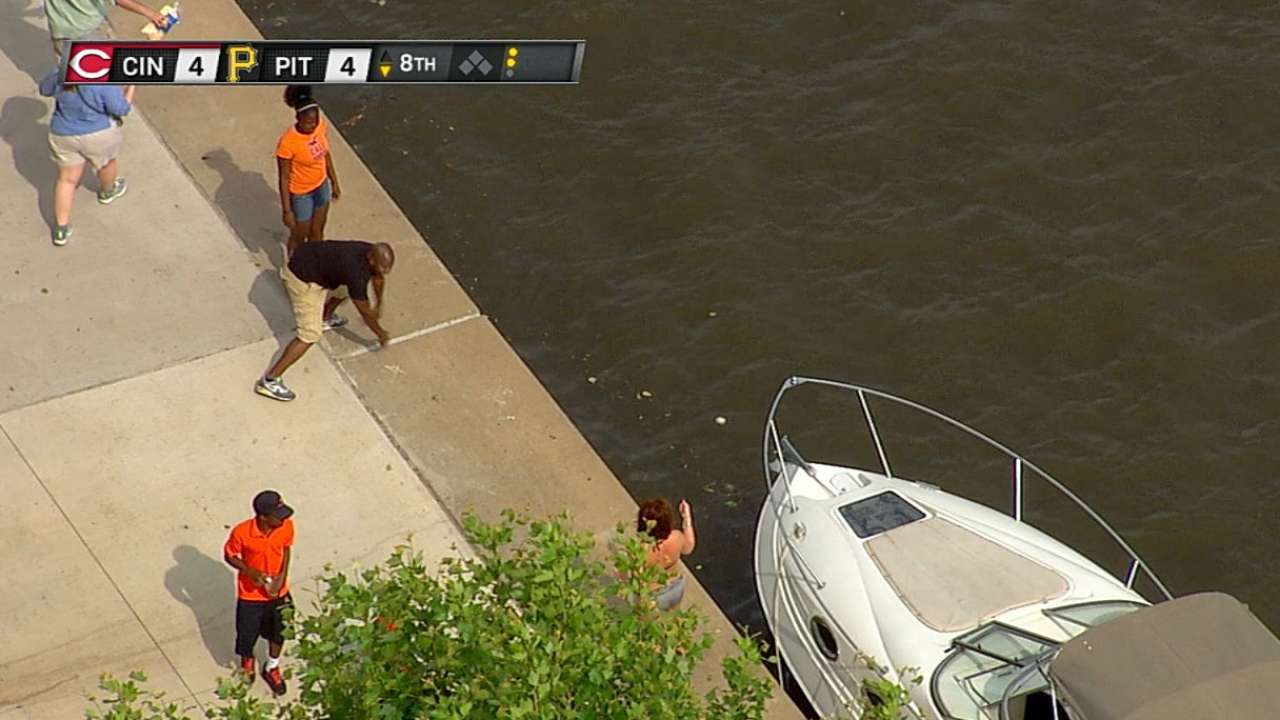 It was the fourth time Alvarez has reached the river in his career, and the third time he has bounced a homer into the Allegheny.
Alvarez reached the Allegheny River on the fly earlier this season, parking a homer directly into a boat on May 19.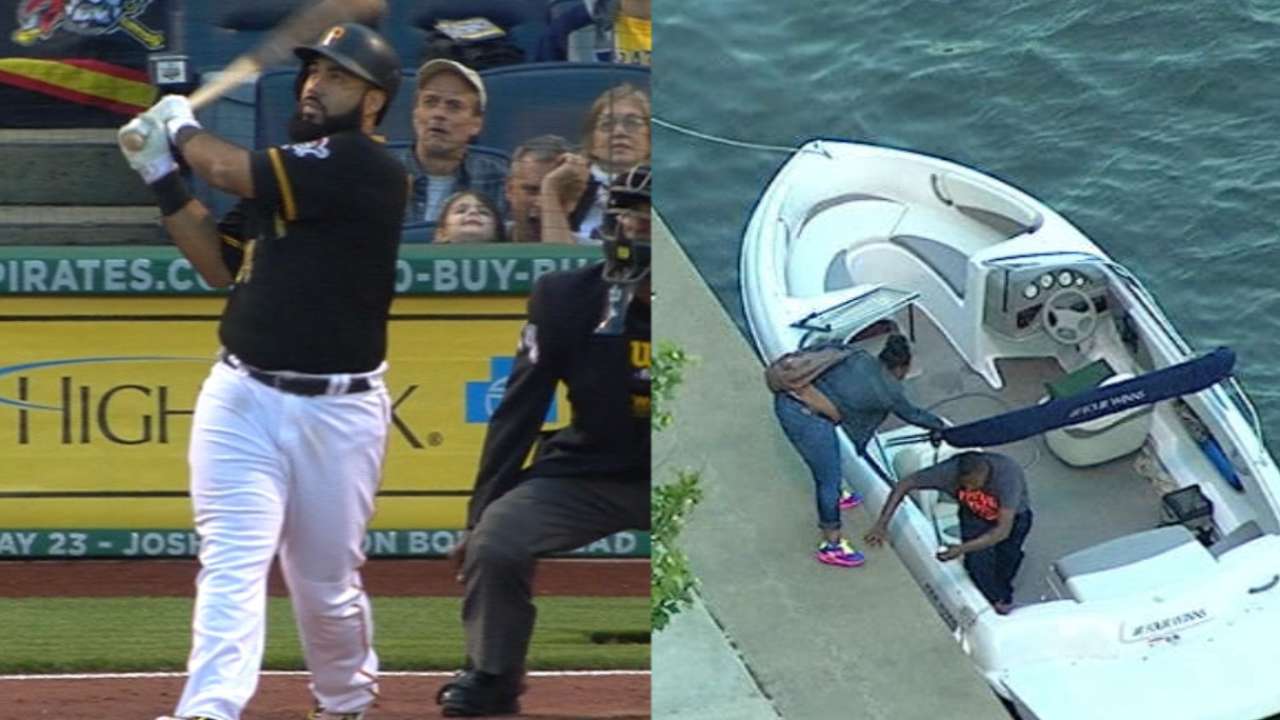 It has been a mostly disappointing year for Alvarez, who slugged 36 homers and drove in 100 runs in 2013. The former No. 2 overall pick is batting .233/.302/.434 while committing 15 errors in his first 77 games at first base.
Yahoo! reported on Thursday that Alvarez's name has come up frequently in recent trade talks. The report quoted an anonymous general manager saying, "The Pirates want to get rid of him. They're offering him to everybody."
As he's shown the last two nights, Alvarez still has something to offer.
"We've seen it in the past. We've seen him catch fire and get some pitches to hit and drive them," Hurdle said. "He's just going to continue to work hard to do that. We'll see where it goes."
Adam Berry is a reporter for MLB.com. Follow him on Twitter at @adamdberry. This story was not subject to the approval of Major League Baseball or its clubs.