Price has contingency in place if Reds make trade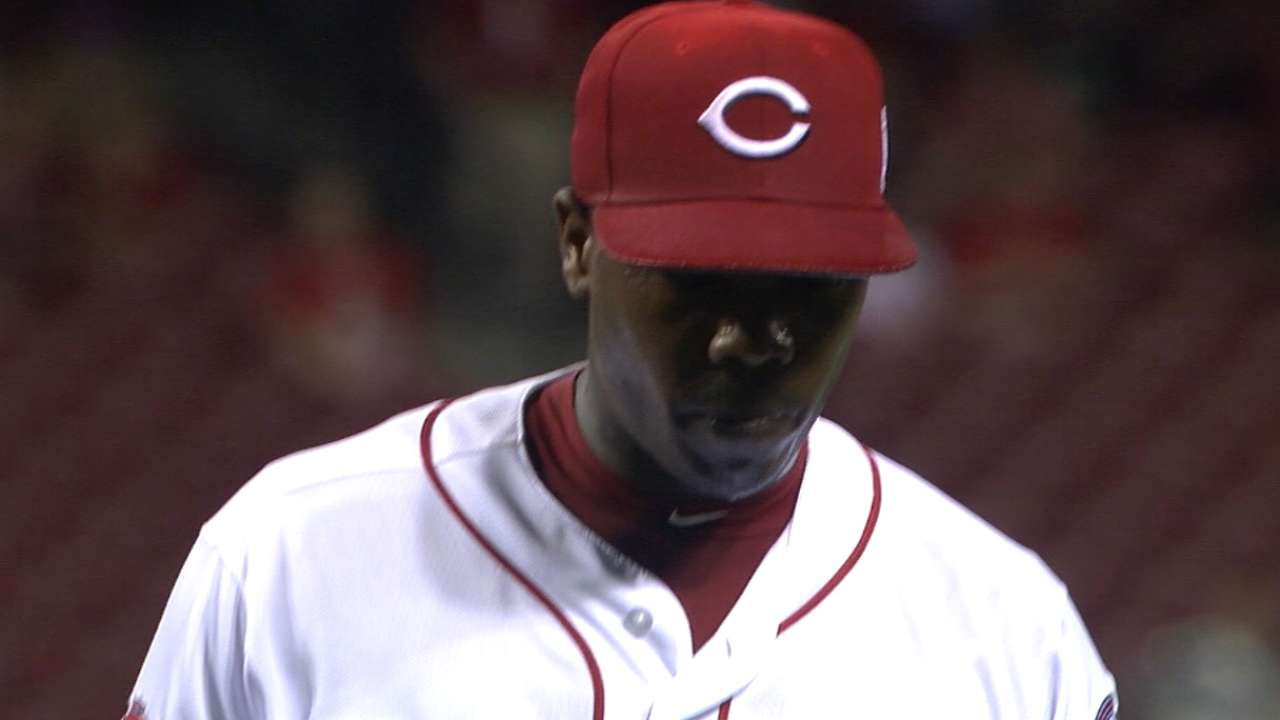 DENVER -- Although Reds general manager Walt Jocketty and the front office have yet to pull off any deals ahead of next Friday's non-waiver Trade Deadline, the field staff has already made some contingency plans in case pitchers and players are moved.
At any point before 4 p.m. ET on July 31, a position player could be pulled if he has been dealt. A pitcher -- such as Johnny Cueto or Mike Leake -- could hypothetically be traded the day before they were slated to start a game. Manager Bryan Price is ready for these issues.
"It's something we do the best we can to be prepared for," Price said on Friday. "We probably are going to, and have been, limiting the number of pitches our starting pitchers are throwing between starts, so if we have to bring a guy back early … if we had to make some adjustments there, we could do that. As much as you don't want to see players go, if they do go, we have to have a backup plan.
"We can't just have a bullpen day. We're playing 10 straight games before the next off-day, coming off of four games in three days with some short starts. We're not fresh enough to pitch a game with our bullpen and still be ready to go the following day."
Cueto, Leake, right fielder Jay Bruce and closer Aroldis Chapman are just some of the Reds players that have had their names circulating in trade rumors in recent weeks. Jocketty, to this point, has not been satisfied enough with the offers he has received to make a deal with another club.
If a starting pitcher is moved, the Reds would likely call up Tony Cingrani as a replacement. Cingrani, who was a reliever in the first half, was sent back to Triple-A Louisville after a poor 2 2/3 inning, five-run start vs. the Cubs on Wednesday after he came off of the disabled list.
Cingrani will continue to work on his craft as a starter for Louisville.
"Obviously, our circumstances for our current 25-man roster can change over the course of the next week," Price said. "So we're going to potentially have pitchers ready -- starters and relievers -- if something happens with the makeup of our roster."
Cingrani, who has 30 big league starts over his career, was converted back to starting over the past month while on a rehab assignment with Louisville.
"He struggled with his command [Wednesday]," Price said of Cingrani. "That really hadn't been an issue with his Minor League starts. He's done everything that we've asked him to do in Triple-A and he's done it extremely well. However, right now, he's probably our No. 1 asset as a starting option should we see some change in our current roster."
Mark Sheldon is a reporter for MLB.com. Read his blog, Mark My Word, follow him on Twitter @m_sheldon and Facebook and listen to his podcast. This story was not subject to the approval of Major League Baseball or its clubs.