Sale wants to be South Side cornerstone
Lefty desires to remain with White Sox for entire career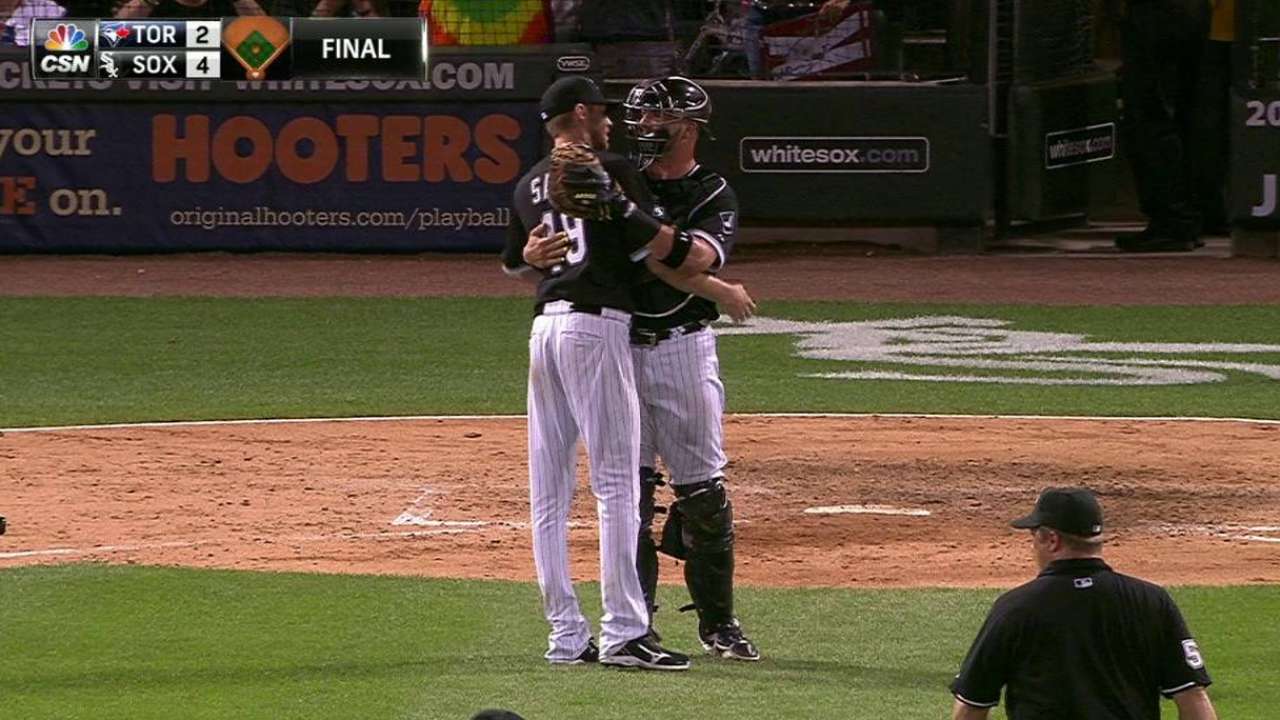 CLEVELAND -- Chris Sale has his sights set on becoming Paul Konerko, Derek Jeter or Cal Ripken Jr.
No, the four-time All-Star and one of the game's most dominant pitchers does not want to suddenly become a position player and swing the bat. But in an interview Friday with MLB.com, Sale made it clear that he wants to mean as much to the White Sox organization as those other players did to the White Sox, Yankees and Orioles, respectively.
"There's something to be said for being with a team your whole career and going through the ups and downs," Sale said. "I've been up, I've been down, and I think for me, I would love to win.
• White Sox deal Gillaspie to Angels
"I would love to be on a winning team, but I just want it to be here. I don't want to go anywhere else. I don't want to be in a different uniform just because they are good now."
That sentiment should answer the question as to whether Sale believes some outstanding years from the 26-year-old are being wasted in the franchise's ongoing reshaping program. Sale will be going nowhere but back to the mound for the South Siders on Saturday and then every fifth day to follow, barring some sort of Herschel Walker trade type offer that overwhelms general manager Rick Hahn.
Sale laughed at the mention of a Walker type return in relation to his name. Since joining the White Sox rotation in 2012, Sale has been an All-Star in every season. Yet, the 2012 season marks the only one when the White Sox were in prime contention, with the team leading the American League Central for 117 days.
A goal for Sale is to see the White Sox get back to that level consistently, with a slightly better finish than '12.
"You want to be on a good team. You want to win. That's the whole point of coming in every day," Sale said. "You come into Spring Training and all the work you put in, everything. ... A lot of people think that you are playing Major League Baseball, making a lot of money.
"For me and for us, it's more than that. We want to win. That's No. 1 on top of anything. Personally, there's no avenue I'm going to go down to get the same satisfaction from something else than I do get from winning."
Can the White Sox win in the next two or three years, working behind Sale at the top of the rotation and as one of the team leaders? Sale pointed out that he's not a general manager, so he can't and won't answer that question.
Then he looked around the clubhouse at Jose Quintana, Adam Eaton, David Robertson and Jose Abreu, to name a few, and felt good about the base in place for his team.
"We have guys in positions for a long time that are doing well and are going to do well," said Sale, who is under contract through 2017 with team options in '18 and '19. "Ultimately, if we can just get pieces to keep going in the right direction, we will be fine."
Scott Merkin is a reporter for MLB.com. Read his blog, Merk's Works, follow him on Twitter @scottmerkin and listen to his podcast. This story was not subject to the approval of Major League Baseball or its clubs.