Return to Boston brings Wilson full circle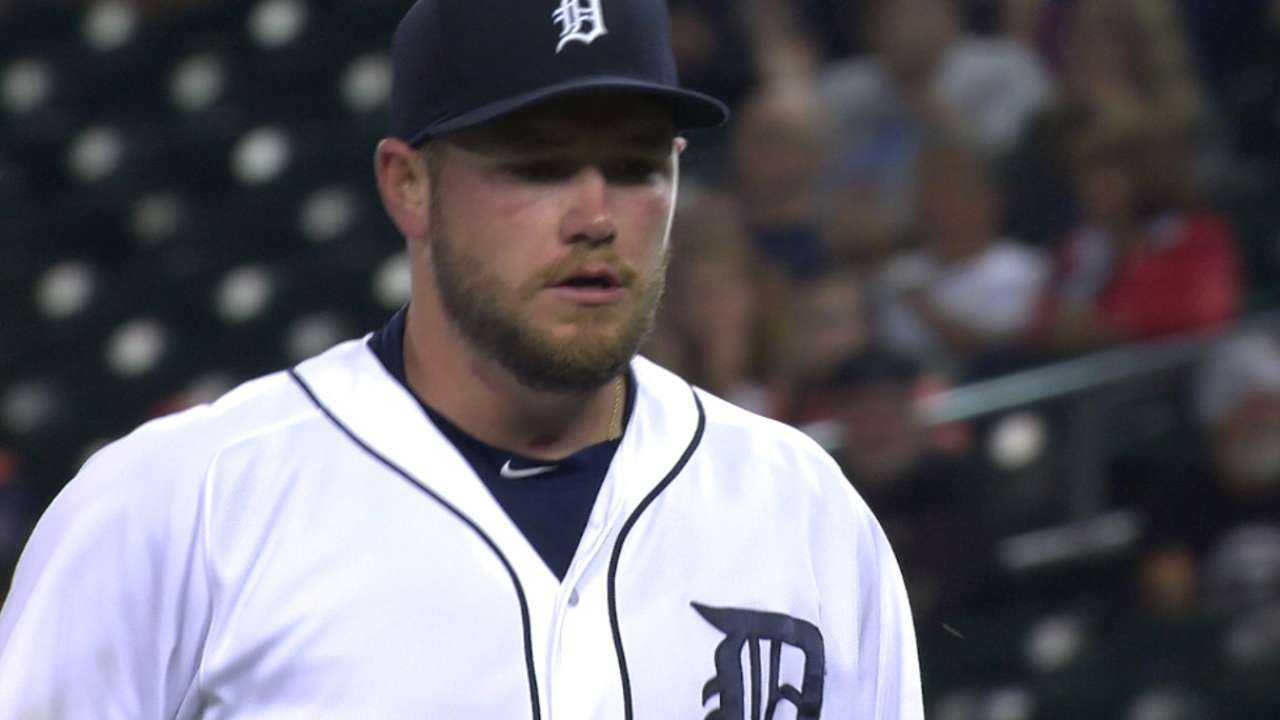 BOSTON -- When the Tigers acquired outfielder Yoenis Cespedes from the Red Sox last offseason, some might have viewed the inclusion of righty reliever Alex Wilson as an afterthought. Of late, however, Wilson's value to a largely shaky Detroit bullpen has never been more clear.
Through 51 innings entering Friday, Wilson had pitched to a 1.94 ERA and a 1.00 WHIP, including just 1.41 walks per nine innings. Even more impressively, the 28-year-old has done so in multiple roles, ranging from long man to setup situations and even spot starter.
"He's been one of the most consistent relief pitchers we've had," Tigers manager Brad Ausmus said on Friday. "Probably Joakim Soria, he and Blaine Hardy."
With the Tigers in Boston for a three-game series, Wilson's return to Fenway Park reminds him of the progress he's made since posting a 4.88 ERA over 26 games in his first season -- improvement that really began last season with the Red Sox.
"I think I finally found a good groove last year," Wilson said. "Finally had some consistency, not the whole up-and-down thing. Once I was able to feel comfortable and stick and stay around, I was kind of able to settle in."
The biggest difference for Wilson: His cutter, which he was not able to throw two years ago due to chronic pain in his right thumb. In each of the past two seasons, however, he has thrown it over 32 percent of the time, according to Brooks Baseball.
This year, opponents have swung and missed on just under 15 percent of the cutters Wilson has thrown. Working the cutter in tandem with his slider, he has held right-handed hitters to a .204 batting average this season.
"I had to kind of get away from it when my thumb was struggling because it was killing me, basically," Wilson said. "I had to rely more on my slider and my changeup, it just wasn't the same. I wasn't the same guy. Once I got that thumb fixed and was able to get back to 100 percent last year, it made the world of difference."
As Wilson prepares to potentially face a swath of familiar faces coming out of the Boston dugout, he hopes to show his old teammates the important role he's carved out for himself with the Tigers this season.
"I'm looking forward to it. I've got a lot of good friends on the other side here. I'll have to keep it outside the lines. But it'll be good to see everybody," Wilson said.
Alec Shirkey is an associate reporter for MLB.com. This story was not subject to the approval of Major League Baseball or its clubs.