Caminero looking to readjust to dialed-in bats
Hart to take time off, begin Minors rehab stint to stay healthy down stretch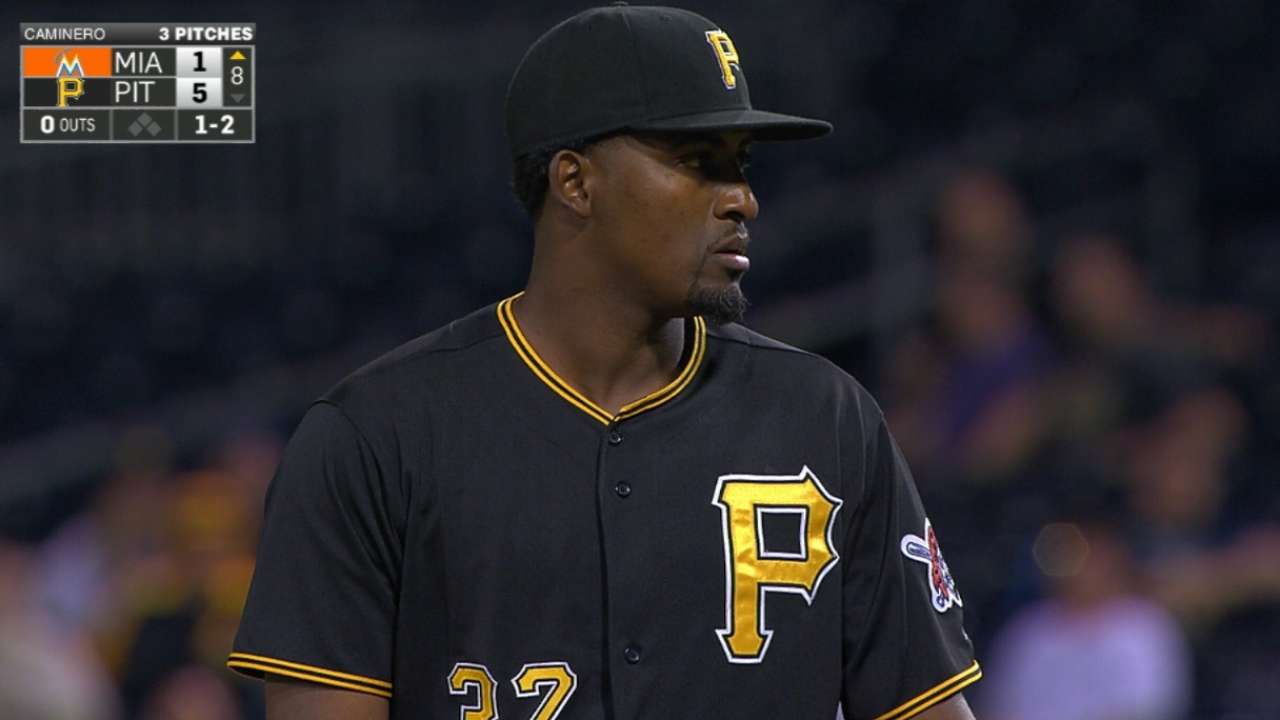 PITTSBURGH -- A month ago, Arquimedes Caminero was mowing down hitters with his 100-mph fastball and helping bridge the gap to Pirates setup man Tony Watson and closer Mark Melancon.
But the last month has been a reminder that it takes more than a triple-digit reading on the radar gun to get Major League hitters out. The flamethrowing reliever has given up 21 hits in 11 innings while recording an 8.18 ERA over his last 13 games as he attempts to iron out some mechanical issues in his delivery.
"This is a league where three digits isn't going to back anybody away," Pirates manager Clint Hurdle said. "Nobody's going to settle down."
The Pirates plucked Caminero away from the Marlins in February, and he immediately emerged as a weapon out of the bullpen. Caminero allowed 19 hits, struck out 34 and rang up a 2.87 ERA in his first 31 1/3 innings.
Since then, Caminero has struggled to create downward angle on his high-octane fastball, and his slider has flattened out. According to Hurdle, the lack of vertical movement is simply a result of Caminero sliding into his delivery rather than staying tall.
"That's basically it. It's no more complicated than that," Hurdle said. "The ball's been flat, and that's why it's getting hit."
The league may have adjusted to Caminero, but the Pirates are confident he can return to form.
"It's basically that he threw some punches early, and now they're throwing some punches back," Hurdle said. "He's got to realign himself to his strengths, and I believe he will."
Around the horn
• According to Hurdle, Corey Hart (knee discomfort) is going to take some time off. The plan is to have Hart begin another Minor League rehab assignment in mid-to-late August, playing sporadically in an attempt to keep him healthy.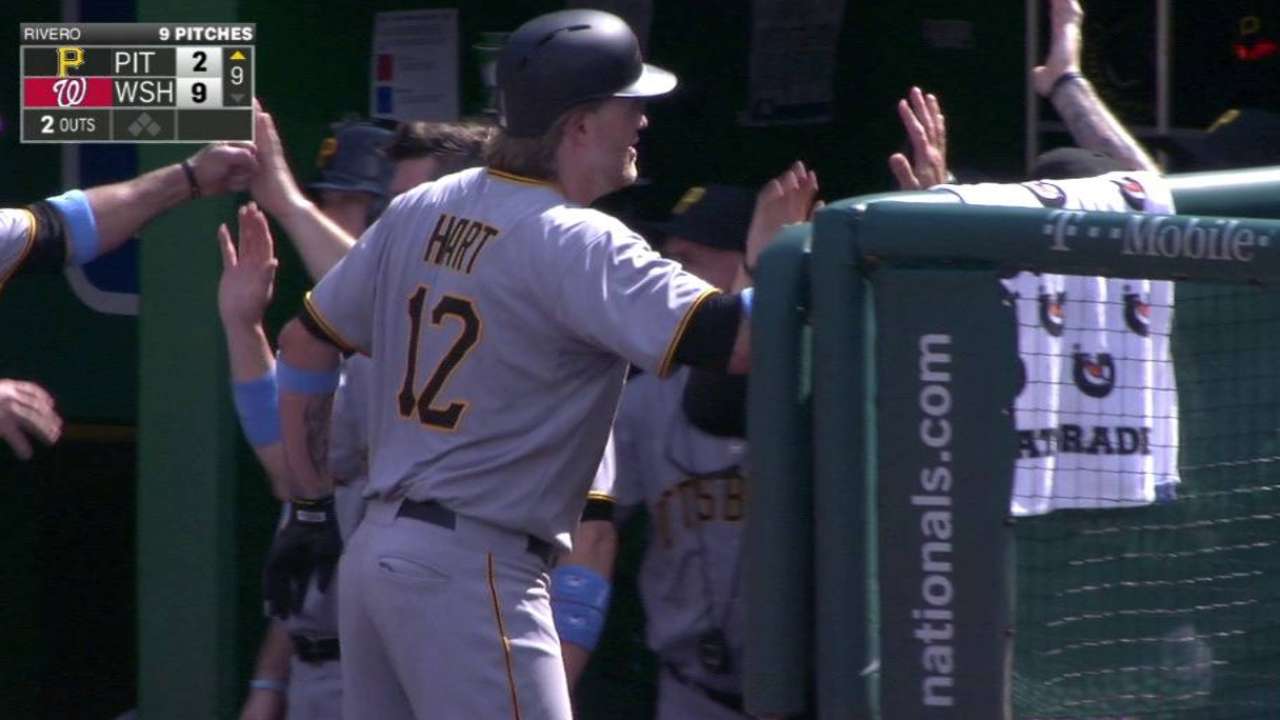 "The playing every day thing's not going to happen," Hurdle said. "Maybe every other day, to see if we can stack some at-bats for him, to see if we can get him in position to be a usable bat off the bench in the month of September."
Hart, who signed a $2.5 million deal this offseason, has hit just .222 with two homers in 57 plate appearances.
• The start time for the Pirates' game against the Dodgers on Aug. 9 at PNC Park was changed Friday. ESPN selected the game for its exclusive Sunday Night Baseball telecast, so the game was moved from 1:35 p.m. to 8 p.m. ET.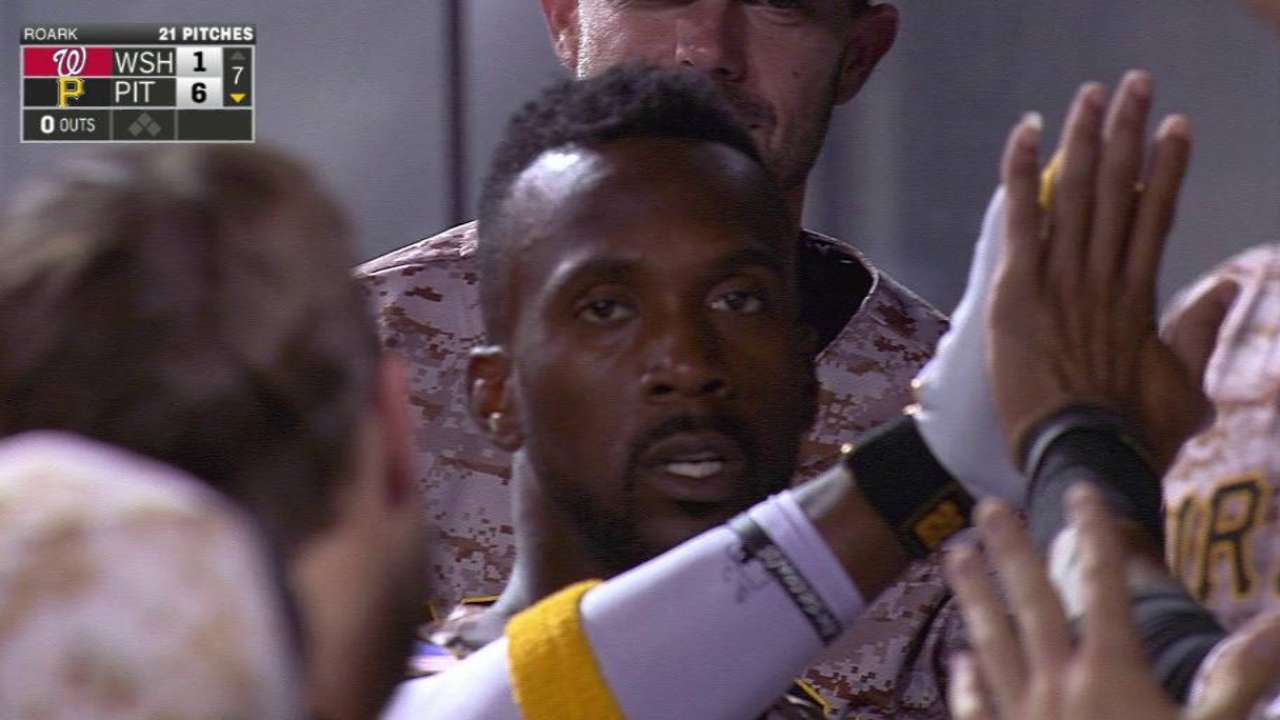 • Andrew McCutchen scored his 600th career run Thursday night. Since his rookie year in 2009, only four players have scored more runs: Miguel Cabrera, Ian Kinsler, Albert Pujols and Robinson Cano.
Adam Berry is a reporter for MLB.com. Follow him on Twitter at @adamdberry. This story was not subject to the approval of Major League Baseball or its clubs.