MLB.com Columnist
Marty Noble
Immortals converge to play game of catch-up
In advance of induction, Hall of Famers gather at Cooperstown hotel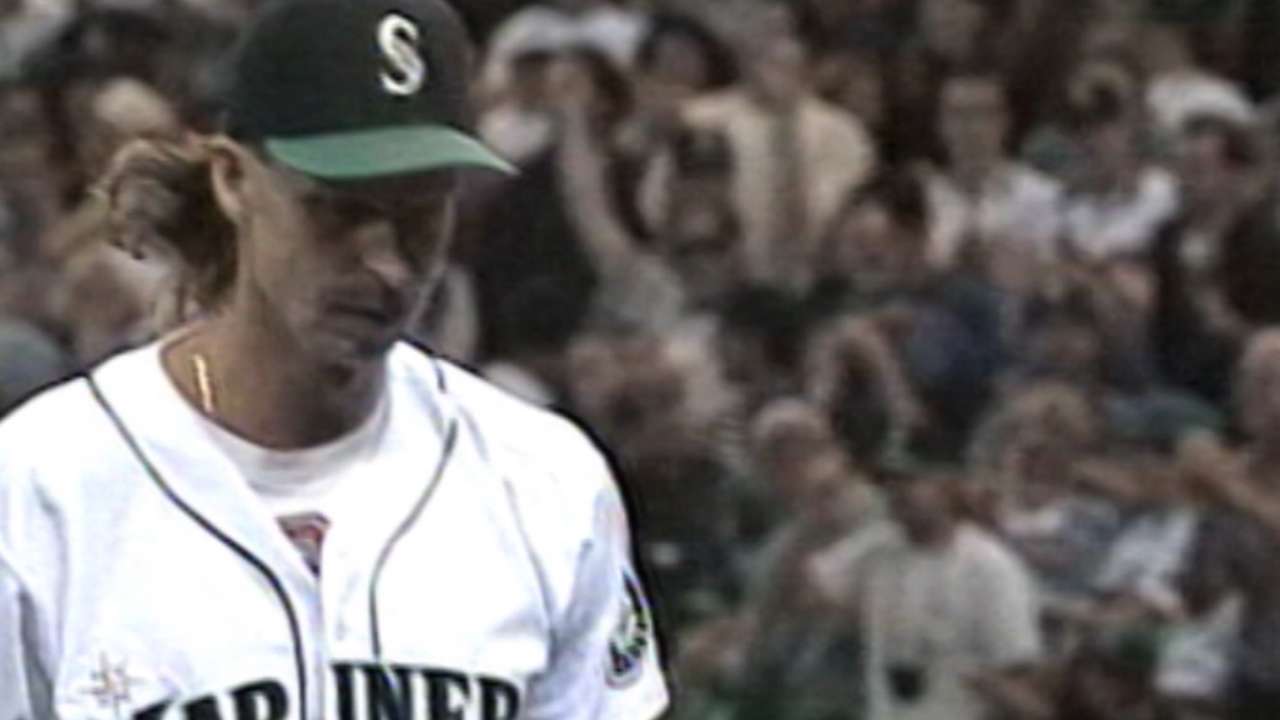 COOPERSTOWN, N.Y. -- The clock assigned the number 10:06 to the moment the screen door swung open and put the grandeur of Otsego Lake on display. A brief, indoor exchange with breakfast partners Reggie Jackson and Eddie Murray had preceded the opening. It was the morning after the night before for some of us who had inhabited the Hawkeye Room downstairs at the Otesaga Resort Hotel on Thursday night into Friday. Nature couldn't have provided a more comfortable setting.
The Fords -- Whitey and Joan -- were seated on the veranda. The best baseball seats this side of Red Barber's catbird seat in Brooklyn are on the hotel's veranda. Any moment there on this thus-far ideal Hall of Fame weekend is worth 20 minutes anywhere else. Temperate, blue water, blue sky. No clouds. A blimp circles above.
Bobby Cox happens by and points upward. "I said to Glav and Doggie [Tom Glavine and Greg Maddux]. 'Hey, they didn't have a blimp for us last year when we were inducted. Why does Smoltzy get one?"
Hall of Fame Class of 2015
John Smoltz, a quarter of the HOF class of 2015, comes by later. He's asked about the acceptance speech he'll deliver Sunday afternoon. "I'm working on the 26th one," he says. He was at 25 tries late Thursday afternoon. "He'll be real good," Cox says. "I had him for all those years. The bigger the moment, the better he is."
The biggest moment arrives Sunday for Smoltz, Pedro Martinez, Randy Johnson and Craig Biggio. They'd been reminded of that endlessly since their arrival in this lovely, bucolic burg. "Everyone acts like they know you personally," Smoltz says.
Their careers are history now, and they're about to become parts of the most special history in American team sports. Little has changed since they closed the screen door on their career. Johnson still is tall, Pedro and Biggio still are not. And Smoltz still is smiling as he was in January when reality trumped his self doubts. Pedro and The Big Unit were Cooperstown locks, and after enduring three votes -- the third was a distressing almost -- Biggio was on the threshold.
Smoltz was the one who carried uncertainty into the New Year. That unwanted baggage has been displaced by wall-to-wall joy.
The hours on the veranda get better although white clouds form. Tom Seaver makes his way to a rocker and provides up-to-date information about his situation -- Lyme disease and its disabling effects. "I'm good, good," he says and the improvement from one HOF weekend to another is obvious. He couldn't make the trip in 2013, and his absence prompted unsettling whispers. "I haven't had a bad day in two months. I stilll get a little foggy. But I get through it."
A year ago, he was taking 30 pills a day. Now he takes one pill of medication and two dozen, mostly vitamins, to maintain his resistance to Lyme disease. "It will never go away," he says.
"I don't go anywhere -- except here. I mean I can go to town and get a haircut, but traveling like [wife] Nancy I used to do ... there's too much anxiety."
The little old winemaker from Calistoga, Calif., had arrived wearing a belt featuring figures consistent the passion that has replaced baseball in his life: likenesses of grapes, corks, bottles. He had some of his award-winning best stuff and some older and more impressive bottles forwarded to the Hall so his Cooperstown colleagues could toast their new members in high style.
Seaver's days are filled with vineyard duties: seven hours each day, seven days each week. The demands are physical -- he's had both knees replaced -- and the rewards spiritual. "It keeps you in shape and sharp. because things have to be done properly."
His cabernet is elite. It sells quickly and not inexpensively. And it fills him with pride.
The veranda provides other stories. Gaylord Perry isn't so tall. The time passed since he last loaded one hasn't been too kind. Brooks Robinson's shoulders still are so round, and Whitey Ford's smile still sparkles. Frank Robinson and Cal Ripken chat in the hotel lobby as Birds of a feather. Reggie and Rollie Fingers talk about vintage cars and -- for some reason -- spark plugs. Everyone talks about golf. Al Kaline reinforces his image as a gentleman. The Big Unit carries his credential in his back pocket. But no one questions six feet, 11 inches of distinction. And Frank Thomas looks stronger than Johnson appears tall.
In the adjacent restaurant, former U.S. senator Jim Bunning and Tom Lasorda, politicians both, chat. Lasorda has an anecdote for every table.
Biggio shares terrific anecdote. Until the Astros retired his uniform number, Mickey Mantle's No. 7 was the only moth-balled 7 in the game. Indeed, every other single-digit number had been retired more than once. But, we find out that Biggio was No. 4 in 1988 and 1989. But when the Astros acquired Steve Lombardozzi in March '89, the new man asked for No. 7. Biggio obliged. "I didn't even ask for a case of beer," he says.
Biggio made team out of Spring Training. Lombardozzi didn't.
Marty Noble is a reporter for MLB.com. This story was not subject to the approval of Major League Baseball or its clubs.