Hoyer: Second-half 'solutions are within'
Cubs general manager considering moves prior to non-waiver Trade Deadline
CHICAGO -- A year ago at this time, the Cubs had already made most of their moves prior to the non-waiver Trade Deadline, including the blockbuster deal that sent Jeff Samardzija and Jason Hammel to the Athletics. But last season, Chicago was out of contention in July. This year, the club is in the mix for a National League Wild Card spot, and general manager Jed Hoyer's conversations with other teams are more from a buyer's perspective.
"There's a very long week to go, and I think things will probably go up and down a few times in that stretch as far as supply and demand goes," Hoyer said Friday. "There are three, four, five teams actively assessing their situation on a day-to-day basis, and that's the nature of the second Wild Card.
"There are teams right around .500 who may not feel they've had a good run so far, but still feel they're not that far out of the race. The second Wild Card really changes the way teams look at the Deadline."
The Cubs' pitching has kept them in contention, but Hoyer said they are focused on adding depth.
"We have a third of the season or more to go, and ... trying to get through that stretch is really important," Hoyer said. "We're going to have injuries, we could have poor performance, and you have to be able to handle that."
Chicago has been linked to such potential trade targets as starting pitchers David Price, Mat Latos, Mike Leake and Cole Hamels. Hoyer would not comment on specific names.
"Right now, our focus is to find the best fit for us," Hoyer said.
The other issue for the Cubs is the offense, or a lack of it. The team was batting .222 in July entering Friday, hitting just 10 home runs.
"We have a lot of confidence in those guys," Hoyer said. "We've been in a team-wide slump for quite a while, and I'm actually very impressed with our ability to win games even though we're not scoring runs. It says a lot about the pitching staff and the bullpen.
"We're going to have to score more ultimately to get where we want to go, there's no question. Offensively, we could make an addition, but I think the real solutions are within. We need to get our own players to play as they did at the beginning of the season, or how their careers indicate they can play."
All-Star Kris Bryant is one example. He was batting .194 in 18 games in July entering Friday. Manager Joe Maddon's message to Bryant and the other young players -- such as Addison Russell and Jorge Soler -- is to do something to help the team win that day.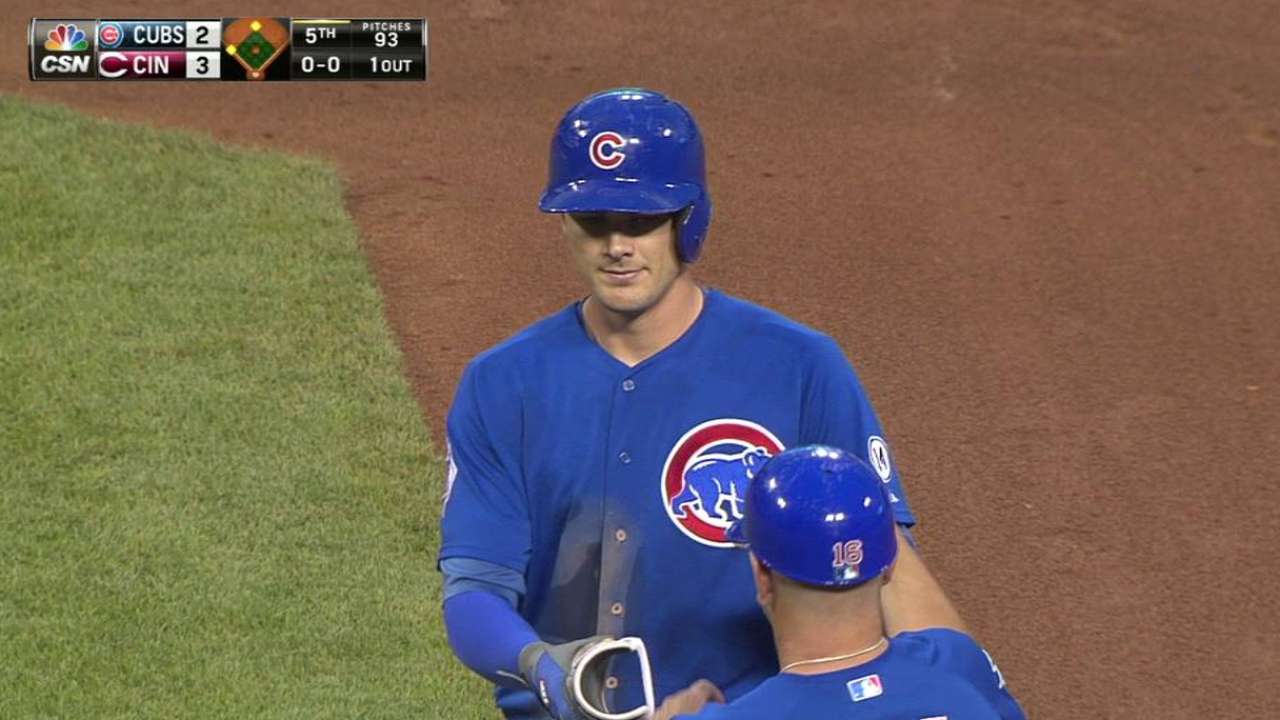 "For a young guy to struggle at the plate, but still maintain the rest of his game like that ... and handle failure well, that's what [Bryant] has done," Maddon said. "He doesn't like not hitting. He's never gone through this before, but his defense has gotten better."
Maddon and Hoyer are planning ahead.
"The thought process is the only way to win a World Series is to play in October," Hoyer said. "I think that's our mindset. Obviously, there are a lot of games between us and a couple teams above us. Can we chase those teams down? Yeah, if we play exceptionally well. Ultimately, the Giants and Royals showed [last year] you have to get in the tournament to win."
Carrie Muskat is a reporter for MLB.com. She writes a blog, Muskat Ramblings. You can follow her on Twitter @CarrieMuskat and listen to her podcast. This story was not subject to the approval of Major League Baseball or its clubs.