MLB.com Columnist
Roger Schlueter
Stats of the Day: Kershaw dials it up to 11
Dodgers left-hander's scoreless streak reaches 29 innings after impressive outing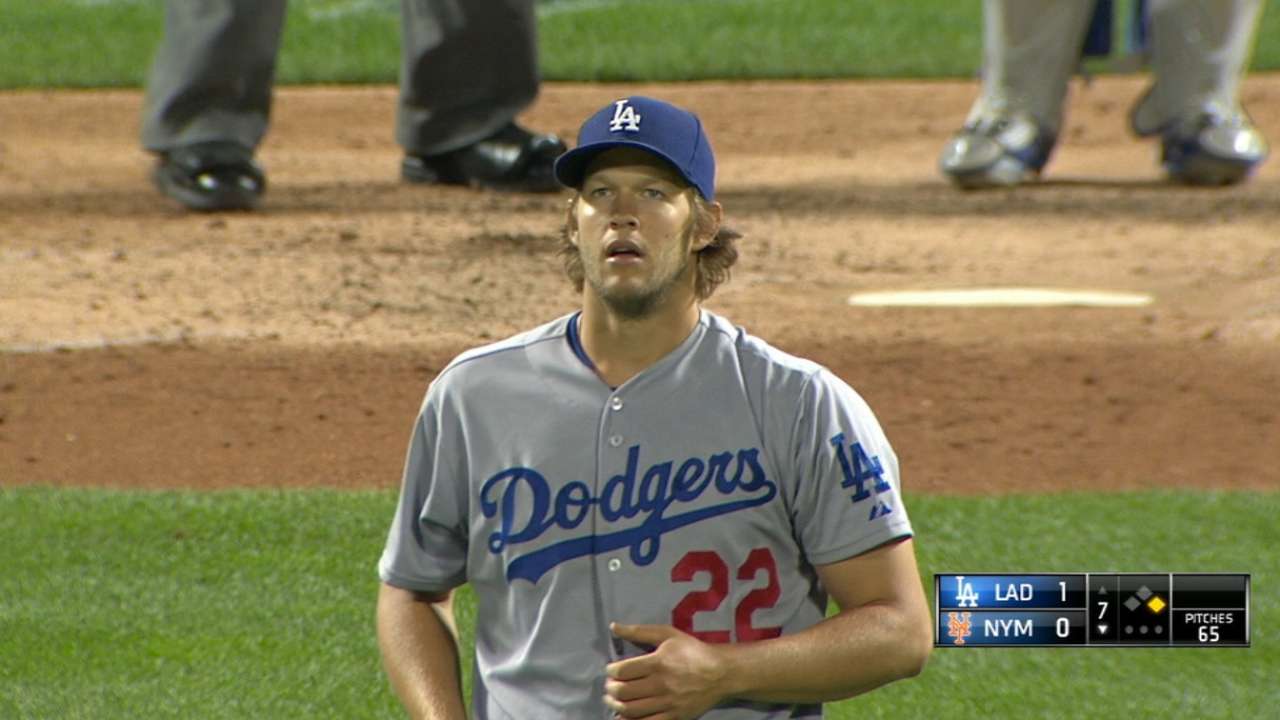 Here are four interesting items from around the big leagues on Thursday …
• Dodgers left-hander Clayton Kershaw took a perfect game into the seventh against the Mets and finished with a three-hit shutout bolstered by 11 K's and no walks. Kershaw has fanned at least 11 with no walks in each his past three starts. He is the first Dodgers pitcher since at least 1914 to do this. The only other Dodgers hurler since 1914 to have two straight is Dazzy Vance in 1930. Since 1914, Kershaw is the only left-hander to have three straight games with 11-plus K's and no walks. The only other southpaw to have two in a row was Randy Johnson in 2000. Kershaw extended his scoreless streak to 29 innings.
More on Kershaw: He lowered his 2015 WHIP to 0.943. If he qualifies for the ERA title and finishes the year below 1.00, it will mark the fourth time in his career he has done so. The only pitchers to have at least four such seasons through their age-27 seasons are Walter Johnson (who had six) and Addie Joss (four). Among all pitchers with at least 1,500 innings through their age-27 season, Kershaw's 151 ERA+ is the second best, behind Johnson's 176.
• The Yankees jumped on Ubaldo Jimenez and the Orioles for four runs in the first inning and went on to claim a 9-3 victory. New York leads the Majors with 86 first-inning runs -- no other team has more than 65 -- and has an MLB-best .919 OPS in the first frame. The highest first-inning OPS for the franchise in the expansion era belongs to the 2003 club, which posted a .913. The highest for any team since 1961 is the .988 from the 2000 Cardinals.
• In the Blue Jays' 5-2 win over the Athletics, Josh Donaldson connected for his 23rd home run and Russell Martin accompanied his 14th home run with his 16th double. Donaldson owns a 145 OPS+. The highest mark for a Blue Jays third baseman who qualified for the batting title is Kelly Gruber's 127 from 1990. Martin owns a 127 OPS+. The highest mark for a Blue Jays player with at least 100 games caught is a 120, shared by Ernie Whitt in 1989 and Pat Borders in 1990.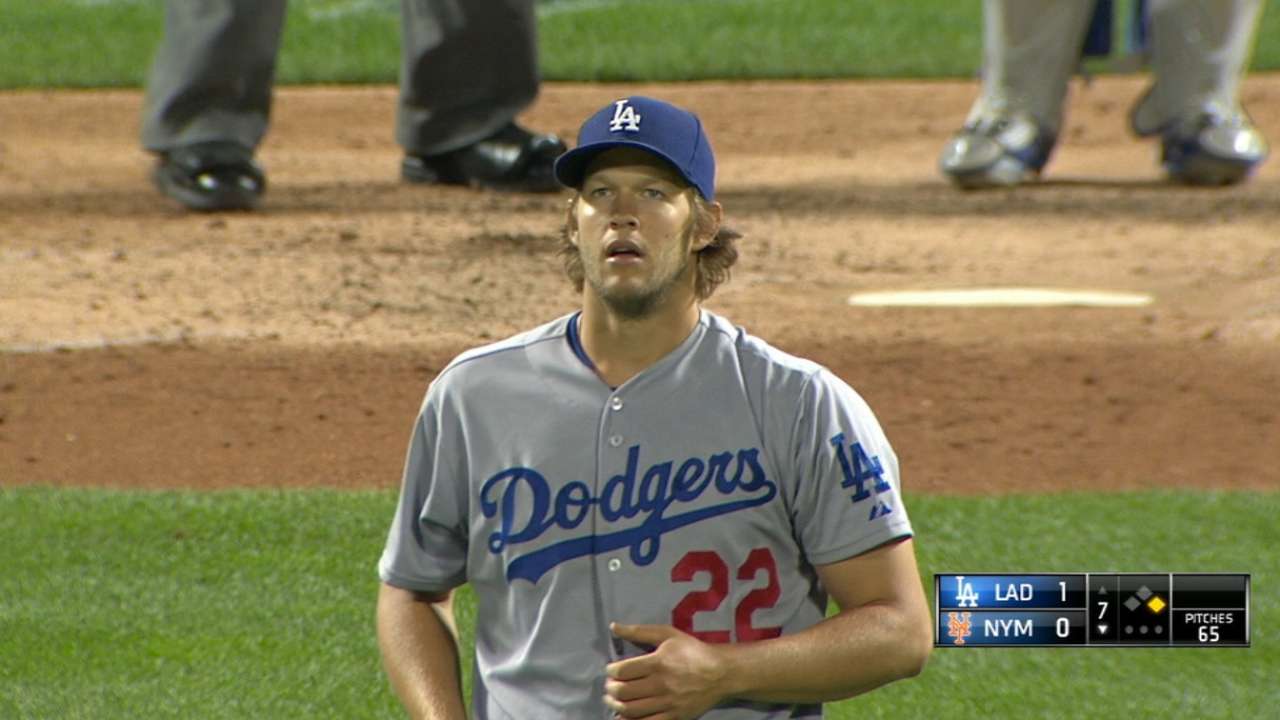 • Jose Altuve singled twice, stole a base, doubled and -- with the game tied at 4 in the bottom of the ninth -- connected for his first walk-off home run. Altuve now has 20 doubles to go along with 28 steals for the season. If he can reach 30 in both categories, it will mark the fourth straight year he's had this version of a 30-30 campaign. No second baseman has had four such lines through his age-25 season (Juan Samuel had three). If Altuve gets his fourth in 2015, he will be the fourth player at any position to have that many through his age-25 season. Ty Cobb had five, while Sherry Magee and Tim Raines each had four.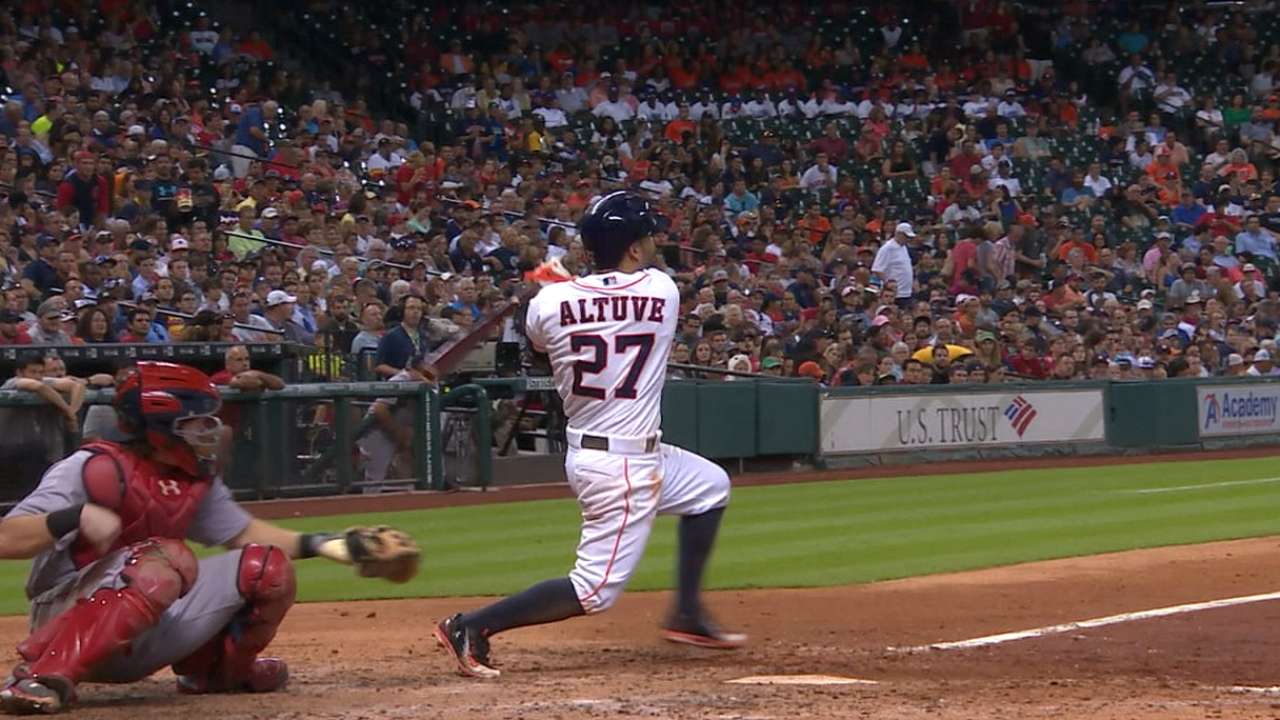 Milestone watch for Friday
• Felix Hernandez is slated for his 323rd career start on Friday night. This start will tie him with Jamie Moyer for the most in Mariners history. Hernandez is already the Mariners' career leader in innings, and is nine victories shy of tying Moyer for the most in that category. Hernandez is also 94 strikeouts shy of tying Randy Johnson for the most by a Seattle pitcher.
• Dan Haren will be taking aim at his 150th career victory. There are 187 right-handers identified by Baseball Reference with at least 150 wins. Among them, there are five active hurlers: Tim Hudson, Bartolo Colon, A.J. Burnett, John Lackey and Justin Verlander.
Roger Schlueter is a contributor to MLB.com. This story was not subject to the approval of Major League Baseball or its clubs.