MLB.com Columnist
Paul Hagen
Gage ready for baseball writing's highest honor
Longtime Tigers beat reporter to receive Hall of Fame's Spink Award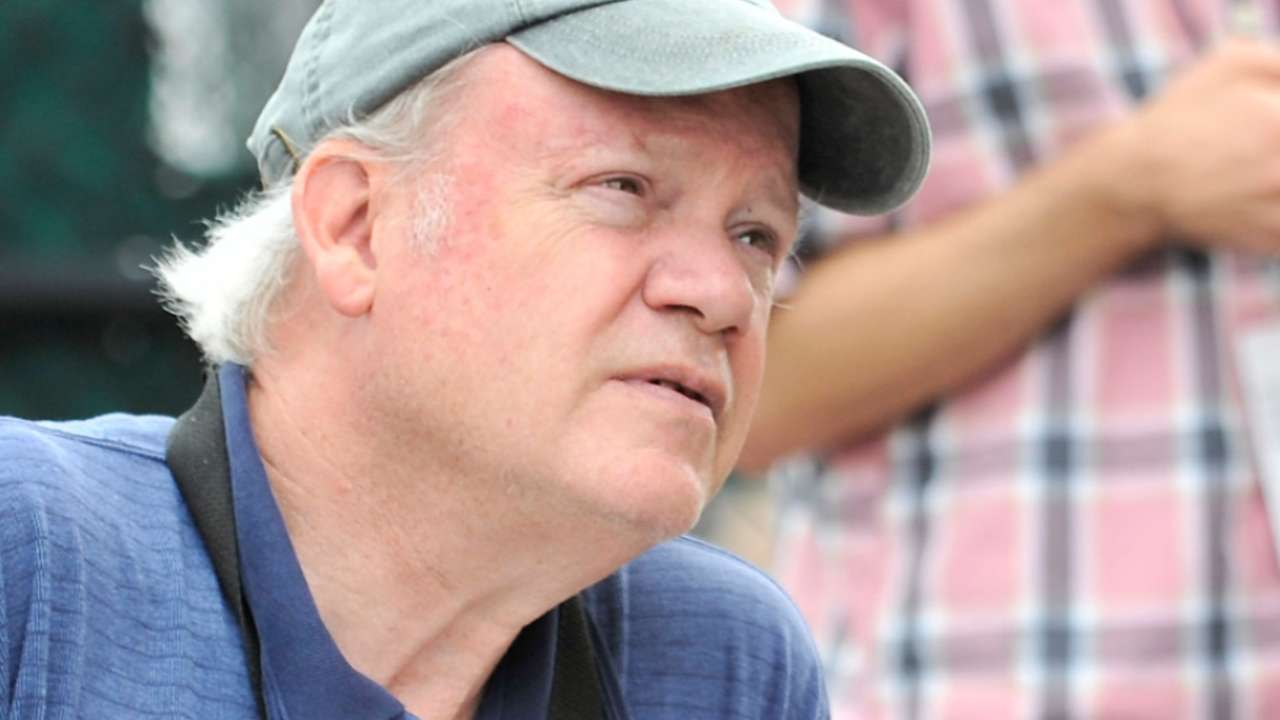 Tom Gage, then the Tigers beat reporter for The Detroit News, journeyed to Cooperstown, N.Y., for Induction Weekend in July 2002. He wanted to be there to see the paper's columnist, Joe Falls, receive the J.G. Taylor Spink Award.
On Saturday, on a stage at historic Doubleday Field, Gage will follow in the footsteps of the writer who was an important influence in his career when he becomes the latest to accept the Spink Award, given annually for "meritorious contributions to baseball writing." Voted on by 10-year members of the Baseball Writers' Association of America, it's the highest honor the organization can bestow.
"As far as a mentor, growing up and reading Joe Falls when he worked for the [Detroit] Free Press before he worked for the News, meant a lot to me," Gage said, explaining why it was so important for him to be in attendance 13 years ago. "He was the clearest writer. I don't want to call it simple, but it had great flow to it. It was conversational writing and it really appealed to me."
Hall of Fame Class of 2015
At the time, Gage never envisioned himself being on that stage.
"You aspire to that," he said. "Of course you would like it. You don't actively hope for that recognition. It's there and it's the pinnacle of the profession. You just don't think, 'Boy, I'm worthy of that.' If it comes, it comes and you're honored and overwhelmed. But when I was at Joe's [ceremony], I didn't put myself on that same level."
Gage earned it by covering the Tigers with distinction for 36 years, covering more than 5,000 games and never missing one due to illness. The best guess is that he wrote more than 11 million words. Gage started in a simpler time, when newspaper reporters were generally responsible for a game story and a notebook and had time to relax once the nightly deadline passed, but he was still at it when the Internet completely changed the job description.
When Gage took over the beat, in fact, Falls wrote about it in The Sporting News, predicting that he was the sort of person who would use his position to broaden his horizons in the cities his new job would take him to.
"I did approach the beat that way until deadlines changed and the internet arrived," Gage said. "You used to have your afternoons. You could go to a museum, you could go to a nearby battlefield. You could pursue other interests because you didn't have to be at your computer all the time.
"But then all of a sudden we were always on call, even at lunch. We all now have had lunches interrupted by the office, calling and saying, 'Hey, there's a rumor out there.' And now you have to write it right away. So the enjoyment of the cities as cities ended with the arrival of the Internet."
Gage adapted and was still considered at the top of his game when, days after the announcement that he had won the Spink Award, his paper took him off the beat. He left the News this spring to take a position writing baseball for FoxSportsDetroit.com. That lasted three months before Fox dismissed all of its regional web writers.
Gage has handled the upheaval with uncommon grace.
"It's been a rather turbulent year," he said. "It's been my best year and worst year all in one. It's been the oddest year. The pluses are really big pluses, but I wish it on no one as well because I'm unemployed now. I've walked through two doors, two exits.
"But I look at it this way. I did have 45 years of uninterrupted employment. The decision by Fox affected people in the middle of their careers. Now, I still want to write. That's something I would still dearly love to do. But at this point of my career, I don't think I can place what I want to do ahead of those of others who lost their jobs."
Right now, though, Gage has a speech to focus on. And a chance to pause and reflect on a job well done.
"I'm looking forward to doing justice to the honor," he said. "I'm looking forward to delivering a speech worthy of the honor. I'm looking forward to seeing the looks on the faces of my loved ones and my friends who are coming from all over. Their response has brought me such happiness, I just want to be able to live up to the moment."
Paul Hagen is a reporter for MLB.com. This story was not subject to the approval of Major League Baseball or its clubs.