Fiers has uneven outing as scouts watch
Brewers starter among several drawing trade interest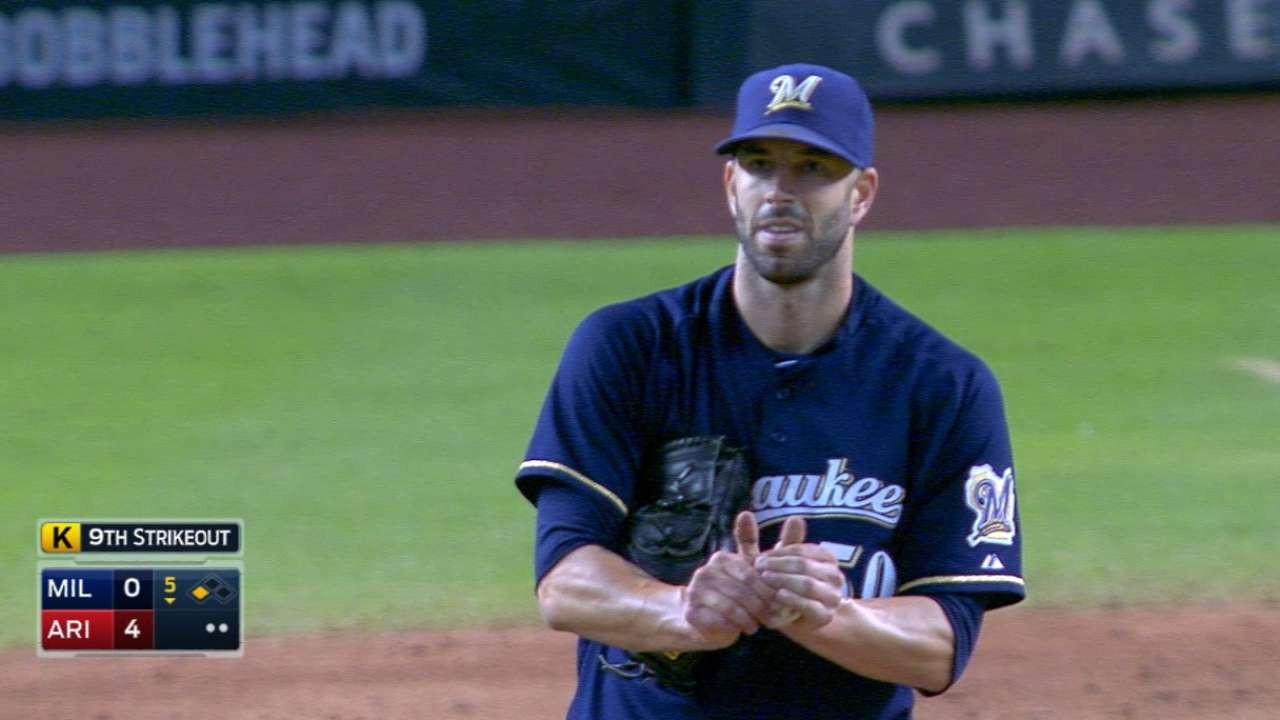 PHOENIX -- The crowded press box dining room was one indication Thursday that Chase Field was full of scouts, eyeing players ahead of next week's nonwaiver Trade Deadline. One of those men was Blue Jays director of pro scouting Perry Minasian, whose younger brother, Zack, happens to hold the same job for the Brewers, and whose club happens to have been linked to a number of Milwaukee players including Mike Fiers, who took the mound on this night against the D-backs.
Fiers delivered a mixed showing. He struck out 10 batters for his sixth career double-digit strikeout game, but he also surrendered five runs (four earned) and eight hits in only five innings of an 8-3 Brewers loss.
"I still have to do my job here," said Fiers, brushing off the presence of those scouts. "I'm a Brewer and we're trying to win here. We're not trying to worry about all this talk that's going on."
The Brewers had just made their first July trade hours earlier, sending Aramis Ramirez and about $2.6 million to the Pirates for a Minor League reliever. Ramirez was among a number of Brewers players in the final season of contracts who had featured prominently in trade chatter, along with the likes of Gerardo Parra and others.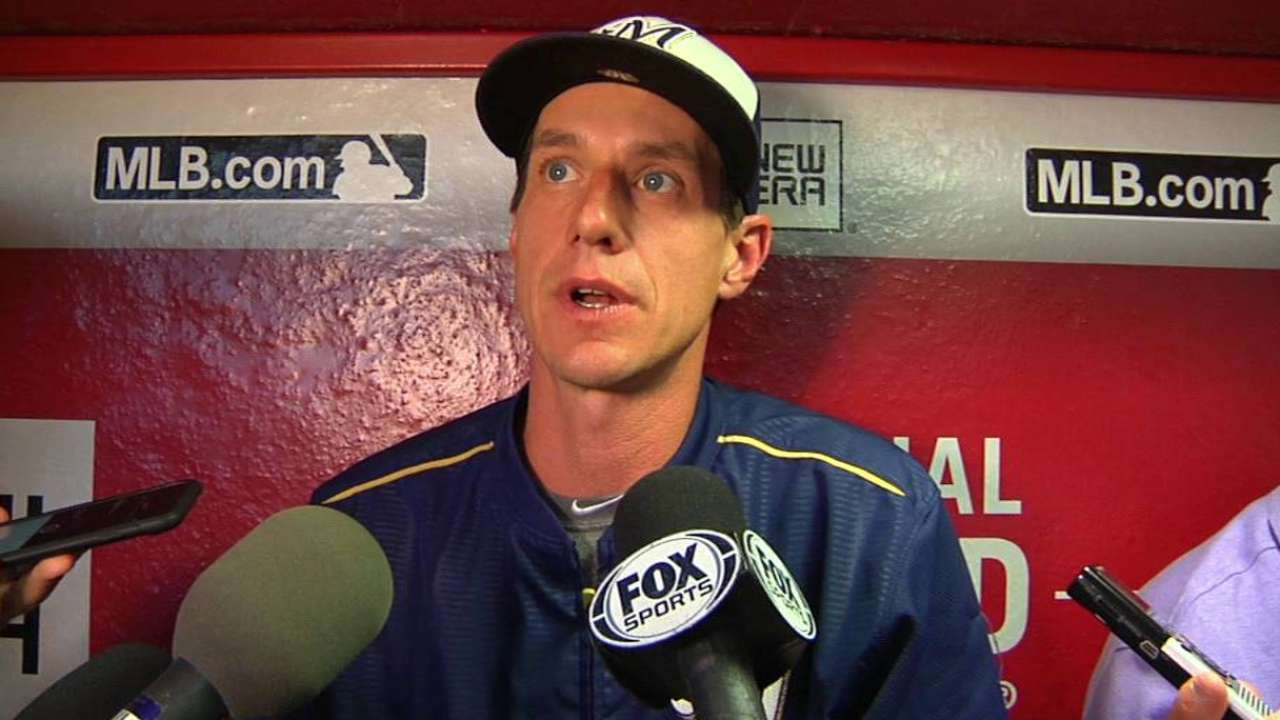 Then there is a second group of Brewers who are under club control past this season who have also drawn interest. Fiers is in that group, though general manager Doug Melvin has said publicly he is not motivated to move the 30-year-old right-hander, who won't be arbitration-eligible until after next season and doesn't project to reach free agency until after the 2019 season.
That status, along with the fact Fiers has been the Brewers' steadiest starting pitcher this season, makes him a candidate to help the team return to contention following what club officials believe could be a brief rebuild.
After making the Ramirez trade, Melvin said he had four to five other trade conversations in the works. Manager Craig Counsell was asked whether he anticipates more deals before July 31.
"I don't know. I don't," Counsell said. "I think we treat it on a day-by-day basis. I'm not 'expecting' anything, you know? And the guys have done a good job, like we've talked about, of not worrying about it during the game. For three hours, go out and play the game, and what happens next is what happens next. The game is the No. 1 focus, and that's not changing."
That was Fiers' focus against the D-backs. He was burned mostly by a three-run fourth inning in which Arizona collected three hits and a walk. One of the runs was unearned because of an error.
"I felt great. All of my pitches were working," Fiers said. "I think they earned their runs. They hit with runners in scoring position and made it tough on me."
Adam McCalvy is a reporter for MLB.com. Follow him on Twitter @AdamMcCalvy, like him on Facebook and listen to his podcast. This story was not subject to the approval of Major League Baseball or its clubs.