Ross sets franchise record, despite tough loss
Padres pitcher extends streak of starts without a homer to 16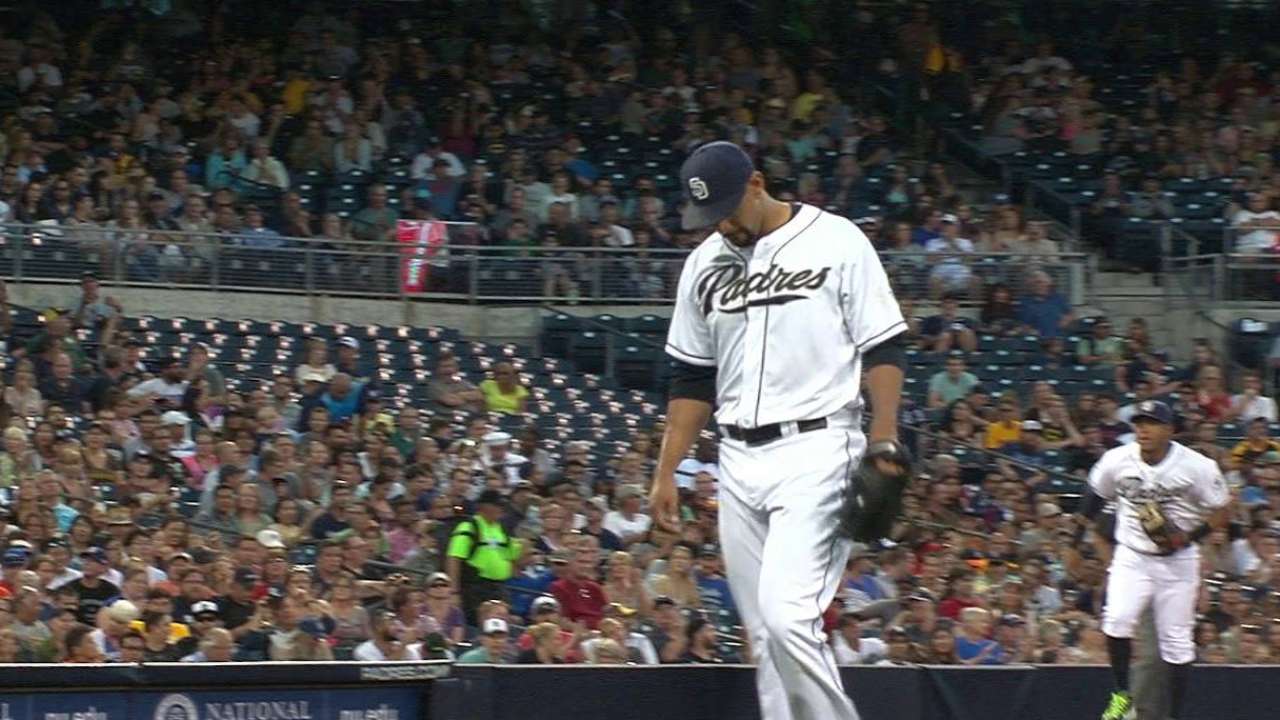 SAN DIEGO -- Tyson Ross looked to be en route to a strong performance against the Marlins, striking out seven batters through the first three innings and allowing only three hits and no runs through five.
However the sixth inning would take a different direction for Ross, as he gave up five consecutive two-out singles while the Marlins rallied for four runs in Thursday's 4-0 loss.
Ross didn't get the victory but etched his name in the Padres' record book. He extended his streak of starts without a home run to 16, a club record. The old record was held by Dave Roberts in 1971. The last home run Ross allowed was April 28 to Evan Gattis of the Astros.
Ross also ranks second in the Majors this season for not allowing a home run in his last 99 innings. Ross' streak is the second-longest active streak in the Majors behind Kansas City's Wade Davis (123 2/3 innings).
Heading into the sixth inning, Ross had thrown just 68 pitches. After giving up two singles to Martin Prado and Christian Yelich, Ross threw a wild pitch, allowing Prado to score the Marlins' first run.
"Sixth inning with that wild pitch, that changes everything," interim manager Pat Murphy said. "When you're a pitcher and things are going that well, all of a sudden you throw a wild pitch, it's pretty unusual and you lose your focus for a second."
Ross said that he thought his sinker-slider combo was working well early and agreed with Murphy that the wild pitch definitely affected him.
"It's a 0-0 ballgame when you bounce one to the backstop, it's a little frustrating," Ross said. "But I came back and made some pitches, they just had some good at-bats."
The Marlins did continue to be effective, as Justin Bour hit an RBI single to left field to make it 2-0. Then a single by Casey McGehee followed by an RBI single from J.T. Realmuto concluded Ross' outing as the right-hander was replaced by Marcos Mateo.
"You know it's the third time through the lineup," Ross said. "The hitters made a good adjustment, they were laying off some of the pitches down and five base hits with two-outs -- it's a tough way to lose."
Ross went 5 2/3 innings, allowing eight hits (all singles), four runs (three earned), striking out eight and not issuing a walk.
"I thought he was really super the first five innings...and then well-placed hits, still weren't hit hard," Murphy said. "The wild pitch threw him for a loop and he beat himself up over that. He's trying to do what they're all trying to do -- showing everybody they're a worthy team. And I think they are."
Beth Maiman is an associate reporter for MLB.com. This story was not subject to the approval of Major League Baseball or its clubs.