Swinging singles: Marlins go on base-hit spree
Lineup does all its damage with two outs in sixth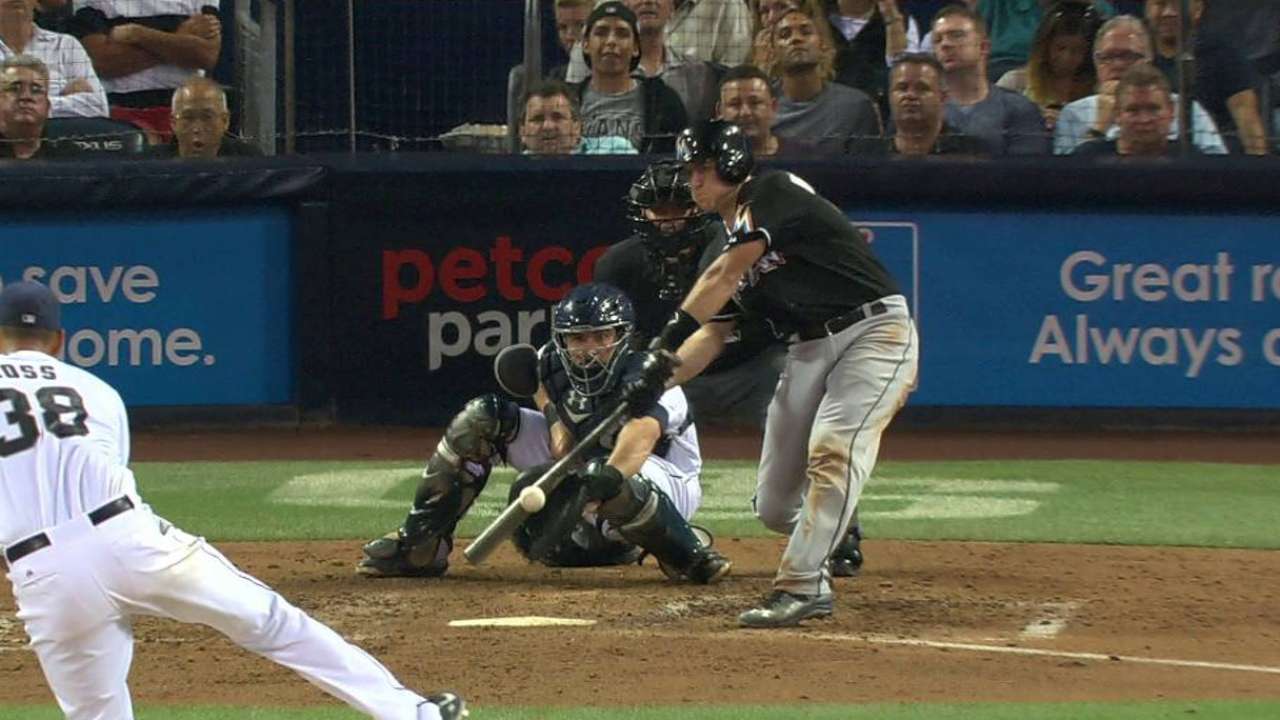 SAN DIEGO -- For much of the first five innings Thursday night, it was a challenge for the Marlins to simply put the ball in play off Padres right-hander Tyson Ross, who fanned the first four batters he faced.
But with two outs in the sixth inning, the Marlins went on a "hit parade," stringing together five straight singles that provided the necessary punch in a 4-0 win at Petco Park.
"It was kind of just next man up the whole inning," Christian Yelich said.
The Marlins on July 11 set a franchise record with nine straight hits in an eight-run seventh inning in a 14-3 win over the Reds at Marlins Park.
They didn't challenge that mark Thursday, but did enough damage with those five successive singles to generate all four runs right-hander Tom Koehler needed to secure Miami's third straight win.
"We are putting the game in motion," manager Dan Jennings said. "We're trying to be aggressive. Good things happen."
Ross struck out Koehler to open the inning, giving the Padres' right-hander eight strikeouts on the night. Ichiro Suzuki then grounded out to the shortstop.
From there, the singles started to mount.
Martin Prado dribbled one to center, just past second baseman Jedd Gyorko. Yelich's single with Prado running put Marlins on the corners.
Ross, who dominated with his slider, bounced one that went for a wild pitch, scoring Prado.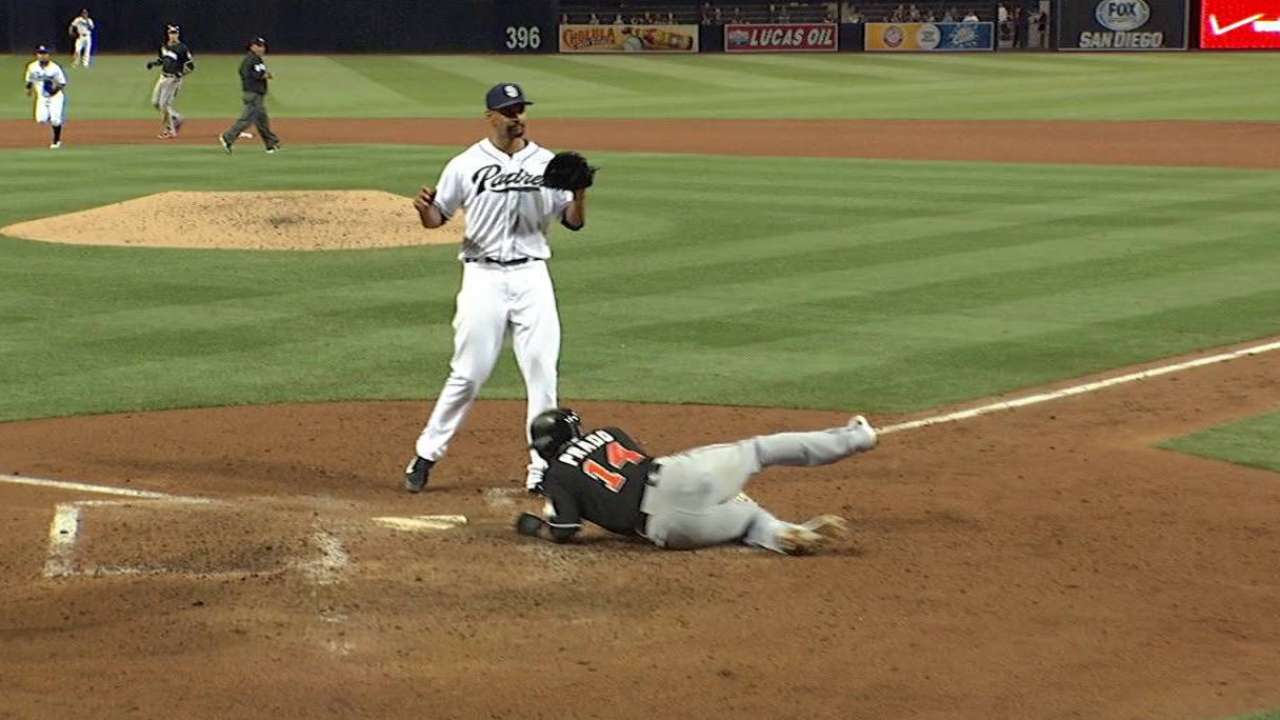 "There were a lot of good at-bats, back-to-back-to-back," Yelich said. "That's a credit to our guys, making adjustments from earlier in the game, and being able to push a couple across."
With the scoreless tie snapped, left-handed hitting Justin Bour took advantage of the shortstop shift and bounced an RBI grounder into left.
"Some guys are power hitters, and they're marginal hitters," Jennings said. "This guy [Bour] is a hitter with power. He has that ability to use his hands, and he sprays the ball around. Hitting with two strikes for him is not a big thing, because he trusts his hand. He hits the ball all over. That was huge."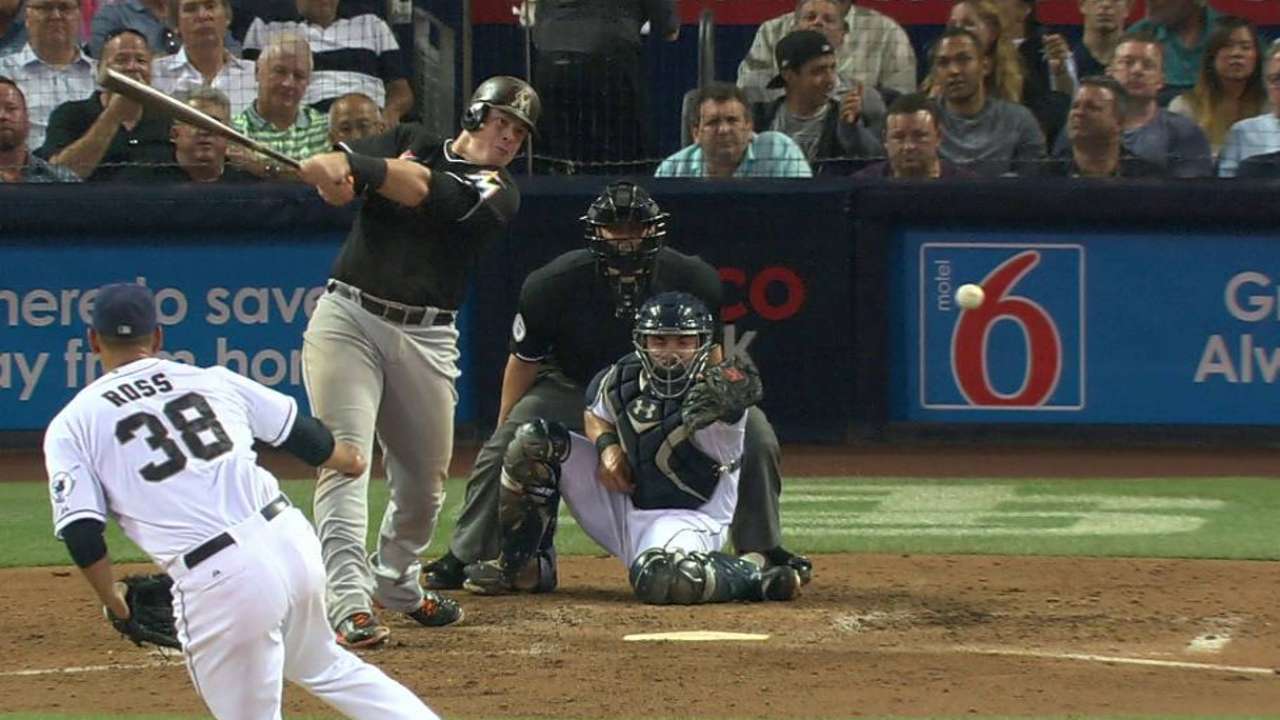 Casey McGehee singled, and J.T. Realmuto's run-scoring single made it 3-0. McGehee capped the scoring, racing home on an error on a Realmuto's steal of second.
"With Ross, you know he's going fastball, slider," McGehee said. "But there is not a whole lot of fastball velocity difference in the two. He's got such good late movement. He was pretty impressive the first two times through the order.
"I thought we did a pretty good job realizing what he was trying to do, and not trying to do too much against him. Once we got that first run on the pitch that got away. That kind of took the pressure off a little bit."
Joe Frisaro is a reporter for MLB.com. He writes a blog, called The Fish Pond. Follow him on Twitter @JoeFrisaro and listen to his podcast. This story was not subject to the approval of Major League Baseball or its clubs.