Shipley among 10 top prospect performers Thursday
D-backs No. 2 prospect hurls 6 shutout frames despite allowing 9 hits for BayBears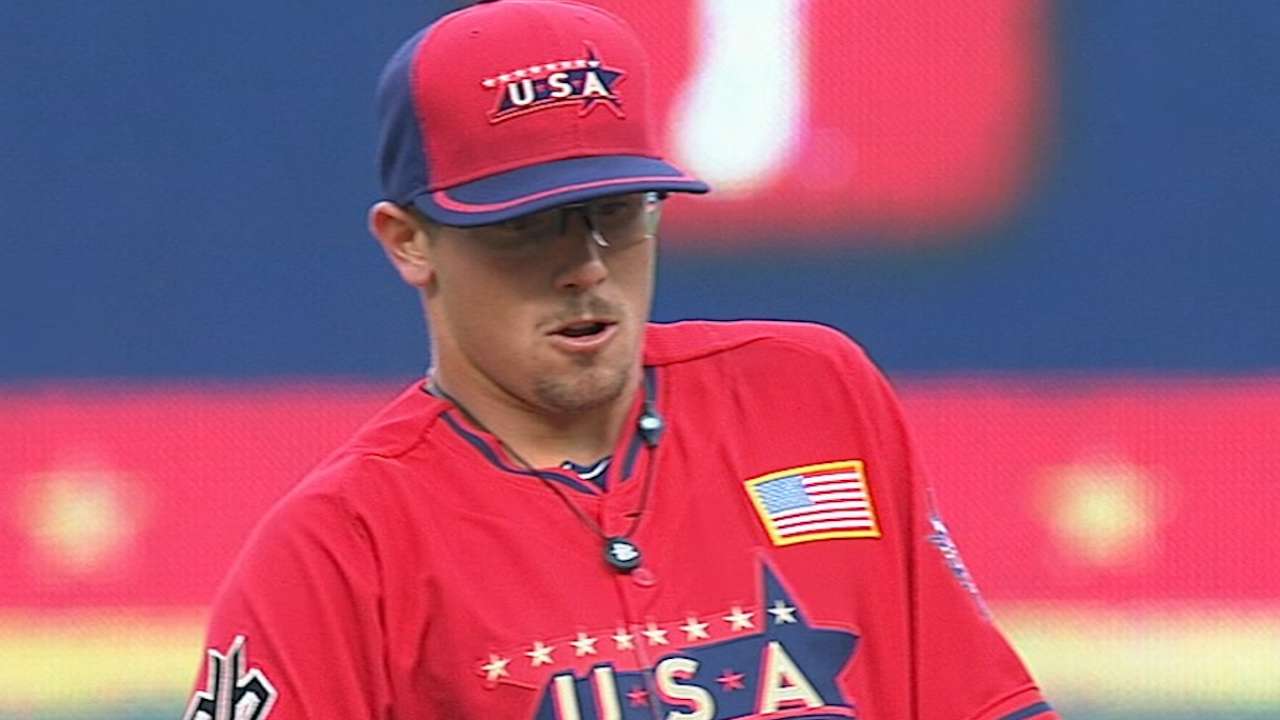 Braden Shipley gave up nine hits on Thursday, more than he had in all but one start this season. But the right-hander held the baserunners in check for six shutout innings, avoided walks, struck out four and turned in one of his best performances for Double-A Mobile.
Arizona's No. 2 prospect now has three straight wins for the BayBears, who defeated Mississippi, 7-0, thanks in part to Shipley's control. The Braves only mustered two extra-base hits, which Shipley quickly snuffed out.
The 23-year-old had not shut out an opponent since June 3 and has done so three times in 20 starts this season.
After Thursday's win, Shipley is now 7-8 with a 4.06 ERA. Next week, baseball's No. 30 overall prospect has a chance to cut that earned run average below 4.00 for the first time since May 13 and return to .500 for the first time since May 18.
Shipley, whom Arizona picked in the first-round of the 2013 Draft, is 13-19 with a 4.20 ERA in 53 pro starts.
Other notable performances from around the Minor Leagues on Thursday
• Athletics No. 1 prospect (No. 59 overall) Matt Olson ripped his first homer since June 20. The 6-foot-5, 230-pound lefty finished 1-for-4 in Double-A Midland's 7-0 win over San Antonio. Thursday's shot marked his ninth of the year and he has at least one RBI in six of his past seven games. On the season, he's got 45 RBIs and 23 doubles. Oh, and 74 walks that explain his .233/.376/.388 line.
• Cardinals Class A affiliate Peoria recorded a team no-hitter, while No. 25 prospect Oscar Mercado provided the Chiefs' only RBI in a 2-0 win over Clinton. A rehabbing Jaime Garcia was nearly perfect over the first five innings, striking out six while hitting James Alfonso with a pitch. Steven Sabatino followed with 2 1/3 perfect innings, and then Michael Schumacher finished off the Lumberjacks with 1 2/3 spotless frames of his own. The Cards hurlers struck out nine. Garcia was starting his first game for Peoria since injuring his groin. The 29-year-old lefty is 3-3 with a 1.69 ERA in seven starts for St. Louis' big league club this year.
• Indians No. 21 prospect Dorssys Paulino went 2-for-3 with a double, homer and five RBIs for Class A Advanced Lynchburg. The left fielder is 5-for-11 with two homers and six RBIs in his past three games, accounting for nearly all of his power production this season. "We've been working just on his timing with his stride and getting down on time," Hillcats hitting coach Bobby Magallanes told MiLB.com. "He's been doing a good job of that. Obviously he had a good night, the timing was good today and he was seeing the ball. He's swinging the bat well of late."
• Mariners No. 6 prospect Edwin Diaz notched a new Double-A season high with eight strikeouts for Jackson. The right-hander allowed just four hits and one run in five innings, but the lone run proved costly, as the Generals could not muster much offense in a 6-0 loss. Diaz fell to 3-8, but cut his ERA from 4.57 to 4.36 in the process and boasts a 64-to-21 strikeout-to-walk line. The 21-year-old has only given up three earned runs in his past three starts (16 1/3 total innings).
• Mariners No. 10 prospect Tyler O'Neill returned from the Pan-American Games to blast two homers for Class A Advanced Bakersfield on Thursday night. Just 20 years old, he took a break from Minor League action to be an everyday starter for gold medal-winning Team Canada and then returned to California for his first Blaze game since July 3. O'Neill went yard in the first inning and then provided some extra cushion with a solo shot in the fifth. Bakersfield prevailed, 8-5, and O'Neill is hitting .242 with 18 homers and 48 RBIs on the season.
• Nationals No. 1 prospect (No. 3 overall) Lucas Giolito continues to shine for Double-A Potomac without picking up wins. The highly touted right-hander gave up five hits and one earned run while striking out six in six innings, but was unable to win for the third start in a row. Giolito has surrendered just three earned runs in his past six starts (30 total innings), but is only 1-1 in that time. The 6-foot-6 California native has been striking out plenty of hitters. His K-to-BB line currently stands at 86-to-20 with Potomac.
• Nationals No. 15 prospect Victor Robles fell a double short of the cycle for Class A Short Season Auburn, finishing 4-for-5 with a triple, home run and two RBIs. The 2013 signee has been tearing it up for the Doubledays since debuting on July 19, hitting .500/.522/.900 with four extra base hits in that time. Robles already has three multi-hit games in five tries while collecting at least one RBI in four of those contests.
• Pirates No. 30 prospect Stetson Allie homered for the third straight day and led Double-A Altoona to a 4-1 win over Akron. The right fielder's power has been consistent this week, going 2-for-4 with a homer and five RBIs Tuesday in the first game of a twin bill, 3-for-4 with a homer and three RBIs Wednesday and then 2-for-4 with a solo shot Thursday. The run has bumped his line to .209/.297/.405 with 16 homers -- best in the Eastern League -- and 53 RBIs.
• Twins No. 4 prospect (No. 24 overall) Jose Berrios is known for overpowering hitters, but the usually strikeout-happy right-hander picked up his first Triple-A win with only one strikeout. He helped Rochester take down Gwinnett, 4-0, by allowing just four hits and two walks in seven innings. While his strikeout number plummeted from his average of seven per start, Berrios had his best game as a Red Wing. "I wasn't feeling too confident in myself," Berrios told MiLB.com about the beginning of his Rochester career. "So I just tried to figure out what I could control and do better work between my starts."
Alex M. Smith is a reporter for MLB.com. This story was not subject to the approval of Major League Baseball or its clubs.