Emotions pour out during Simmons tribute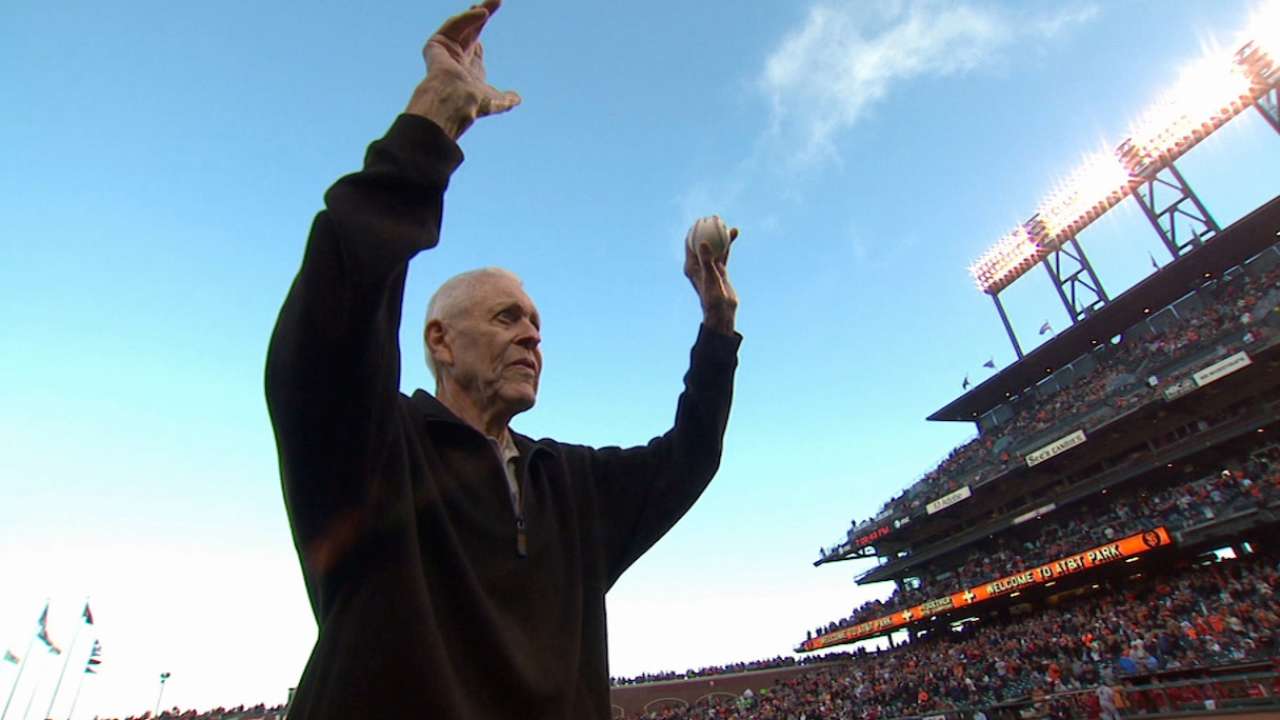 SAN FRANCISCO -- The intimate function held on Thursday night at AT&T Park to honor the late broadcaster Lon Simmons was a celebration, not a memorial.
Certainly, Simmons' death at age 91 on Easter Sunday remained fresh in the minds of the relatives, friends and colleagues who gathered in a corner of the ballpark's club level to remember the man who had an enduring impact on Bay Area baseball. But any tears that were shed came between bouts of laughter -- because, as speaker after speaker recalled, Simmons' sense of humor was as rich and deep as his familiar baritone, which conveyed the exploits of both the Giants (1958-73, '76-78, '96-2002) and A's (1981-95).
Simmons' daughter Robin, the first speaker before the audience of approximately 300, set the evening's tone by saying, "My dad was a really good judge of character -- and, looking at this crowd, I wonder who he was talking about."
The crowd included a "Who's Who" of Giants, from legends Willie Mays and Willie McCovey to performers from the inaugural San Francisco club of 1958, such as Jim Davenport, Hobie Landrith and Eddie Bressoud. Former A's exec Wally Haas showed up, as did ex-Oakland broadcast partner Ray Fosse and renowned traveling secretary Mickey Morabito. Orioles play-by-play announcer Joe Angel, who broke in with the Giants in the late 1970s, sent an emotional video tribute. Recording star Huey Lewis and two members of The News delivered what amounted to a music video while on tour in Montreal, singing "Take Me Out to the Ballgame." Hall of Fame right-hander Gaylord Perry sent a letter thanking Simmons for his patient interviewing style, along with the old-fashioned trading stamps, which could be turned in for merchandise, that players received with each chat.
The tribute concluded in fitting fashion, with an assortment of audio highlights featuring Simmons issuing his signature homer call, "Tell it goodbye!"
Each speaker referenced Simmons' appreciation for a good laugh. Jim Stockwell, who befriended Simmons when the Frick Award-winning announcer moved to Hawaii, told of apologizing for organizing a round of golf on short notice. Simmons felt compelled to inform Stockwell, "Never say 'short notice' to an old guy.' "
Giants commentator Mike Krukow recalled picking up broadcasting partner Duane Kuiper and Simmons for a ride to Dodger Stadium. The driver was a friend of Krukow's, who became tongue-tied in Simmons' presence. He managed to spit out "You're the greatest!"
Displaying an actor's timing, Simmons remained silent before remarking, "That may be true. But I'm still not giving you gas money."
Simmons was the essence of humility and generosity. Wayne Hagin said that Simmons, his partner on A's broadcasts, offered to let him call Rickey Henderson's record-breaking 119th stolen base in 1982. Hagin refused, insisting that Simmons do the honors. Simmons would explain that Russ Hodges, his more experienced counterpart on Giants broadcasts, offered to step aside for him during momentous occasions early in his career.
Giants president Larry Baer described "the code" that Simmons followed, which included treating everyone with respect, looking for the good in people, ranking family as life's top priority, maintaining loyalty, not taking anybody for granted and laughing a lot.
Said Hagin: "Lon Simmons was my hero on the radio. And when I got a chance to meet him, he became my hero in life."
Chris Haft is a reporter for MLB.com. Read his blog, Haft-Baked Ideas, follow him on Twitter at @sfgiantsbeat and listen to his podcast. This story was not subject to the approval of Major League Baseball or its clubs.