MLB.com Columnist
Lyle Spencer
Hicks, Gose share ride from Compton to big leagues
Young talents played together at Urban Youth Academy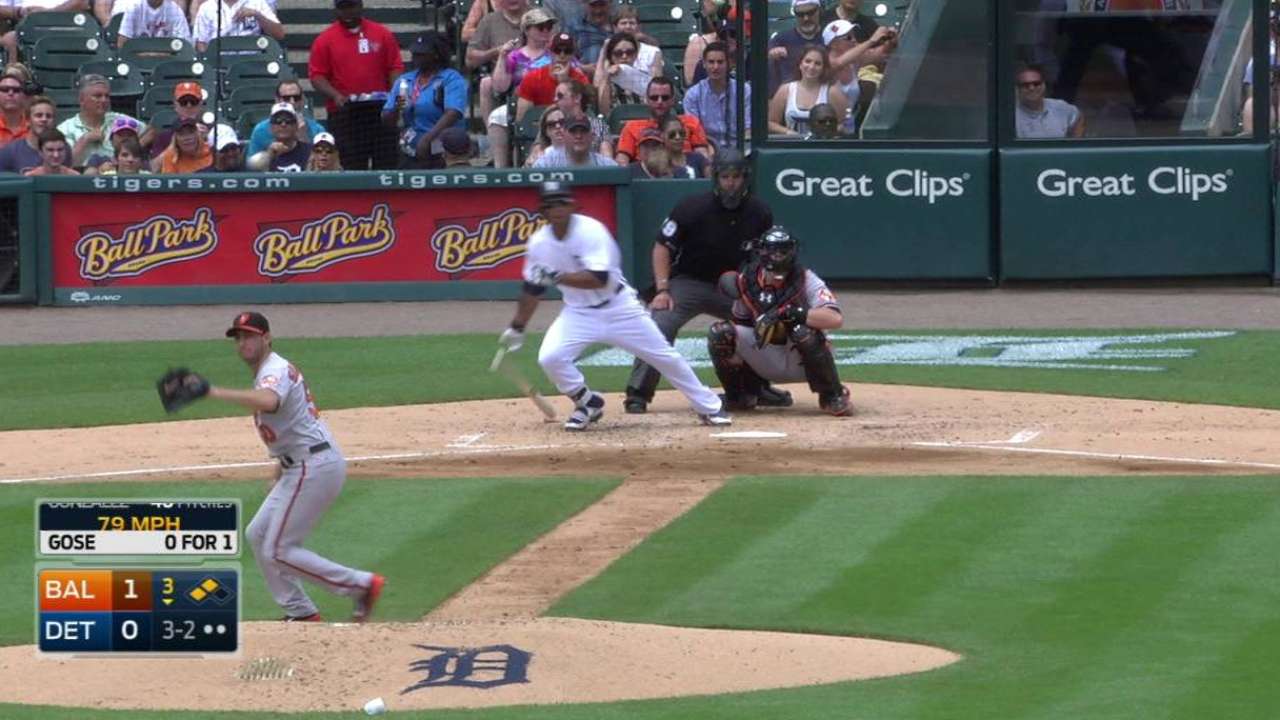 LOS ANGELES -- Fulfilling their destinies as Major League center fielders as rivals in the American League Central, the Twins' Aaron Hicks and the Tigers' Anthony Gose go way, way back.
They got together in the summer of 2004 as teammates with the San Gabriel Valley Arsenal, a travel team in the greater L.A. sprawl that included a pitcher with a lively arm named Gerrit Cole.
"We were 14 when we met," Hicks recalled, grinning. "That first day, I asked Anthony what position he played. He said, 'Center field.' He asked me what position I played, and I said, 'Center field. You're going to be playing right field today.'
"When they put up the lineup, I was in right field. Gerrit Cole was definitely our ace."
Through their senior year in high school, Hicks and Gose were teammates with the Arsenal and at MLB's Urban Youth Academy in Compton. Both were swift, athletic and blessed with strong arms -- and both searched to find their hitting styles and strokes.
Hicks, 25, is 10 months older than Gose. He attended Long Beach Wilson High School, with Gose going to Bellflower High in L.A. They made the trip to Compton together when Hicks was 15 to attend a tryout that ended with both making the Academy squad.
Hours spent under the SoCal sun, honing skills, paid off when they were selected out of high school in the 2008 Draft -- Hicks by the Twins in the first round, Gose by the Phillies in the second. They have been traveling parallel courses ever since, working to establish themselves as everyday players at the highest level.
Gose, providing quality defense and blazing speed, has a .278/.323/.385 slash line for the Tigers. Offering the same qualities, Hicks has a .257/.329/.361 line for the surprising Twins.
There are only 30 big league jobs in center, making the rise of these longtime buddies all the more remarkable.
"That's where the athletes play," nine-time Gold Glove Award winner Torii Hunter said, having moved from center to right late in his career. "Aaron and Anthony can play. If you're in center field in The Show, you're an elite athlete."
Both Hicks and Gose benefited immensely from their time at the Academy in Compton. The first of its kind in the U.S., under MLB's umbrella, it opened in 2006 and has served hundreds of youth of both genders from 8 to 17 with its baseball and softball programs.
"It wasn't just about going out and playing baseball," Hicks said. "It was understanding playing the game and finding out different ways to make yourself a better player -- and person. I still work out there every offseason."
At first it looked as if Gose's future was on the mound.
"He topped out at 98 [mph]," Hicks said. "And he threw a changeup. He was the only one of all of us who threw a changeup."
Hicks, a switch-hitter, and Gose covered the outfield in games at the Academy when the hard-throwing lefty wasn't on the mound.
"Anthony Gose was my closer at the Academy," former Major League center fielder Ken Landreaux said. "He could really bring it. But he wasn't much of a hitter back then. He needed a lot of work."
Landreaux has dedicated himself for years to developing young talent at the Academy and on his own. He worked with both Hicks and Gose, who also absorbed the wisdom of such Academy luminaries as Hall of Famer Frank Robinson, Darrell Miller and Don Buford.
"Carl Nichols, who played for the Astros [and Orioles], was our main hitting guy," Hicks said, referring to the former catcher and outfielder. "Landreaux? He was Papa. He took care of us -- and told us what a sweet swing he had."
Hicks was pleased to discover that Landreaux, who answers to "K.T.," wasn't exaggerating. A Major Leaguer for 11 years with the Angels, Twins and Dodgers, Landreaux had his best seasons in Minnesota as the Twins' center fielder. He hit .305 in 1979 and .281 in '80 before being dealt in '81 to the Dodgers, with whom he celebrated a World Series title that autumn.
"Hitting, that's the most challenging part of the game for me," Hicks said. "Most of the time, early on, I was a pull guy. As far as knowing what I was doing and having a plan, I didn't figure that out until Double-A [New Britain, in 2012].
"One of the great things about having Torii here is that he's teaching me how to prepare better. There are a lot of different things to look at -- sequences, what a guy likes to throw in different counts and situations. He's been able to show me how to have a game plan and carry it out."
In the dugouts and clubhouses, they'll tell you that the day you stop learning is the day you retire. Hicks and his buddy, Gose, are a long way from that day.
Lyle Spencer is a national reporter and columnist for MLB.com. Follow him on Twitter @LyleMSpencer. This story was not subject to the approval of Major League Baseball or its clubs.