MLB.com Columnist
Anthony Castrovince
Explaining the shift in rent-a-player market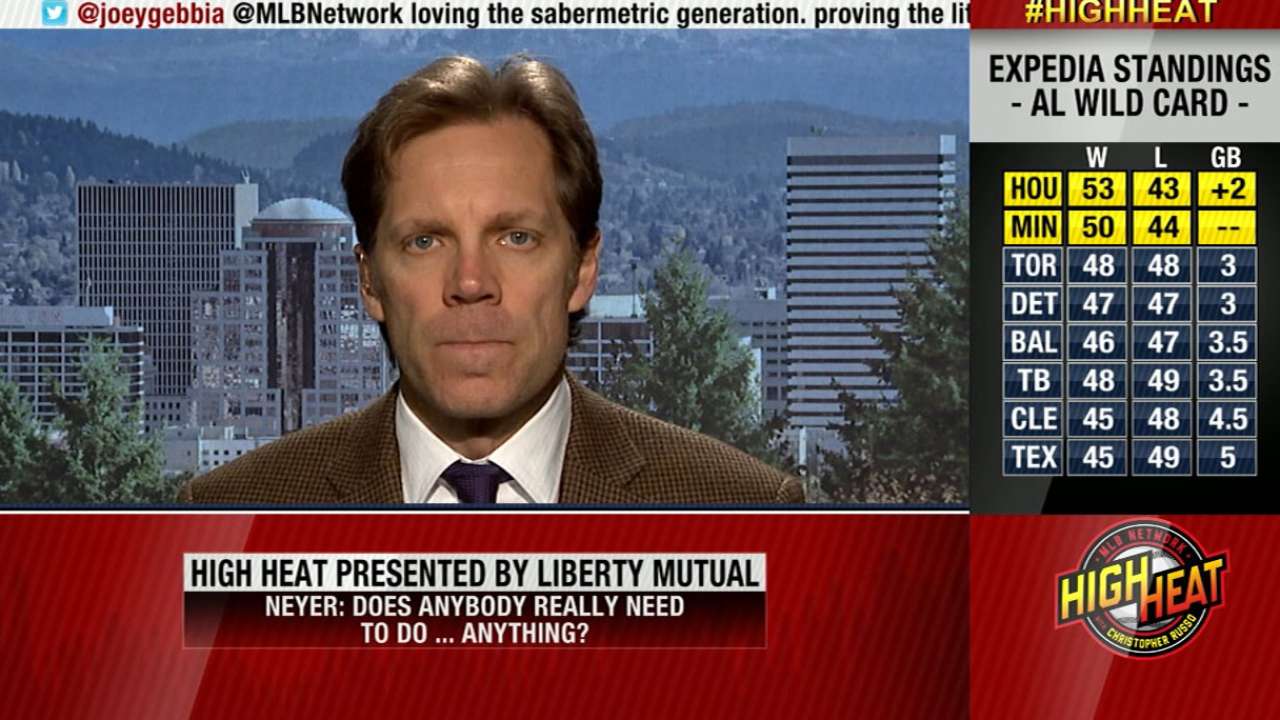 You see Randy Johnson entering the Hall of Fame just ahead of the non-waiver Trade Deadline, and you remember that July day in 1998, when the Mariners parted with Big Unit just ahead of his free agency and got back a franchise-shaping return, one that included Freddy Garcia and Carlos Guillen (both top 100 prospects) as well as John Halama, all of whom contributed to Seattle's 116-win season three years later.
Is such a deal in store for David Price or Yoenis Cespedes or Jeff Samardzija or Johnny Cueto or Ben Zobrist or any of the other high-profile pending free agents who might be on the move between now and the close of business on July 31?
Doubtful.
Major League Baseball's trade market might be the rare one in which the cost of the rent has trended downward over the years.
That's a reality such clubs as the Tigers, White Sox, Reds and A's are wrestling with in the lead-up to the Deadline. You'll get back talent for two months' worth of an established star, certainly. But as evidenced by Thursday's Scott Kazmir trade, in which neither of the guys the Astros sent to the A's (Jake Nottingham and Dan Mengden) are considered elite prospects, you can't necessarily expect to land A-list prospects under long-term contractual control.
"It's tough to quantify [a rental player's worth]," said a National League executive, "because so much of it comes down to team needs, prospect strength and the caliber of player available."
Youth shall lead us
What we do know: In today's game, control of young talent is valued like never before. And because of changes to the Collective Bargaining Agreement that preceded the 2012 season (more on that later) and the increased sophistication with which clubs can assess the value a rental player will bring them in the home stretch, it's a stingier market for teams dangling short-term solutions.
As an American League executive put it, "Teams are able to precisely, rather than emotionally, value the impact of acquired players."
Let's use Price as an example, for he's the most accomplished of the potential rental players listed above.
Through 19 starts, Price has been worth 3.5 Wins Above Replacement (WAR). Realistically, he has maybe 15 starts remaining in the regular season. So if we do a rudimentary calculation (and of course, every team has its own way of making these evaluations) of WAR/start, Price has about 2.75 WAR left in him between now and the end of the season.
We'll go ahead and generously round that up to three wins, just because Price is a nice guy. A team acquiring him would have to determine:
A. What is the value of those wins (relative to the pitcher he would replace in the rotation) in the middle of a pennant push?
B. What is the value of a prospect (or prospects) with six years of contractual control ahead of him (or them)?
Answering question A will always be a situation-specific exercise. Sometimes desperation sets in (a la the Brewers, in the middle of a 26-year playoff drought, going all in on CC Sabathia in 2008), and the difference between, say, 87 wins and 90 wins is massive.
If you're a Blue Jays team trailing in the AL East and looking to end baseball's longest October absence, maybe you evaluate an impact rental differently than, say, a Cardinals club with a long postseason résumé and a little wiggle room in the NL Central.
As for question B, well, that's also club-specific. But the Braves' recent acquisition of Touki Toussaint from the D-backs is an illustration of how prospects are valued in some places.
Atlanta took on about $10 million in a bad contract (Bronson Arroyo) in order to land Toussaint, and many in the industry considered that a coup. Spending, after all, is restricted everywhere but in free agency, so this was a special opportunity to basically buy a prospect much the way you would a free agent.
"That young type of player is worth a whole lot of money," an executive said.
Change in compensation
The other big shift in the midseason rental market can be traced back to the 2012 Collective Bargaining Agreement, which went into effect the following season. Prior to 2013, players identified as Type A free agents were attached to first-round Draft compensation, even if they were dealt midseason. If the club that had possession of the player at season's end offered salary arbitration and he signed elsewhere, that team received the signing team's first-round pick (provided that pick was outside the top 15), as well as a supplemental first-round selection between the first and second rounds. (If the team picked inside the top 15, you got their second-round pick, which the Astros got from the D-backs in 1999 when Arizona signed Big Unit.)
For a more recent example, let's look at the Angels and Mike Trout. The Halos acquired Mark Teixeira from the Braves at the 2008 Deadline, lost Teixeira to the Yankees in free agency the following offseason and received from the Yanks the 25th overall pick in the 2009 Draft, which they used on Trout, as well as a supplemental pick that netted them lefty Tyler Skaggs. Seven years later, two brilliant months from Teixeira's bat and control of the greatest player on the planet looks like a pretty darn good haul in exchange for Casey Kotchman, doesn't it?
In essence, when you traded a star in the middle of the season, you knew you were also getting two high Draft picks in return, which was a way to cushion the blow.
Now, if anything, Draft-pick compensation might prevent deals, because the "selling" team has to determine if the package coming back is worth more than a Draft pick in the No. 30-35 range. (Picks are no longer transferred from one club to another. Rather, if you make a qualifying offer to one of your free agents and he signs elsewhere, you get a compensation pick after the first round, and the signing team simply forfeits its first-round selection unless it is in the top 10 and therefore is protected.)
This brings us back to Cespedes. Last year, Cespedes was part of one of the biggest July 31 trades, when the A's shipped him (with a year and a half left on his deal) and a compensatory Draft pick to the Red Sox for Jon Lester and Jonny Gomes. Lester was the best comparison to Johnson in 1998 on last year's market -- an ace entering his walk year -- and he netted a far less a dramatic haul than what Johnson netted the Mariners, and is further evidence that rent-a-players don't bring in what they used to.
Interestingly, the Tigers' trade calculus with Cespedes is affected by an unusual clause in his contract that prevents him from being given a qualifying offer. So Detroit won't get compensation for Cespedes even if it keeps him through the season and he signs elsewhere in the offseason, which gives the Tigers a greater impetus to trade him.
Removing the compensation cushion removed a ton of tangible value attached to a rental. And whether it's a publicly available evaluation, such as WAR, or some internal calculus, teams have the means to determine what that rental is really worth.
As much as those of us on the outside might be enamored with some of the big names in the marketplace, the truth is that their emotional value sometimes far exceeds their actual value.
Anthony Castrovince is a reporter for MLB.com. Read his columns and follow him on Twitter at @Castrovince. This story was not subject to the approval of Major League Baseball or its clubs.