Kershaw rolls shutout streak to 29 innings
Dodgers ace carries perfecto into 7th, racks up 11 K's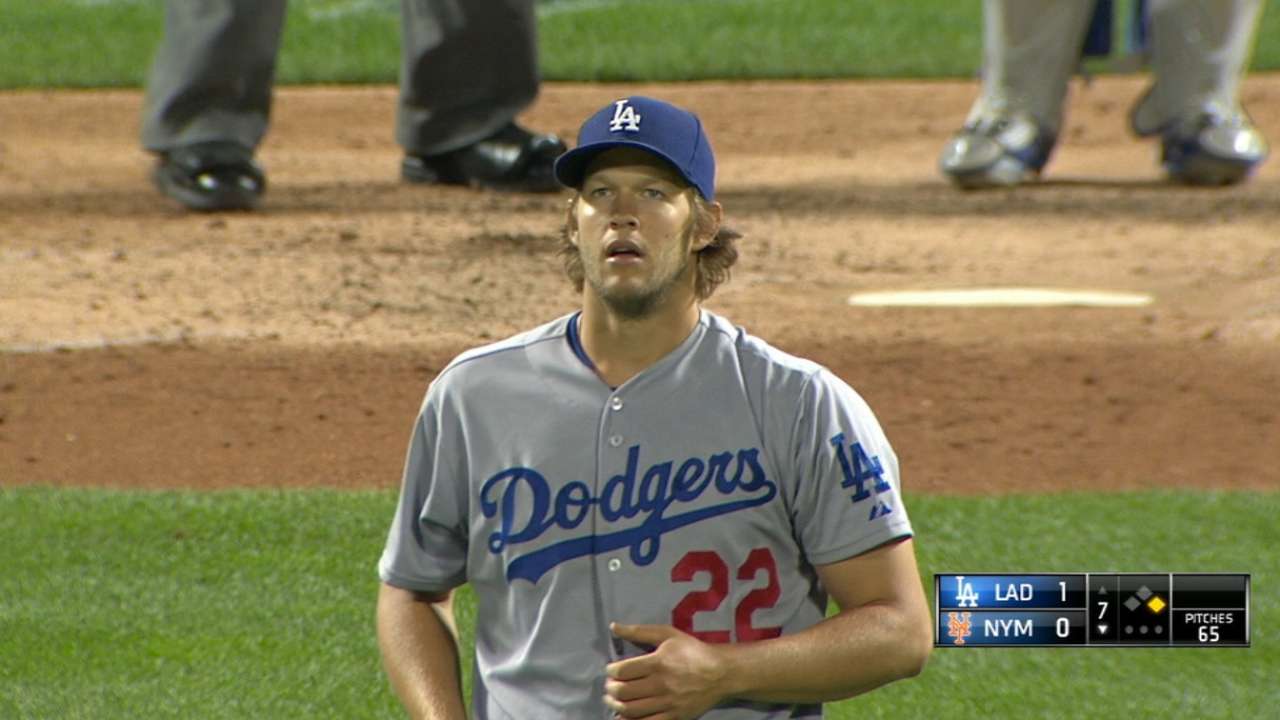 NEW YORK -- The best pitcher in baseball wasn't the best pitcher on his team during the first half of the season, but Clayton Kershaw is still Clayton Kershaw.
So, while Zack Greinke took his scoreless-innings streak home to be with his expectant wife, Kershaw took his scoreless-innings streak to the mound at Citi Field on Thursday night and closed the gap with his teammate.
He dominated the Mets with a three-hit shutout, losing a perfect game in the seventh inning when he shifted from making history to making sure a one-run lead would hold up.
Kershaw finished off the 3-0 Dodgers win with 11 strikeouts and no walks. His scoreless-innings streak is 29, his record is 8-6 and his ERA 2.51. It was his second shutout and complete game of the season and raised his career record against the Mets to 6-0.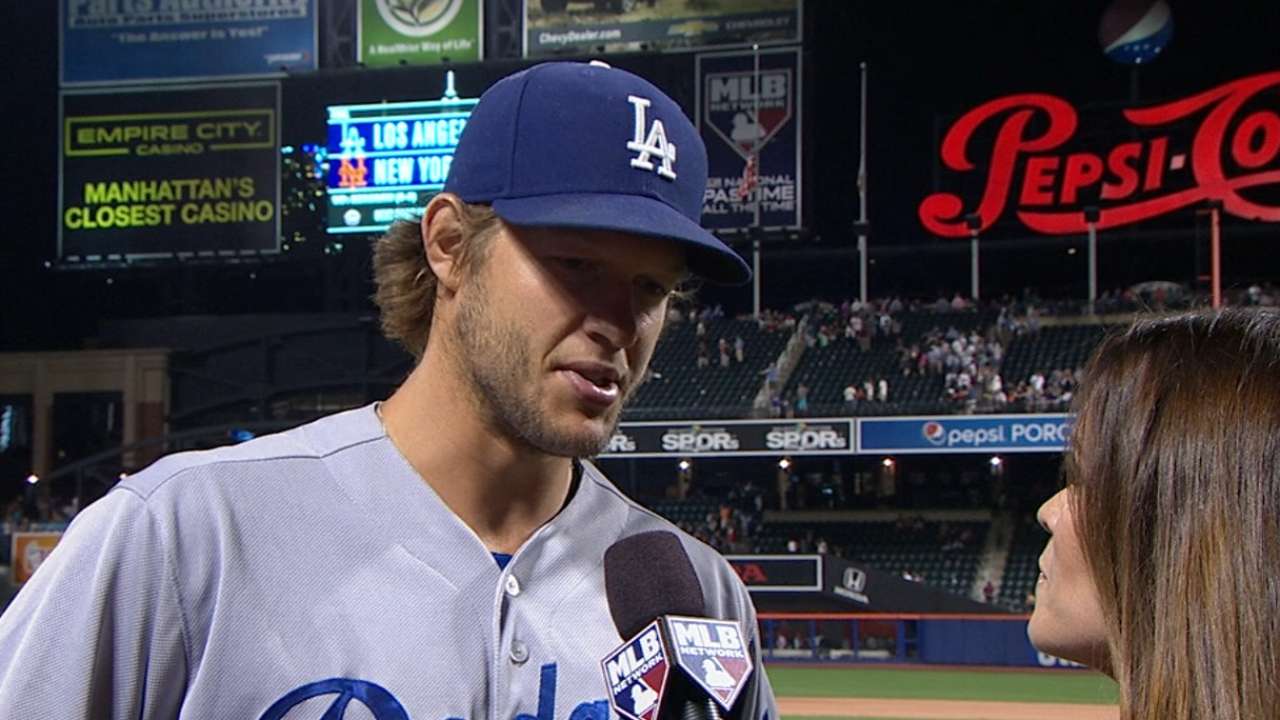 In Kershaw's last five starts over 40 innings, he has allowed two earned runs with 54 strikeouts and two walks. He's the first MLB pitcher since Ray Culp in 1968 with eight scoreless innings and at least 11 strikeouts in three consecutive starts. In those three starts, Kershaw has at least 10 strikeouts and no walks, matching Tampa Bay's Chris Archer for the longest streak in the last 100 years.
"He had one run until the ninth and made it stand," said Jimmy Rollins, whose third-inning solo shot accounted for that run. "That's what aces do. When he's like that, they've got no chance. When a guy's good, he's good."
Video: LAD@NYM: Rollins goes deep in the 3rd vs. the Mets
Greinke and his 43 2/3 scoreless-innings streak could be back on the mound by Saturday or Sunday, restoring the Dodgers' best one-two tandem since Sandy Koufax (who pitched the only perfect game in franchise history 50 years ago) and Don Drysdale.
"Those two have been pretty special for a while," manager Don Mattingly said of Kershaw and Greinke. "It's been good for both of them. Zack has been so good and Clayton is so competitive, in a healthy way, to show how good he is. He didn't want to go by the wayside, and he's shown us what he can do, too."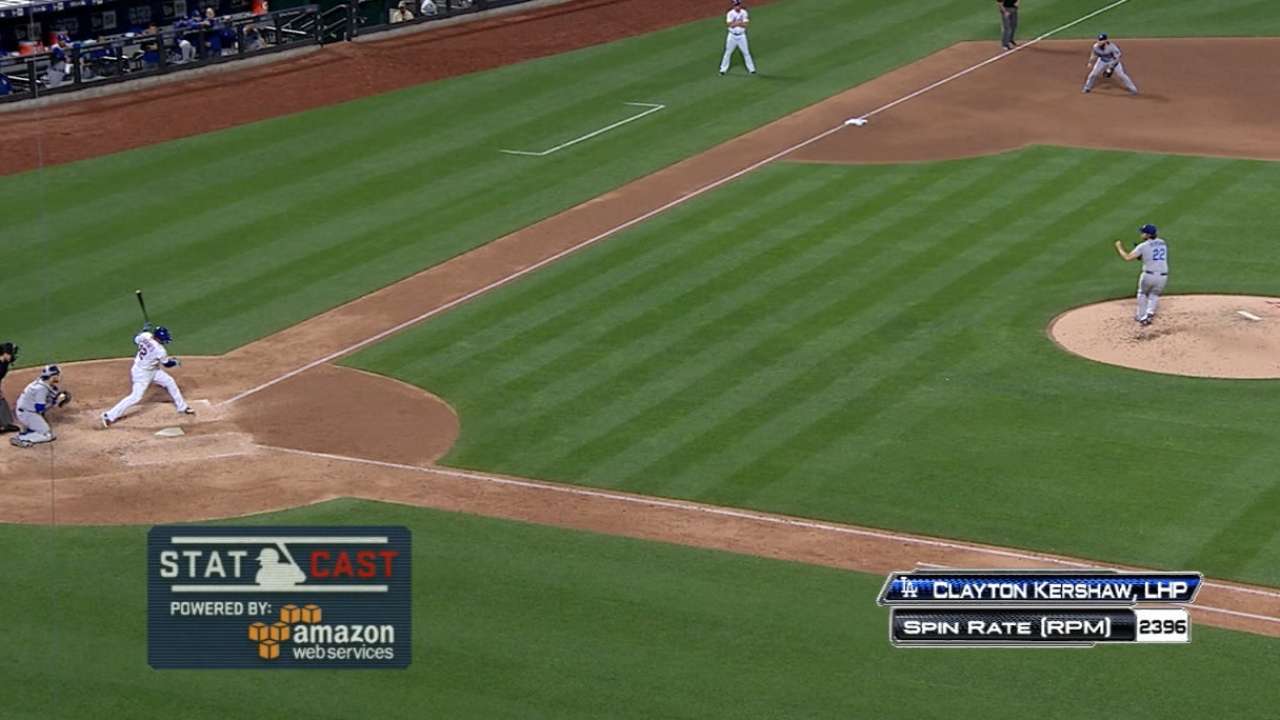 Kershaw wasn't buying the competition angle.
"I don't compete against my teammates. It's hard enough to get guys out," he said. "Yeah, I try to copy Zack, the way he's throwing. I'm trying not to lower the bar."
Curtis Granderson ruined the perfect game by lining an 0-2 slider down and over the plate to right field leading off the seventh inning. Wilmer Flores singled on a slider one out later. Lucas Duda also singled off a slider leading off the eighth inning, but Kershaw picked him off.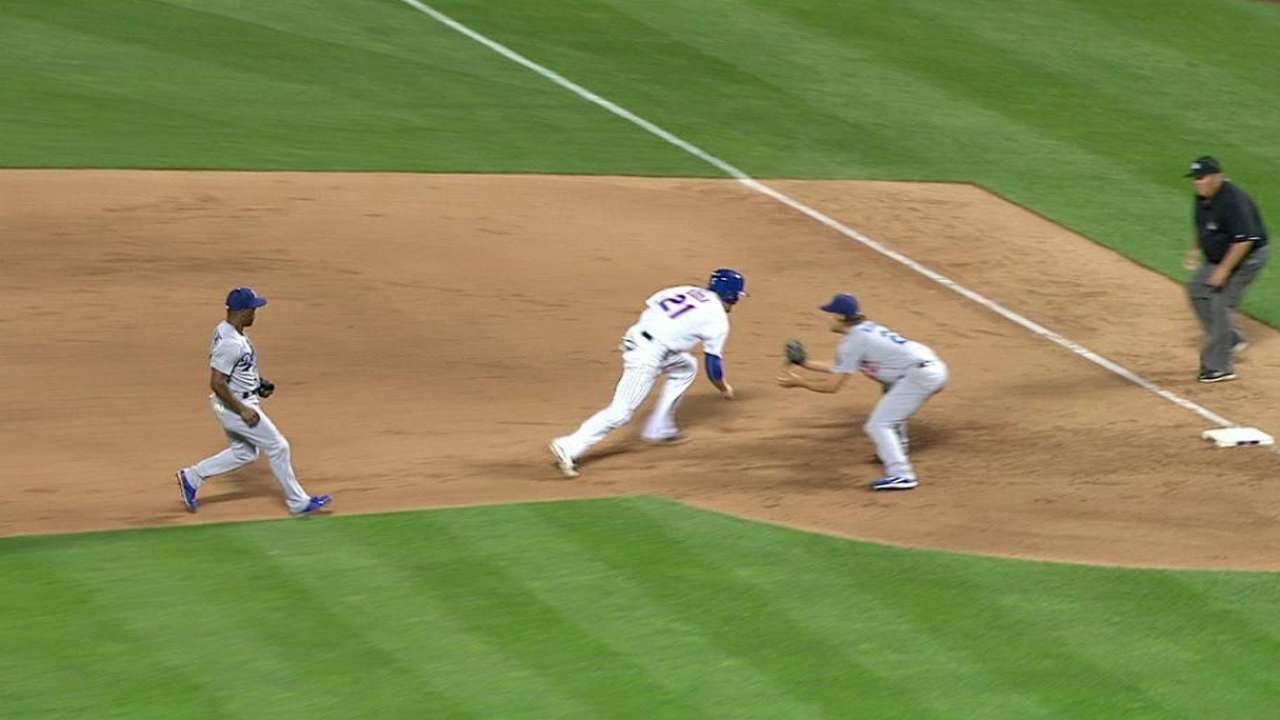 Kershaw said he thought the pitch to Granderson was a good one, not so much the other two sliders for hits. He had to quickly shift his focus from perfection into protection of the one-run lead in the seventh.
"That's the thing, you've got to refocus really fast, you've got to bear down really quick to get out of it," he said.
Kershaw admitted he started to think about a perfect game "right about the time he got the hit. Once the seventh rolls around, it could be possible. It didn't last very long."
Ken Gurnick is a reporter for MLB.com. This story was not subject to the approval of Major League Baseball or its clubs.