Johnson ready to chronicle HOF induction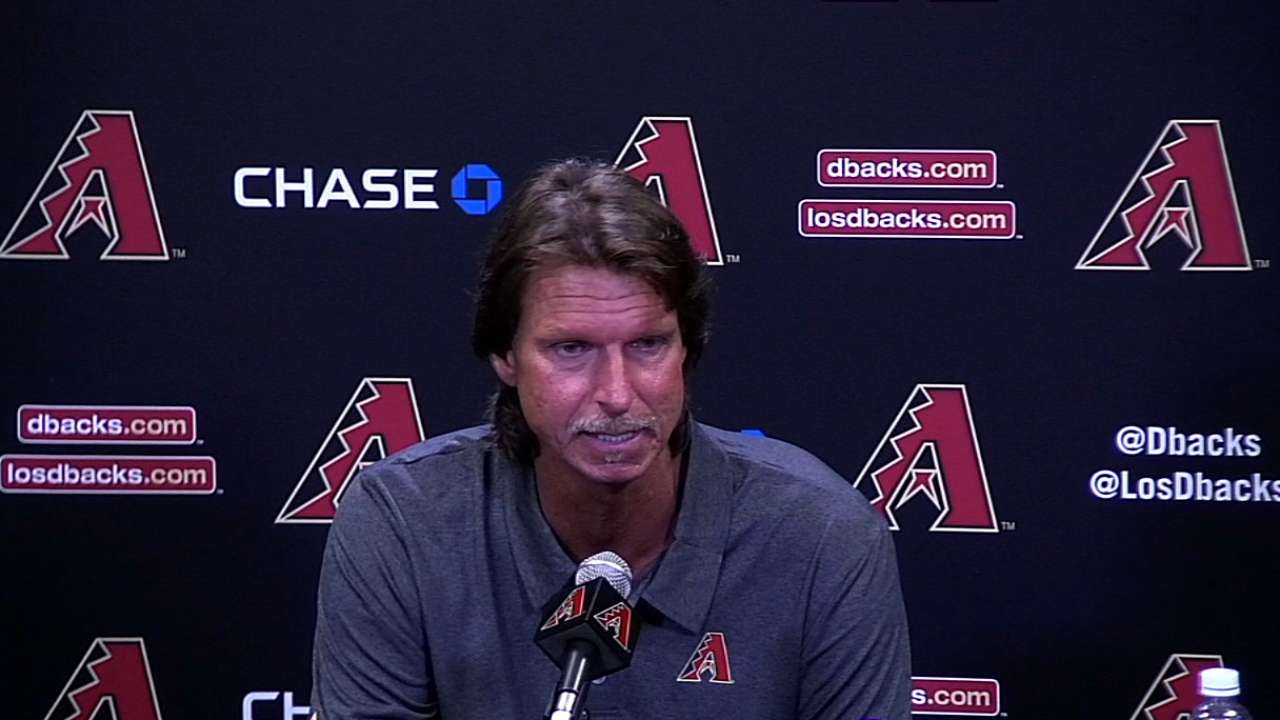 COOPERSTOWN, N.Y. -- Back in 1985, when Randy Johnson was just a hard-throwing wild left-hander struggling in the Class A New York-Penn League, he visited the National Baseball Hall of Fame with some teammates during a road trip.
Thirty years later and too many awards to count, Johnson is just a few days away from being enshrined in that same Hall of Fame.
Following his election in January, Johnson made a return visit to Cooperstown for a private tour of the Hall, and since then has been working on the tough task of crafting his speech for Sunday's induction ceremony.
Hall of Fame Class of 2015
"I am about as prepared, I believe, as I can be," Johnson said. "I believe that I will probably be more nervous than any game that I have pitched."
That's saying something, since Johnson pitched -- and won -- a deciding playoff game for the Mariners against the Angels in 1995 and also pitched -- and was the winner -- in relief in Game 7 of the 2001 World Series.
It's not speaking in front of people that is causing the most nerves for Johnson, but rather trying to figure out a way to say what must be said and do it within the time frame allotted.
"I've been told by the Hall of Fame you have about 10 to 11 minutes to share your thoughts, and I have written my speech with the help of a few people," Johnson said. "And so I believe that I have everything down, prepared on paper, that will, as best as I can, wrap up the beginning from the day that I started playing baseball in Little Leagues in Livermore, Calif., to the last year in 2009 with San Francisco and a little bit of everything in between. It's mostly going to be a lot of thank yous to the people that have been there throughout the course of my career -- that got me there, kept me there, supported me."
Johnson decided to enter the Hall of Fame wearing a D-backs cap rather than a Mariners cap, a choice that he has described as extremely difficult.
With that in mind, you can count on the fact that there will be plenty of people from his time in Seattle who will be mentioned in his speech, and he has also invited some of them to join him in Cooperstown.
Something else that will join Johnson is his trusty camera.
Before he became a famous baseball player, Johnson loved photography; more than that, he studied it during his time at the University of Southern California. Once his career was over, he threw himself into his photography, traveling the world and snapping pictures with the USO while also finding time to visit Africa.
Ask him a question about photography, and he speaks with as much, if not more, passion than he does about baseball.
Johnson plans to bring his camera on stage with him to try to document his experience to share with his followers via his Instagram (@RJ51Photos).
"I've always felt that as a photographer and shooting the things that I shoot now, access always leads to more interesting pictures. And being an inductee this year, I will have the greatest vantage point of anybody being on stage, and I would like to share these moments with anybody that's interested. So I will be snapping away and taking pictures of my other three inductee brothers."
Steve Gilbert is a reporter for MLB.com. Read his blog, Inside the D-backs, and follow him on Twitter @SteveGilbertMLB. This story was not subject to the approval of Major League Baseball or its clubs.