Key things to watch for in today's games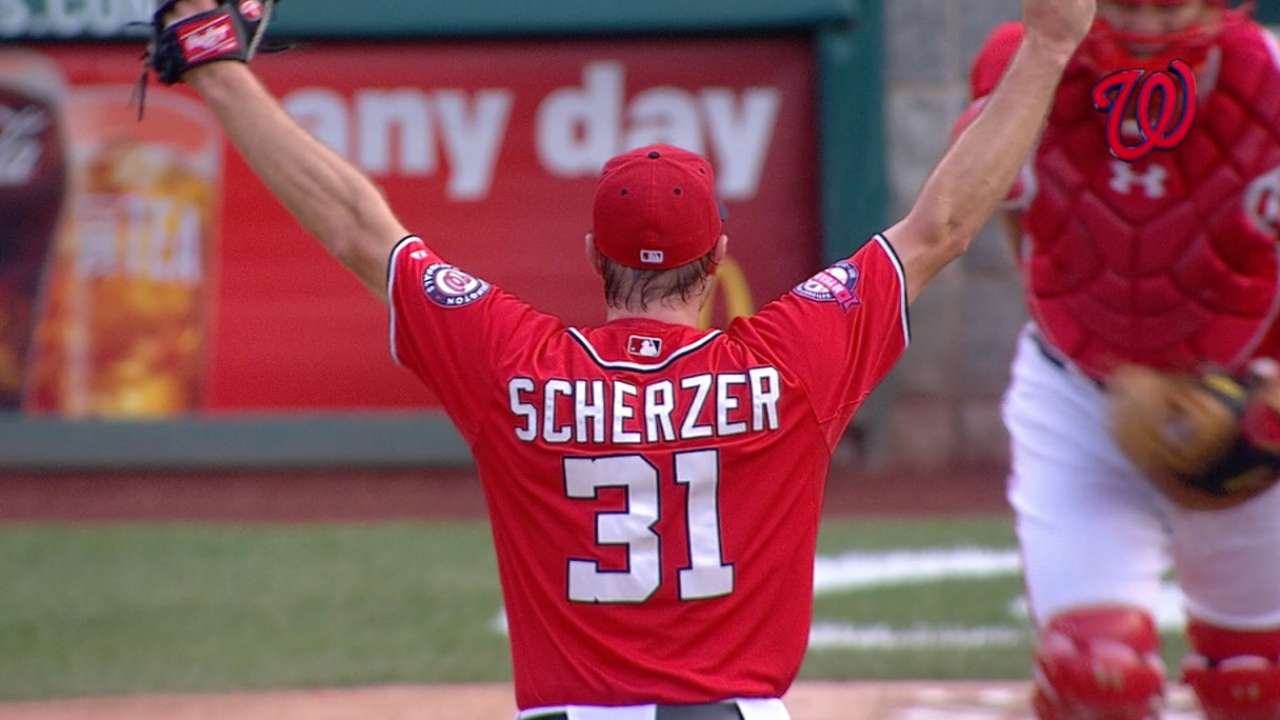 The last time Washington ace Max Scherzer faced the Pirates, it was a must-see event, as he tossed a near-perfect no-hitter.
Scherzer will be back on the mound against the Bucs again as he cruises into today's game as one of the league's most dominant pitchers, boasting a 10-8 record and a 2.09 ERA. Since that no-hitter on June 20, he's gone 2-3 with a 3.03 ERA in five starts.
Scherzer has had just one no-decision all season, and that came all the way back on April 12. His ERA has never risen above 2.13 after any start this season, and he's allowed just 10 home runs in 138 innings. He struck out 10 Pirates in his no-hitter, and the lone baserunner came on a hit-by-pitch.
The Pirates will counter with left-hander Jeff Locke, who has logged a 1.96 ERA over his last seven starts. Locke is 5-6 with a 4.01 ERA overall, but he's 3-3 with a 2.58 mark at home.
Here are a few other matchups and games to look forward to today.
Back on target -- BAL @ TB, 7:10 p.m. ET
Chris Archer is one of the biggest reasons why the Rays have remained in contention in the chaotic American League East, but he's coming off one of his toughest stretches. He gave up nine earned runs two starts ago and is 0-3 with a 5.61 ERA over his last four outings.
Still, he has held the opposition to two runs or fewer in 15 of his 20 starts this season, and his current three-decision losing skid is the longest of his career. He has given up just 12 home runs all season, but six have come in his last four outings. And now he'll have to stop the powerful Orioles.
Chris Tillman, an All-Star in 2013, has been having an erratic season for Baltimore, but it appears that he may be rounding into form. Tillman threw eight innings of one-hit shutout ball in his previous outing, and he has a 1.40 ERA over his last four starts. Baltimore is 10-8 in his 18 starts this season.
K's for Kluber -- CWS @ CLE, 7:10 p.m. ET
Corey Kluber, the reigning AL Cy Young Award-winner, seeks a modest goal tonight, as he is looking to win consecutive decisions for just the second time this season. He has a league-high 10 losses but has held opposing hitters to a .243 average and .289 on-base percentage.
Cleveland's ace has 159 strikeouts and just 29 walks in his first 20 outings, but the Indians have posted a 6-14 record when he starts. Kluber has given up just four home runs in his last nine starts, and the Indians are 3-6 over that span. He has walked more than two batters just twice all season.
Jose Quintana is having a similar season for the White Sox, registering a 4-9 record and 3.83 ERA in his first 120 innings this season. Quintana has given up just 10 home runs all season. The 26-year-old southpaw has a 1-4 record despite a 3.64 ERA in his first nine starts at home this season.
Mets avoid Greinke, LAD @ NYM, 7:10 p.m. ET
The Mets may find runs a bit easier to come today, as they'll avoid facing right-hander Zack Greinke, who returned to Los Angeles to be with his wife for the birth of their first child, and instead take on Ian Thomas.
Greinke has made six straight starts without allowing an earned run. His scoreless streak of 42 2/3 innings is the longest since Orel Hershiser set the big league record with 59 in 1988. Greinke leads the NL in winning percentage (.818) and ERA (1.30) this season.
His absence leaves the Dodgers' rotation in flux for this weekend's series at Citi Field, with the club likely to lean on its bullpen.
The Mets, fighting for position in a crowded playoff picture, will send veteran southpaw Jon Niese to the mound. Niese hasn't had an ERA over 4.00 in any of the last three seasons, but he also hasn't had a winning record since 2012. This year he is 5-8 with a 3.36 ERA in 18 starts.
Spencer Fordin is a reporter for MLB.com. This story was not subject to the approval of Major League Baseball or its clubs.