Fernandez clears air with Peralta after beaning
Marlins pitcher reaches out to D-backs infielder to check on him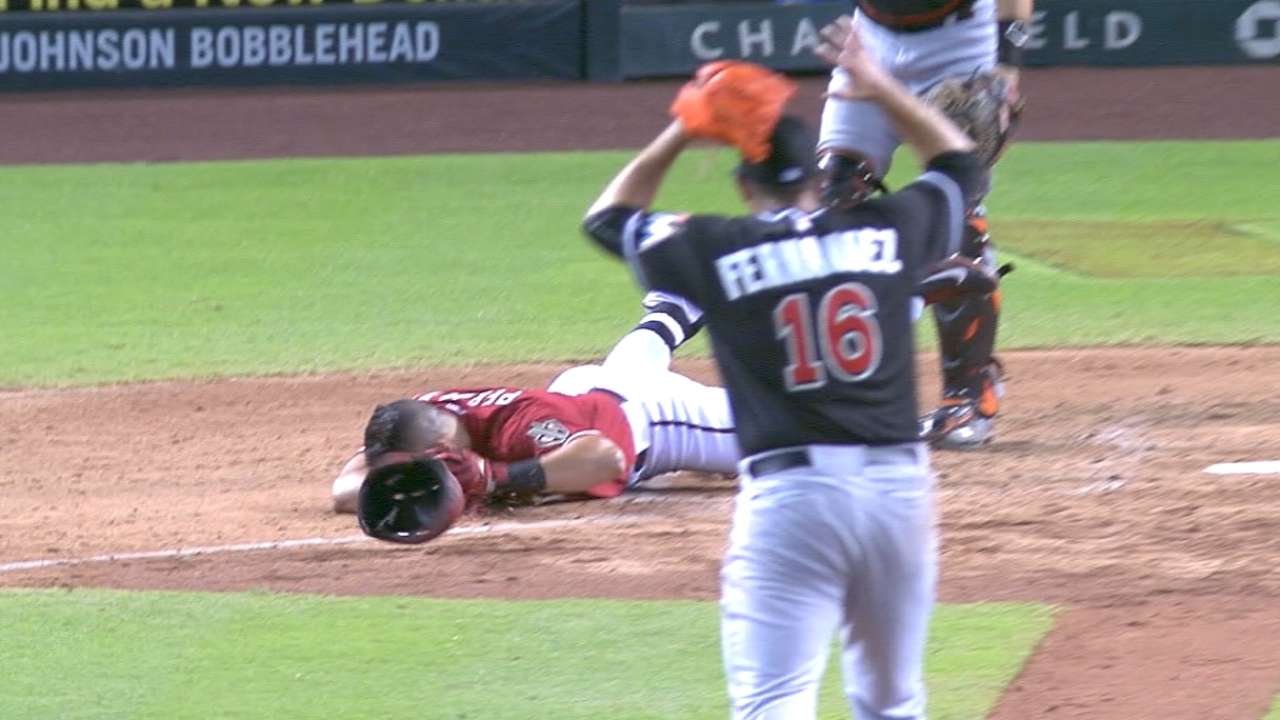 SAN DIEGO -- After the Marlins defeated the D-backs, 5-3, on Wednesday night, Jose Fernandez reached out to David Peralta, who was struck in the helmet by a pitch.
In the sixth inning, Fernandez's 97-mph fastball ran up and plunked Peralta on the side of the helmet, causing a scary situation after the D-backs outfielder remained on the ground.
Through Marlins infielder Martin Prado, Fernandez has developed a friendship with Peralta.
Prado made a phone call to Peralta after the game, with Fernandez by his side.
"I got a chance to talk to him last night," Fernandez said Thursday. "Everything was fine. Every result came out positive. That was good."
The beaning naturally upset the D-backs, and hitting coach Turner Ward was ejected for screaming at Fernandez as he approached Peralta to check on the injured outfielder.
"I'm human. I care," Fernandez said. "I'm not going to stand on the mound. I saw him on the ground. My first reaction was to go to see if he was all right."
Fernandez understands the D-backs' frustration.
"I just hit their four-hitter in the helmet," he said. "I can see why they'd be angry."
Fernandez was visibly shaken by the beaning, and even asked the umpire if he could throw a few warmup pitches before facing the next batter. He was informed he couldn't.
Regrouping, Fernandez said, wasn't easy. He struck out the next batter and gave up a hit in the next inning.
"It's not easy," Fernandez said. "At least for me, it's not easy."
Marlins manager Dan Jennings insisted there was no intent to hit Peralta.
"Our reports were to pitch the guy inside," the manager said. "We went in, the ball got away. There was no intent to that at all."
Postgame, Jennings cleared the air with Ward. The two have South Alabama ties.
"We're from the same hometown," Jennings said. "I've known him a long time. We exchanged texts afterwards. I texted him to make sure Peralta was fine. He said he was. There were no hard feelings at all. He was trying to get his player space in that circle."
One thing that did bother Jennings was the D-backs retaliating when Dominic Leone pegged Christian Yelich on the hip the next inning. Leone was ejected.
"I didn't like it. It [ticked] me off," Jennings said. "There was no intent for Jose to do it. So, for them to retaliate, if that's what they felt like they should do. Then they did it below the waist. You know what, it won't be forgotten. Yelly is a special player here in this organization. He's one of our players. There was no intent for Jose."
Joe Frisaro is a reporter for MLB.com. He writes a blog, called The Fish Pond. Follow him on Twitter @JoeFrisaro and listen to his podcast. This story was not subject to the approval of Major League Baseball or its clubs.