Padres weighing options ahead of Deadline
Executive chairman says next few games are critical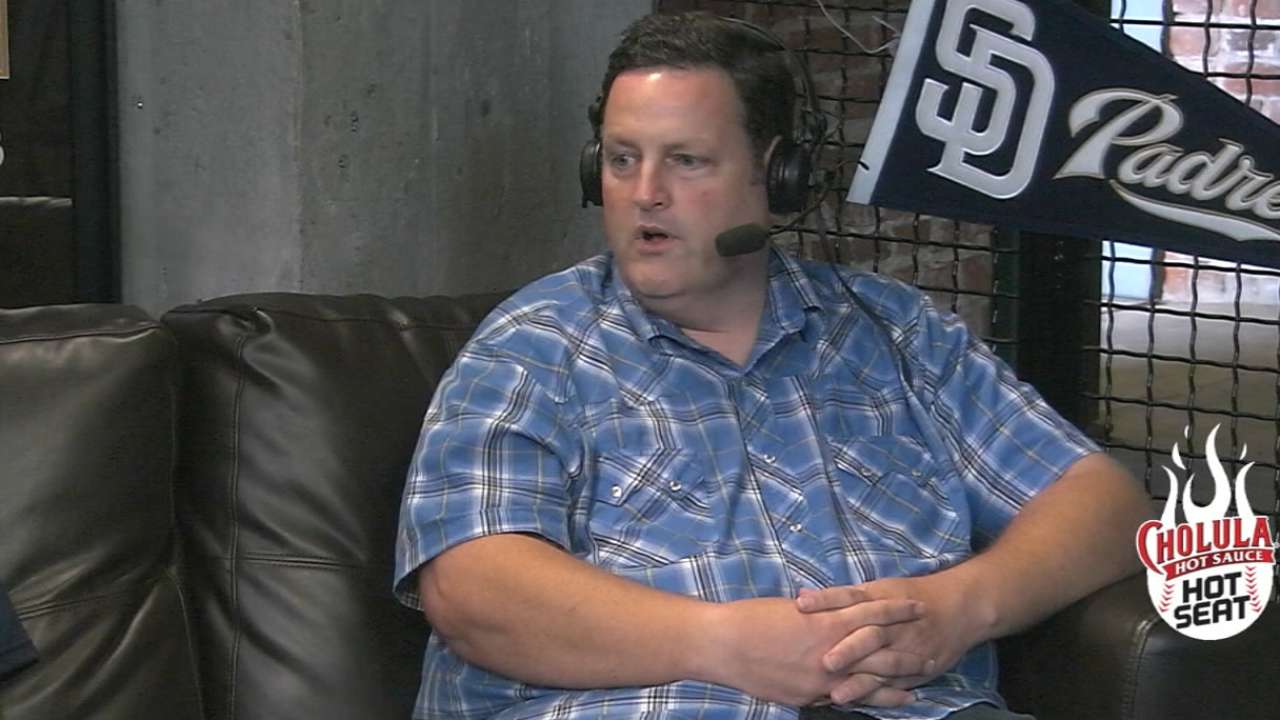 SAN DIEGO -- Padres executive chairman Ron Fowler dismissed an online report Thursday that indicated the team has become sellers in advance of the July 31 Trade Deadline.
But following a 4-0 loss to the Marlins, a setback that left the Padres 10 1/2 games back in the NL West, Fowler acknowledged time is running short for the team to make a move with its current roster.
"These next few games are critical," Fowler told MLB.com late Thursday. "We have got to turn it around."
The Padres are one week away from the Trade Deadline, which many feel will be a busy time for the organization, as the team could look to move a handful of notable players -- those coveted by organizations with playoff aspirations.
The Padres, currently 44-52 and eight games back in the Wild Card standings, could fast be on their way to revamping the roster for the second time in eight months.
FoxSports.com tweeted early Thursday that the Padres are sellers, a point Fowler said was premature, after the game.
"We know who is ahead of us and what's going on," he said. "We know July 31 is right around the corner."
The Padres have several attractive pieces to interest other teams: Starting pitchers Andrew Cashner and Ian Kennedy, relievers Joaquin Benoit and Craig Kimbrel and outfielder Justin Upton and Will Venable are the most notable.
Tyson Ross, who took the loss against the Marlins, is another potential trade target, although he's under club control through 2017.
The team could recoup some savings by moving Kennedy (who is making $9.85 million) and/or Benoit ($8 million). But that's not the point, Fowler said.
"The key message here is we're not looking to cut payroll," Fowler said.
He just wants the team to play better -- and fast.
"They're pressing," Fowler said of the players. "… They're wound too tight. This is supposed to be fun."
To be sure, general manager A.J. Preller and others in the front office are spending a lot of time talking about players -- those potentially coming and going.
"That's what this time of year is about, the Trade Deadline. So we spend probably eight to 10 hours a day on trade deadline issues, talking to GMs, talking to our scouts, talking amongst ourselves," said Padres assistant general manager Fred Uhlman Jr., before Thursday's game.
"That's really what it's about this time of year. That's the focus now."
The Padres are believed to be looking to add pieces to not only help them this season, but beyond -- club-controlled players. They have had a revolving door at shortstop since Khalil Greene was traded after the 2008 season and would like to find a long-term answer there.
"We're just actually focusing on anybody that can help the Padres, both now and in the future," Uhlman Jr. said. "We're open to any calls, we're open to any discussions. We're just looking at good players.
"We got our scouts out all over the country, throughout the Major Leagues. We're just looking at talent, whether it be at the [Minor League] level or the Major League level."
Preller told MLB.com recently that the team's record wouldn't determine if the team decides to buy or sell.
"It's not a record thing from our standpoint, but what the value is on the market, if we think there's going to be good deals, whether that's adding to the club or changing the look of the club a little bit. That's what this time of year is for."
Corey Brock is a reporter for MLB.com. Keep track of @FollowThePadres on Twitter and listen to his podcast. This story was not subject to the approval of Major League Baseball or its clubs.