Daniels being both optimistic and realistic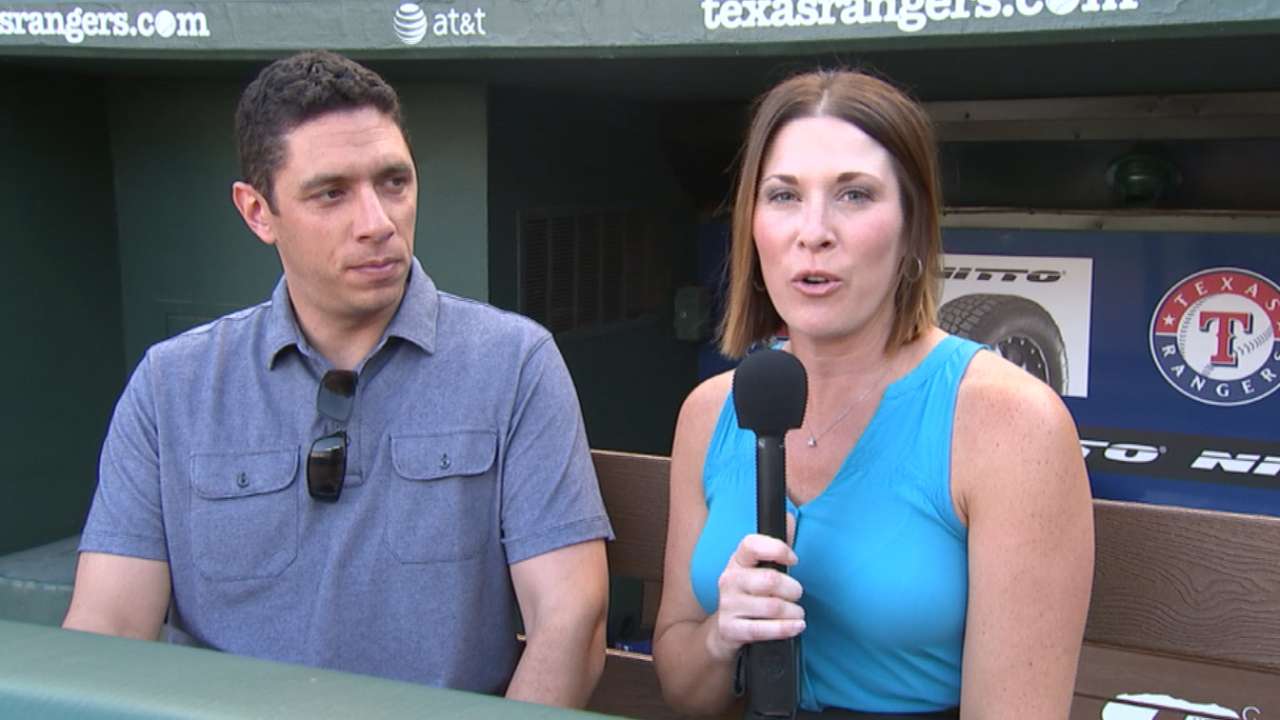 ANAHEIM -- The Rangers appear to be sitting on the fence with a week to go before the July 31 non-waiver Trade Deadline. General manager Jon Daniels is trying to be realistic and optimistic at the same time while trying to decide if the Rangers are going to be buyers or sellers.
Daniels knows the Rangers are four games under .500, so there won't be any short-term quick fixes. But he also knows that there is more than two months left in the season, so he is not ready to give up on a team that fought its way back into contention in early June.
"I think we're not really involved in any top-end, short-term acquisitions," Daniels said on Thursday. "We have talked to clubs and stayed in contact, but I can't handicap if we'll be active or not.
"When you are where we are in the standings, you get calls on guys who are on short-term contracts. That's the nature of the business. We are open to anything, but nothing is imminent."
Daniels declined to talk about specific names, but it is obvious that clubs are looking for starting pitching. Both Yovani Gallardo and Colby Lewis will be free agents at the end of the season, and both have some appeal to clubs calling the Rangers.
Gallardo would likely command more value in return, but the Rangers could also hold on to him, make a qualifying offer in the offseason and get a Draft pick in return.
The Rangers are also well stocked in the farm system, so there is no urgency to trade anybody for long-term prospects. If the Rangers were to trade a starting pitcher, they would prefer to get back players who are ready to play in the Majors and fill immediate needs.
"I still think this team has another run in them, regardless of what people say," Daniels said. "I think we're still capable of doing what we did in May and early June and playing well."
Daniels has made it known that the Rangers could use another veteran arm in the bullpen and a right-handed bat off the bench. They have Ryan Rua, their Opening Day left fielder, but he missed more than two months with a sprained right ankle and has struggled to adapt to a part-time role. If the Rangers add a veteran bat, it would allow Rua to go to Triple-A and get regular playing time again.
The Rangers continue to be cited as a potential pursuer of Phillies left-hander Cole Hamels, but he is signed through 2018 at $22.5 million annually. All indications strongly suggest that the Rangers are holding to the position that the salary commitment and the prospects being asked in return are both too much for them to do a deal.
The Rangers also have left-hander Wandy Rodriguez, who has been moved from the rotation to the bullpen, and who could be a last-minute stocking stuffer for a club unable to land a big prize for the rotation.
T.R. Sullivan is a reporter for MLB.com. Read his blog, Postcards from Elysian Fields, follow him on Twitter @Sullivan_Ranger and listen to his podcast. This story was not subject to the approval of Major League Baseball or its clubs.