Brewers trade Aramis to Pirates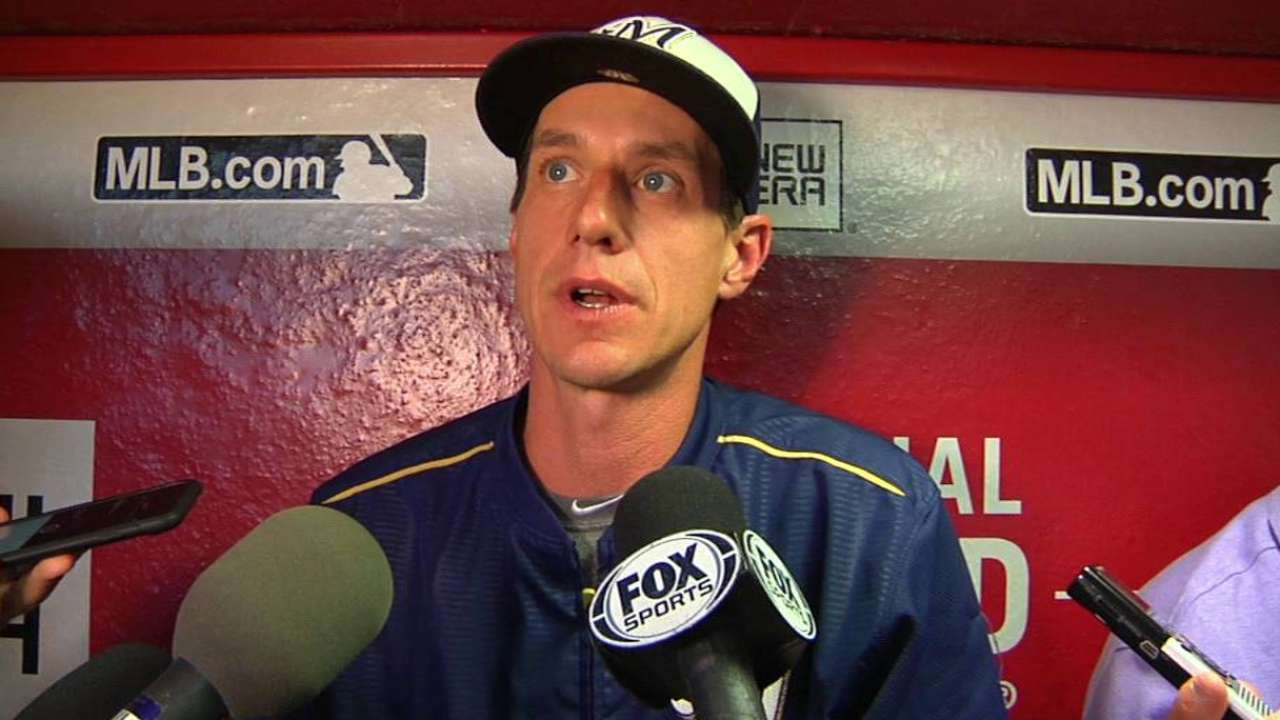 PHOENIX -- The Brewers are open for business.
In what could be the first of a series of moves adding up to an organizational "reset," Milwaukee sent third baseman Aramis Ramirez and about $2.6 million of his remaining salary to Pittsburgh on Thursday. The return was Minor League right-hander Yhonathan Barrios, a 23-year-old hard-throwing reliever who only converted to pitching two years ago.
• In Barrios, Milwaukee likes upside of converted pitcher
Ramirez will retire at season's end and was among a slew of veteran players in the final year of contracts for the last-place Brewers, a list that also includes outfielder Gerardo Parra, starter Kyle Lohse and relievers Jonathan Broxton and Neal Cotts. The industry expectation is that the Ramirez deal would be the beginning of a busy trade season for the Brewers.
"I can't say it's the start. It's the first deal," general manager Doug Melvin said. "You never know what happens. We thought we had a deal the other day on something. It looked like it was going to happen, and then it didn't. It was a lesser deal. Teams are talking to a lot of other teams at this time.
"I've probably got 4-5 different things I've talked to teams about, but I have to wait and see what their thoughts are."
Hernan Perez figures to see most of the action at third base in Ramirez's wake. The Brewers recalled a relief pitcher, David Goforth, to take Ramirez's spot on the active roster.
For Ramirez, the trade meant a return to his Major League roots and an opportunity to finish his career in a pennant race. At 36, he announced during Spring Training his intention to retire, a decision Ramirez reiterated in a telephone conversation Thursday on the 12-year anniversary of the other time he was traded in his career -- from the Pirates to the Cubs.
"It didn't surprise me," Ramirez said of this latest swap. "I talked to a few people, including my agent, and they told me it was a possibility that [the Pirates] were looking to upgrade the left side of the infield.
"I'm in the pennant race, and that's what counts."
When Ramirez signed with the Brewers as a free agent in December 2011, the team was fresh off the NLCS with an aim to contend in the seasons that followed. They did so for part of 2012 and most of 2014 but never returned to the postseason during Ramirez's four-year tenure.
Ramirez batted .284 with 64 home runs, 262 RBIs and an .814 OPS in 455 Brewers games. His finest season was his first, 2012, when he batted .300 with 27 home runs and 105 RBIs. He battled injuries to his lower body in both 2013 and 2014 before returning to the Brewers for one final season, opting to exercise his half of a mutual option for 2015. When he made that decision, it was an indication he viewed his career as coming to a close.
"I don't regret when I was a free agent and I chose to go to Milwaukee," Ramirez said. "I know we didn't achieve our goal of going to the playoffs and eventually winning the World Series, but I don't regret anything. I had a good time in Milwaukee. Good city, great fans, great front office. Just a fun time out there."
What would it mean to end his career in the playoffs?
"A lot. That's what every player is here for, to go to the playoffs, to compete. It's tough to win the World Series, but at least just to compete and look at the scoreboard and see how the other teams are doing, that's the fun part. I'm going to have a good chance to experience that the last two months."
Adam McCalvy is a reporter for MLB.com. Follow him on Twitter @AdamMcCalvy, like him on Facebook and listen to his podcast. This story was not subject to the approval of Major League Baseball or its clubs.