Dickey starting to see fruits of his labor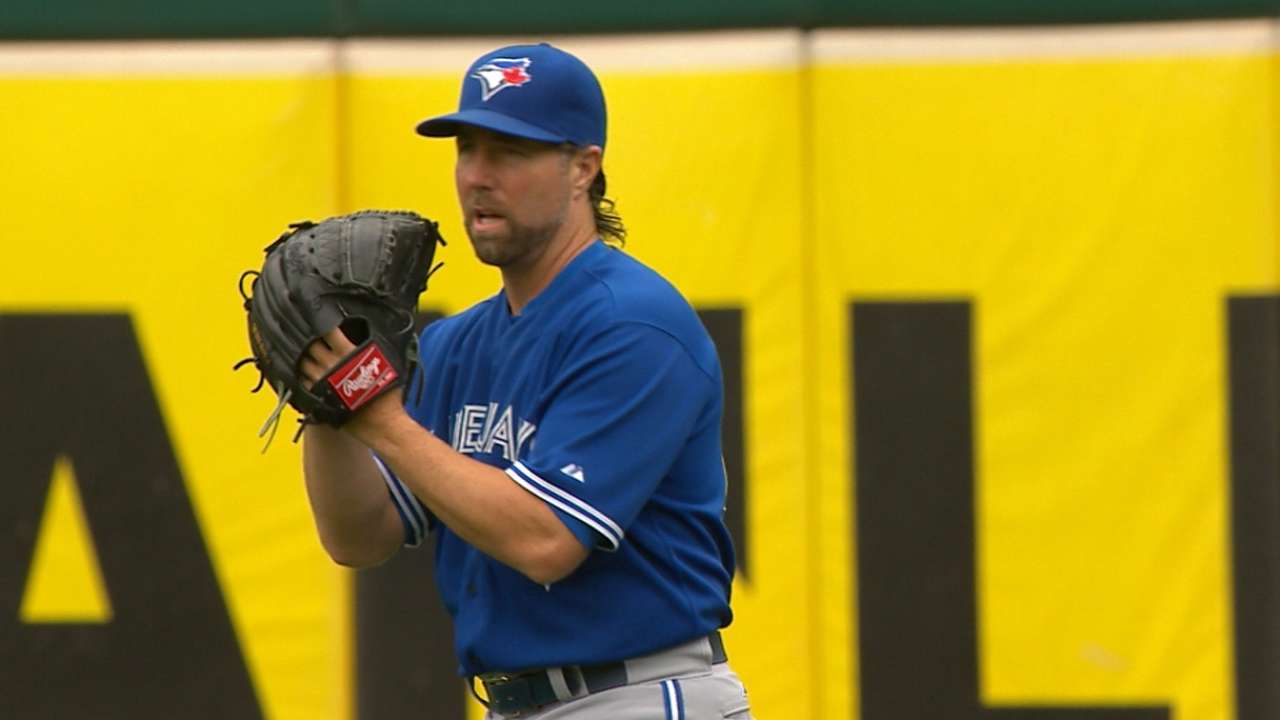 OAKLAND -- R.A. Dickey began turning his season around nearly two months ago, but he finally has a win to show for his efforts after getting some run support in a 5-2 victory over the A's Thursday afternoon.
Toronto has the top offense in baseball, but for some reason runs have been hard to come by when Dickey's on the mound. Prior to Thursday, the Blue Jays hadn't scored more than two runs while he's been pitching in five straight starts and in 10 losses this year he's received 24 runs.
That's the main reason why Dickey's turnaround has gone largely unnoticed. With the exception of one rough outing against the Tigers earlier this month, he has performed as well as anyone could expect by allowing three earned runs or fewer in nine of his last 10 outings.
"I like to pretend that it doesn't affect you at all, but when you look up there and see 3-10 (win-loss record), it hurts, it's hard," Dickey admitted after allowing just two runs over 8 1/3 innings to the A's. "I'm hopeful to run off a whole bunch of wins in a row, thinking that things will eventually even out over the course of the year, but there's no guarantee that will happen.
"So, I just take it one outing at a time and being an older guy, I think it helps that I have a pretty healthy perspective on how to do that. I'm just going to try to do my job the rest of the year, let the cards fall where they may. I know that's a cliche, but it's the truth in this particular case."
The turning point for Dickey came after a disappointing outing vs. the Astros on May 15. After that game he talked about the need to make changes and in the ensuing days he did some extended work with pitching coach Pete Walker.
Dickey has remained somewhat vague about the exact adjustments that were made to his mechanics, but it has led to drastically improved results. One of the side benefits also has been a slight uptick in velocity.
According to Brooks Baseball, Dickey averaged 75 mph on his knuckleball in April and May. That has since been increased to 76, which doesn't seem like a lot, but the fact that he has mixed in some slower knuckleballs has brought the average down as well.
In July, his knuckleball topped out at 83 mph, which is the type of velocity that was previously associated with his time in New York. Dickey doesn't consistently reach those high velocities like he used to, but any increase is a good thing and that's been one of several reasons for his strong two-month run.
"I think after that Houston series, that's when Pete and I got in there and started grinding through some mechanical stuff," Dickey said. "Getting my hips involved a little bit more has helped for consistent velocities and that's really the one major adjustment I feel like I've been able to make.
"And, for whatever reason, I think the warmer temperatures may help. My body gets loose, I don't know, but my pitch certainly reacts differently when the weather is warmer."
Gregor Chisholm is a reporter for MLB.com. Read his blog, North of the Border, follow him on Twitter @gregorMLB and listen to his podcast. This story was not subject to the approval of Major League Baseball or its clubs.