Santana 'sterling' in gem against former team
Twins righty tosses 8 shutout innings in first Anaheim start since being traded in 2012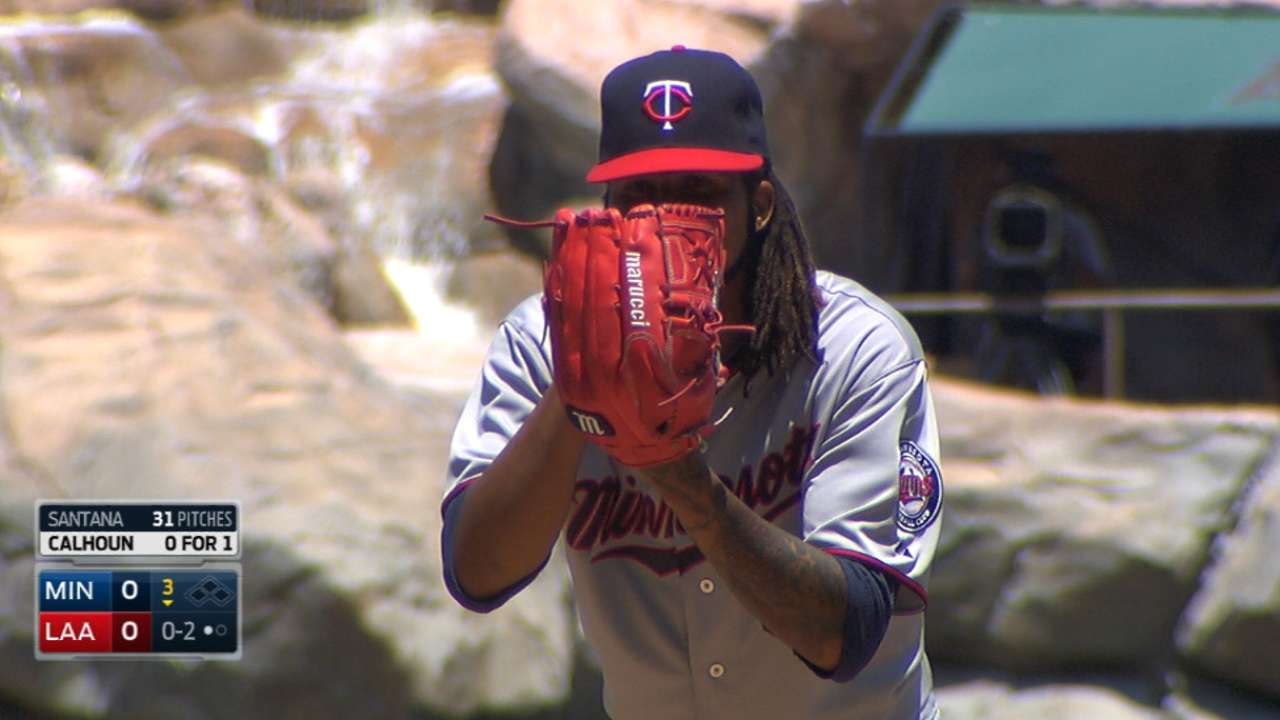 ANAHEIM -- After losing four straight games with the offense struggling to score runs, the Twins on Thursday were in desperate need of a strong start from right-hander Ervin Santana, whom they're counting on for a big second half.
Santana did just that in his first start at Angel Stadium since being traded by the Angels after the 2012 season, tossing eight brilliant innings to lift the Twins to a much-needed 3-0 win. He's now thrown 15 2/3 consecutive scoreless innings since the All-Star break to improve to 2-0 with a 2.60 ERA in four starts since returning from an 80-game suspension for use of a performance-enhancing drug.
"It was sterling," Twins manager Paul Molitor said. "Just standing on its own, it was pretty special to control a lineup like that. And then you compound it with the circumstances of a long West Coast trip, where we haven't played very well. You really look for those kinds of performances to lift your team a little bit."
Santana's start was even more impressive considering the Angels were on a seven-game winning streak that saw them average 6.3 runs per game during that stretch. He was also able to keep his emotions in check, having never pitched against his former club in Anaheim after spending 2005-12 with the club.
"It means a lot," Santana said. "It means I still got it, so that's good. I had good velocity and good location. It was good, especially with the way they've been swinging. They've been hot right now."
Santana's velocity was also up from his previous start in Oakland, with his fastball targeting the 94-95 mph range after being in the low 90s. His slider was also sharp, as he induced 21 swings and misses and seven strikeouts after getting just one strikeout in his 7 2/3 innings against the A's. He was also efficient, throwing 91 pitches, but Molitor opted to use closer Glen Perkins in the ninth to get the save.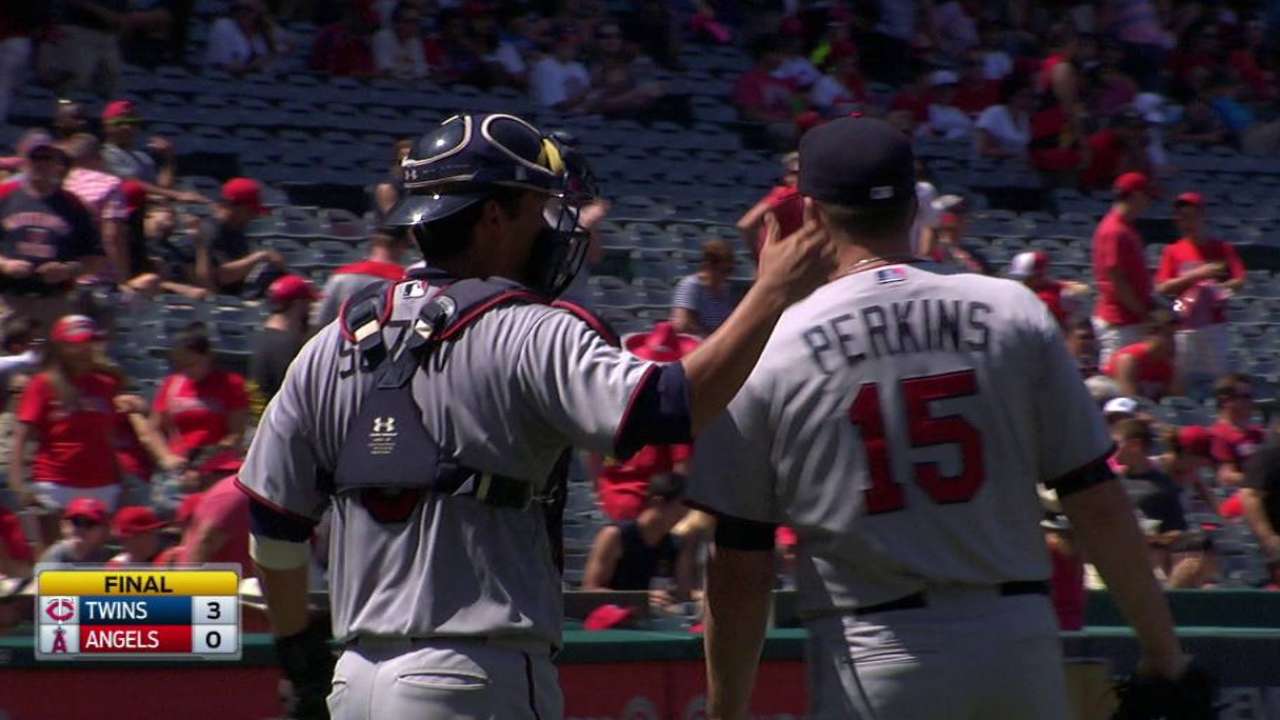 "Both of those two starts, the results were phenomenal, but the way he went about accomplishing them was quite different," Molitor said. "Without his good fastball the other day, it was really about concentration and execution. But today, he had that life and was able to challenge guys more in certain counts and back them off."
Santana won both of his starts on the Twins' six-game road trip through Oakland and Anaheim, helping them salvage an otherwise tough road trip. But they now head home for a nine-game homestand, which is welcome news for the Twins, who are 31-16 at Target Field.
• Plouffe powering Twins through team slump
"It's great," said third baseman Trevor Plouffe, whose three-run homer backed Santana. "It's good to win when you're flying so you can have a happy trip home. It wasn't the road trip we wanted, but we'll get to go home where we like to play. We've had a short memory all season long, so we'll put this road trip behind us and go forward."
Rhett Bollinger is a reporter for MLB.com. Read his blog, Bollinger Beat, follow him on Twitter @RhettBollinger and listen to his podcast. This story was not subject to the approval of Major League Baseball or its clubs.