Ailing Mercer hoping to beat return timetable
Shortstop walking with slight limp days after suffering MCL sprain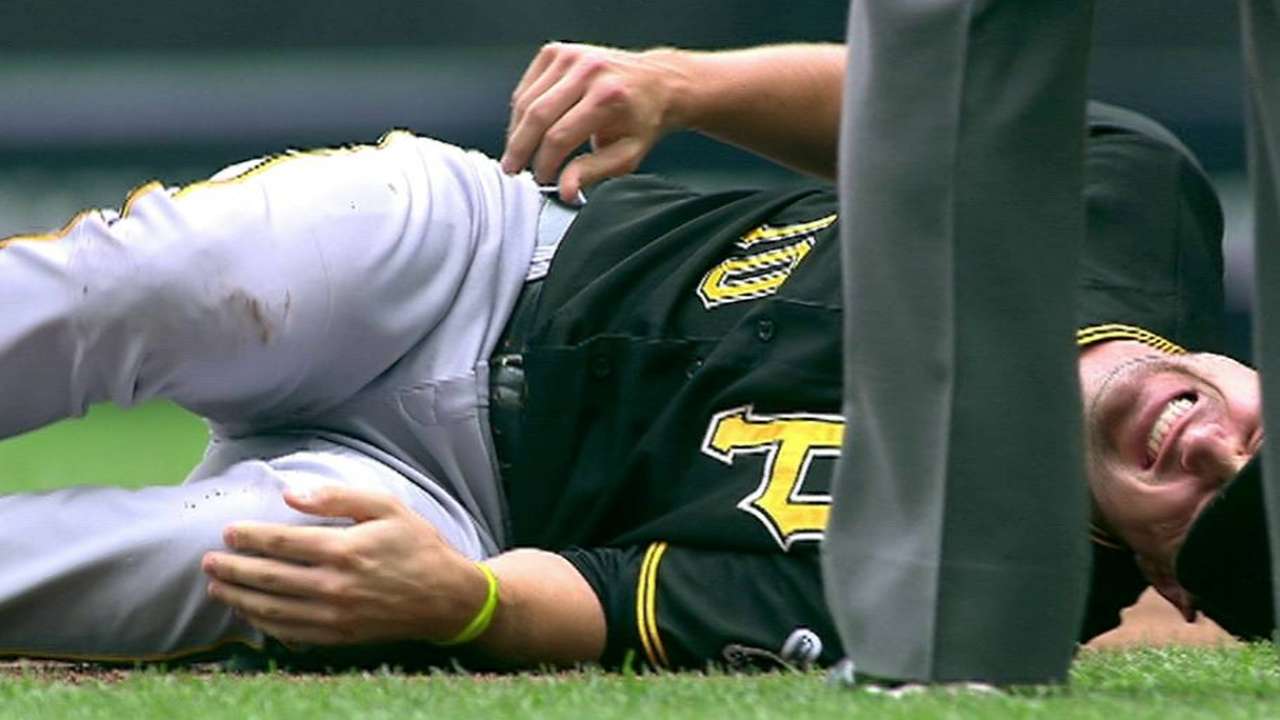 PITTSBURGH -- Given the way he felt lying on the Miller Park infield dirt Sunday afternoon, Jordy Mercer was pleased to be standing and walking on his own two feet Thursday.
Mercer could miss up to six weeks with a sprain of the medial collateral ligament in his left knee. But in the hours after Brewers outfielder Carlos Gomez took a hard slide directly into Mercer, he didn't think he'd be walking with only a slight limp less than a week later.
"It could've been a lot worse. I think that's the big thing. I'm always looking at the positives," Mercer said. "To be able to walk normal, it's definitely a good feeling. I'm always looking to beat that six weeks, though.
"I want to come out earlier than that. That's my goal, and I'm going to try like hell to get back earlier than that."
Mercer returned to Pittsburgh shortly after the injury to be examined by club doctors. The Pirates returned home Thursday after a disappointing 1-5 road trip further marred by the loss of their everyday shortstop.
Mercer said he received a call from Gomez on Monday night. Echoing the Pirates' reaction, Mercer said he didn't think the slide was an intentionally "dirty" play, nor was he upset by the Pirates' lack of retaliation toward Gomez.
"Just because I get hurt doesn't mean there has to be retaliation," Mercer said. "I don't think it's that big of a deal to me."
Mercer was expecting to field the ball, tag Gomez and throw to first to complete a double play. He was not anticipating that Gomez would slide into him.
"When you look over it, the slow-mo is actually worse than what it was live. To say it was a bad or intentional dirty play, I don't think so," Mercer said. "I didn't expect him to come in that hard or slide. Usually guys stop or usually guys go around or usually guys do something besides do that. It just kind of caught us both off-guard.
"He wanted to call and explain he heard the news and he felt sorry for my family, and he sent out prayers and things like that. It was just a really nice phone call."
Around the horn
• Reliever Rob Scahill (right forearm tightness) threw off the mound Thursday for the first time since going on the 15-day disabled list. Sidelined since June 25, Scahill is scheduled to throw his first full bullpen session Saturday.
• Catcher Francisco Cervelli (right wrist bruise) was back in the starting lineup Thursday after exiting Monday's game early and sitting out Tuesday and Wednesday.
Adam Berry is a reporter for MLB.com. Follow him on Twitter at @adamdberry. This story was not subject to the approval of Major League Baseball or its clubs.