Williams: Escobar's wrist 'should be fine'
Third baseman available off bench in opener vs. Pirates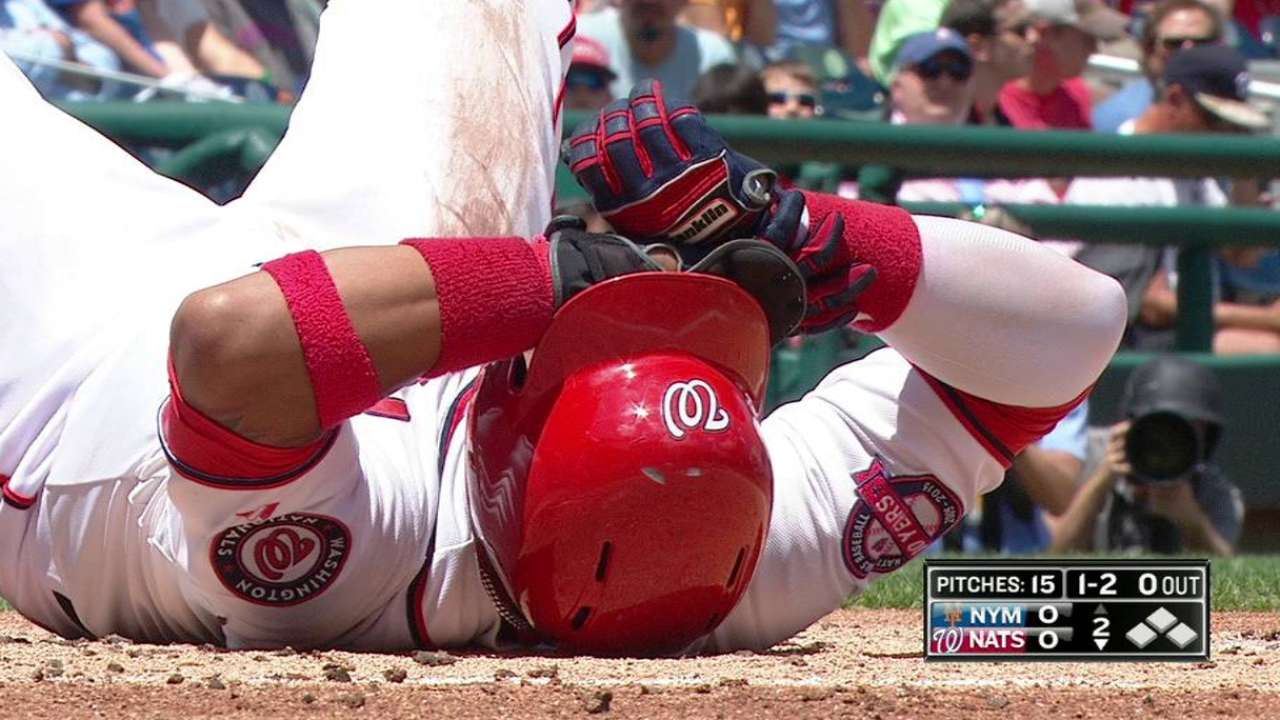 PITTSBURGH -- A day after Yunel Escobar flung his bat and fell to the dirt in pain after checking his swing, Nationals manager Matt Williams said the third baseman "should be fine" despite not being in Thursday's lineup.
Escobar (left wrist) is available off the bench for Washington's series opener against the Pirates, but Williams said he will not hit.
"It feels better today," Williams said of Escobar. "We'll see what the coming days give us. All results are good so far."
Escobar, whose postgame X-rays on Wednesday were negative, has since received a CT scan to further check on the bone. Those tests came back fine, Williams said.
The Nationals, unfortunately for them, are familiar with CT scans this season. The same test revealed two wrist fractures on outfielder Jayson Werth in mid-May.
The primary differences between Werth's and Escobar's situation? Escobar wasn't hit by a pitch; Werth was.
Instead, Escobar tried holding up on a 96-mph sinker facing a 1-1 count in his first at-bat of Wednesday's 4-3 win against Noah Syndergaard and the Mets. Syndergaard's pitch never struck Escobar, but trying to stop the momentum of his swing was painful enough.
"I've done it. A lot of guys have done it. You're full-go to the pitch and then you're trying to check it," Williams, a 17-year Major League veteran, said. "You know, it's a two-pound weight. You're swinging as hard as you can."
Williams also noted that Escobar has had issues with his hand prior to Thursday. The manager said the 32-year-old has been hit in the hand by pitches this year -- the reason why he wears a protective cover over his batting glove on his left hand.
Escobar is a .321 hitter this season with five home runs and 30 RBIs.
John McGonigal is an associate reporter for MLB.com. This story was not subject to the approval of Major League Baseball or its clubs.