Angels recall Kubitza to help fill in at 3B
Club's No. 5 prospect could see regular action at hot corner; Green optioned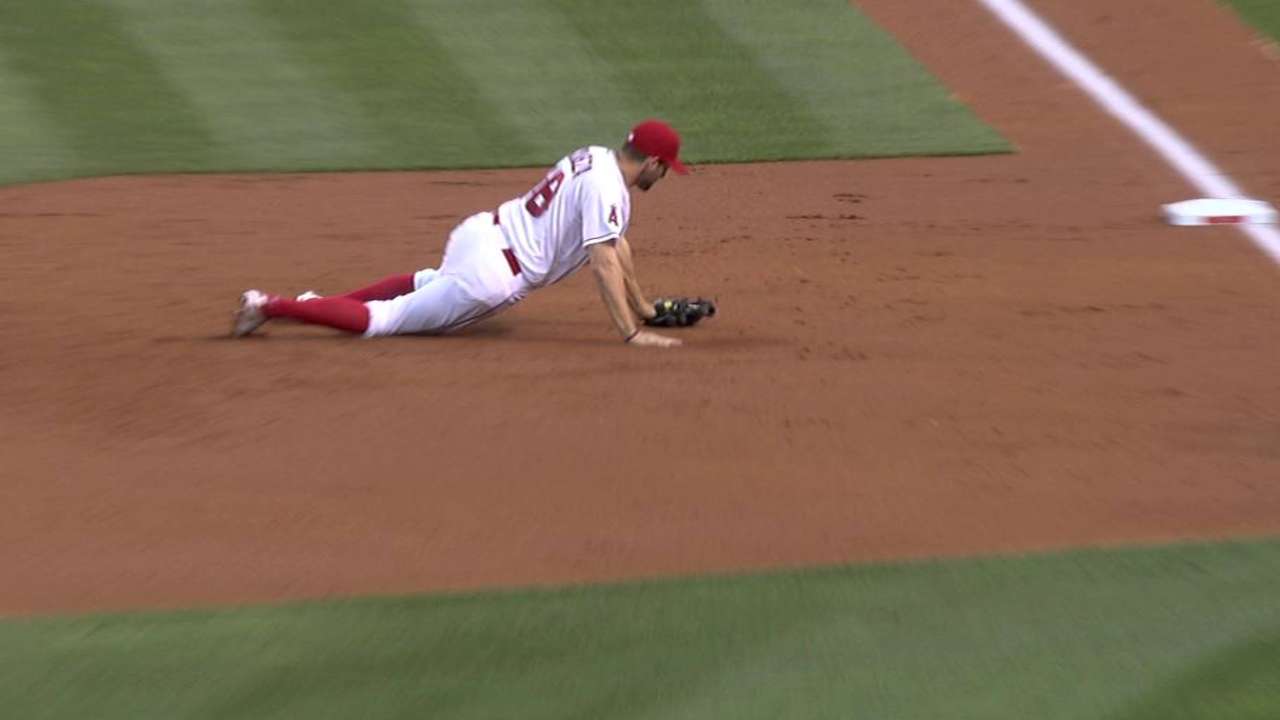 ANAHEIM -- The Angels recalled third baseman Kyle Kubitza from Triple-A Salt Lake on Thursday in a corresponding move after placing David Freese on the 15-day disabled list with a fractured right index finger.
Kubitza -- ranked by MLB.com as the Angels' No. 5 prospect -- got to the stadium in the first inning of the Angels' 3-0 loss to the Twins on Thursday, and he lined out hard to first as a pinch-hitter in the eighth.
"Today started early -- it's always good to play baseball, though," Kubitza said. "Excited to get in there today and put a good swing on the ball."
Taylor Featherston started at third base Thursday, but Kubitza could get regular playing time at third while Freese is hurt. Freese is expected to miss at least a few weeks after being hit in the index finger by a pitch in Wednesday's game.
• Freese fractures finger on hit by pitch
Asked whether Kubitza would essentially be the everyday third baseman until Freese comes back, manager Mike Scioscia said, "We'll see. We have some other guys that will fill in, too."
The Angels chose to call up Kubitza over fellow third-base prospect Kaleb Cowart, the former No. 1 prospect now ranked No. 14 in the Angels' system, who is hitting .333 with four homers and 31 RBIs in 38 games for Salt Lake.
"Kaleb is having the type of year that is opening a lot of eyes in our organization -- we want him to continue on that development," Scioscia said. "He's pushing his way onto our depth chart, but right now, there's no doubt that Kyle has a little experience here, and he's played well, and he's the best choice."
Kubitza had been playing left field recently, with Cowart playing third, but Scioscia said most, if not all, of Kubitza's playing time in the Majors would be at third base due to Freese's injury.
"I've been taking ground balls every day at third base," Kubitza said. "They just basically said it's good to play different positions in case that opportunity does come up, so I'll be comfortable out there."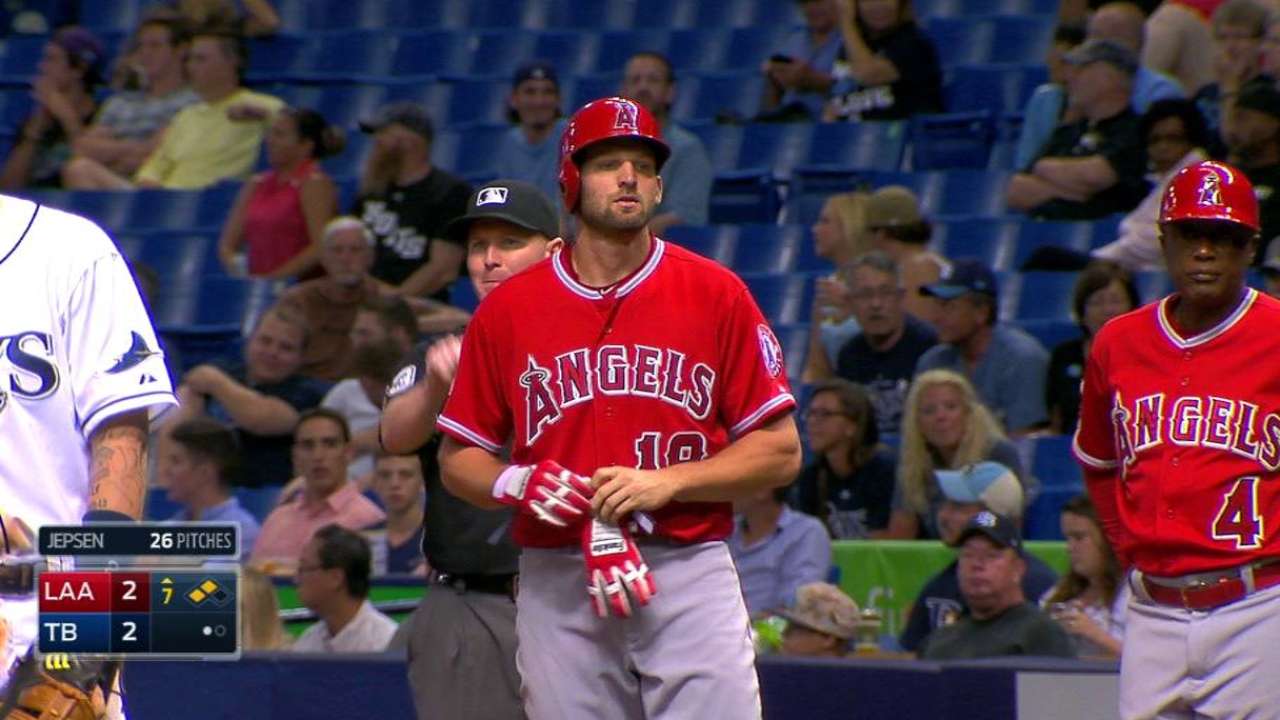 Kubitza's time in the Majors over the coming weeks could help the team evaluate whether he will be ready to see regular playing time at third base next season.
The 25-year-old had a brief stint with the big league club in June, making his Major League debut June 10 and playing in 12 games before being sent down toward the end of the month. Kubitza hit .207 in the Majors and struck out in 13 of his 29 at-bats during that span.
Worth noting
• The Angels optioned utility man Grant Green to Salt Lake after Thursday's game, with a corresponding move to come Friday. The Angels need a starting pitcher for Friday's game, and the likely candidate is right-hander Nick Tropeano.
• Jered Weaver (left hip inflammation) will throw a bullpen session on Friday, three days after a four-inning, 60-pitch simulated game. At that point, the Angels will determine his next step, which will likely involve either another sim game or a rehab assignment. That means the Angels will probably keep their rotation intact at least one more time through the order.
• Asked about the Astros landing former Angels starter Scott Kazmir on Thursday, by sending a couple of prospects to the A's, Scioscia said: "They were good yesterday, they're good today. That's about it. We're going to focus on what we need to do, how we need to play the game."
David Adler is an associate reporter for MLB.com. Follow him on Twitter @_dadler. This story was not subject to the approval of Major League Baseball or its clubs.