To Alonso, Boys and Girls Clubs much more than charity
Notes on Shields, Kemp, Gyorko, Middlebrooks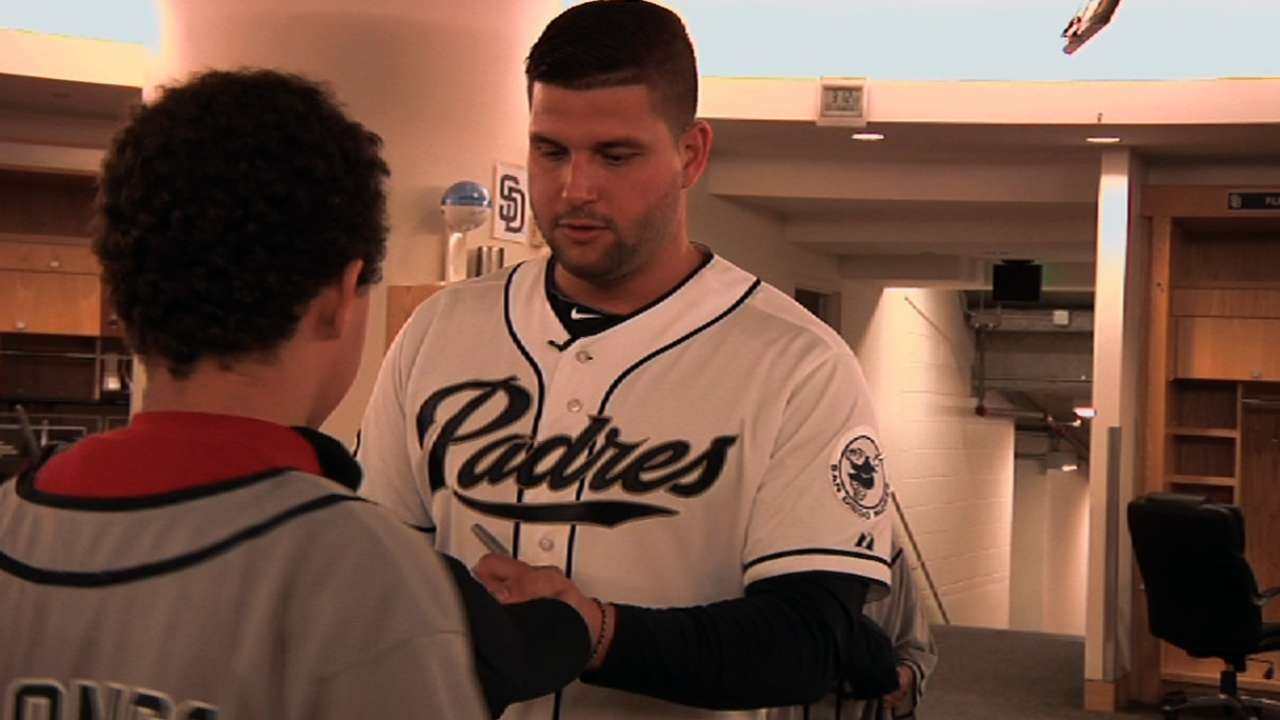 Bill Center, longtime sportswriter for U-T San Diego, is an employee of the Padres.
It is not unusual for baseball players to adopt charities.
But the bond that links Yonder Alonso to the Boys and Girls Clubs goes far beyond simply wanting to help.
"The Boys Club in Miami was a very important part of my development as a child," said the Padres first baseman recently. "I grew up there in many ways. As a young boy from Cuba, I learned a lot at the Boys and Girls Clubs."
Years later, Alonso still drops by the Boys and Girls Club near his Miami offseason home.
"It's between my place and where I work out," Alonso said. "I just like to drop in, spend some time with the kids, play a little, read a little, talk a little. I remember what it was like when someone who made it stopped by when I was a kid. It's a great experience.
"And I'm not alone in Miami. LeBron James and Dwyane Wade are both involved with the Boys and Girls Club there. Manny Machado (Alonso's brother-in-law) is involved. All the involvement has turned it into a special place."
Alonso's sincere passion for helping the Boys and Girls Club is why Alonso was at the East Village Tavern and Bowl on Market Street on Wednesday night after the Padres 7-1 loss to the Giants. He was hosting the inaugural Yonder Alonso Celebrity BaseBOWL Tournament benefitting the Boys and Girls Clubs of Greater San Diego.
"This is so important to me," said Alonso of the Boys and Girls Clubs. "I know what they can do, what they mean to young people who need a hand and a safe place. It's where I went to play and study when I was a kid. There were people there who helped me in a number of ways."
Alonso has been involved with the Boys and Girls Club of San Diego since he first joined the Padres in 2012. Last summer, one one of his rare off-days, he hosted a celebrity golf tournament at the Barona Creek Golf Course. That event raised close to $25,000 for the Boys and Girls Clubs of Greater San Diego.
Wednesday night's event was sold out. In addition to the bowling tournament, Alonso held a silent auction with signed memoribilia. Among the Padres teammates in attendance were Andrew Cashner, Matt Kemp, Ian Kennedy, James Shields and Melvin Upton Jr.
"Everyone knows what this means to me," said Alonso.
FROM THE SCORECARD
-- Is the Will Middlebrooks-at-short experiment losing momentum? Before he was optioned to Triple-A El Paso on Tuesday, Middlebrooks had made five starts at short, including three since the Padres returned from the All-Star break. Many automatically thought that when Middlebrooks was optioned to El Paso, it was to give him a chance to spend more time at shortstop. Wrong, according to manager Pat Murphy. He will primarily play third base with El Paso. "We'd like him to come back as our third baseman," said Murphy, who said Middlebrooks was going out to get his bat (.212) going. "Middlebrooks is very talented, but he needs to find himself. He needs at-bats."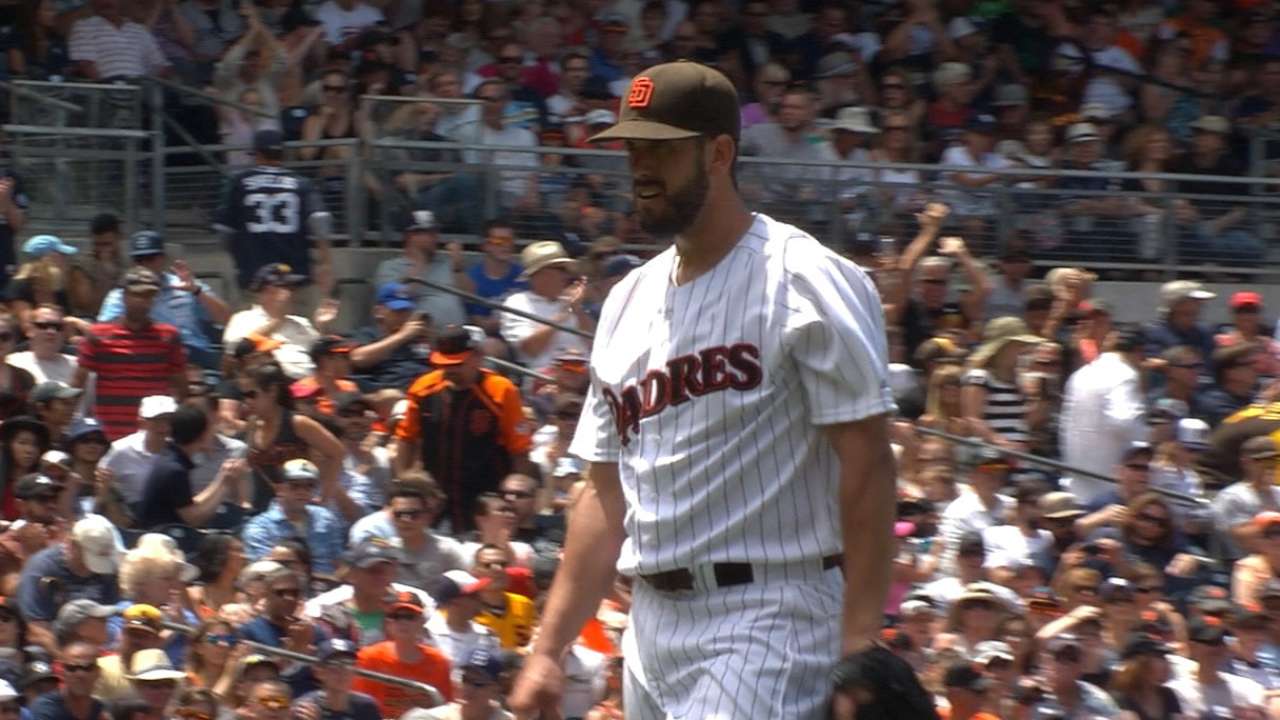 -- Wednesday marked the second time in his last four outings that right-hander Shields departed without having allowed an earned run. The Padres eventually lost both games. On July 6 at Pittsburgh, Shields allowed one unearned run on two hits and a walk over seven innings. Wednesday, he blanked the Giants on three hits and three walks with seven strikeouts in five innings. Over his last four starts, Shields has allowed five runs on 17 hits and 12 walks with 21 strikeouts in 22 1/3 innings for a 2.02 ERA.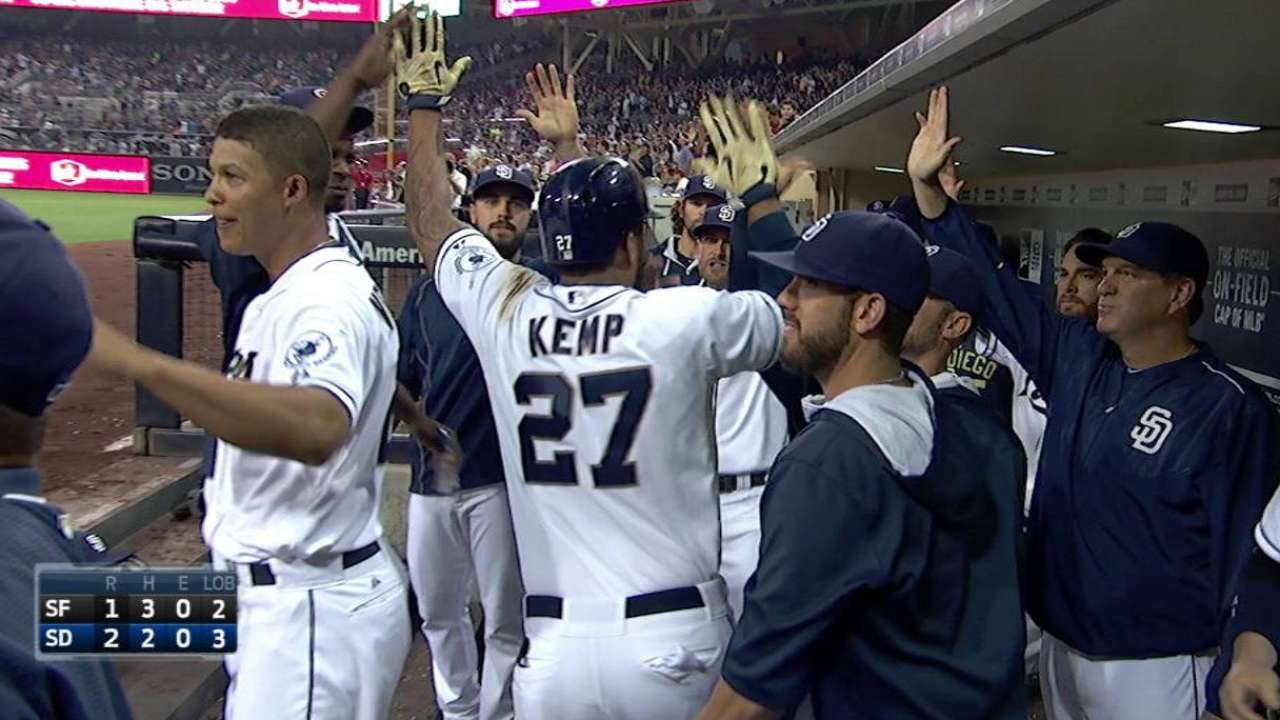 -- Right fielder Kemp had a double in three at-bats Wednesday. He has hit safely in nine of his last 10 games, going 15-for-36 (.417) with five doubles, four homers and 10 RBIs. His nine extra-base hits since July 7 are the most in the Major Leagues. In 21 games since June 21, Kemp has hit .316 (24-for-76) with seven doubles, six homers and 16 RBIs.
-- Second baseman Jedd Gyorko homered for the Padres only run Wednesday. Since being recalled on June 30, Gyorko is hitting .246 (15-for-61) with three homers and is hitting .286 (14-for-49) against right-handed pitching.