To Showalter, trade rumors just part of the game
Discussions surrounding Gausman shrugged off by Orioles' manager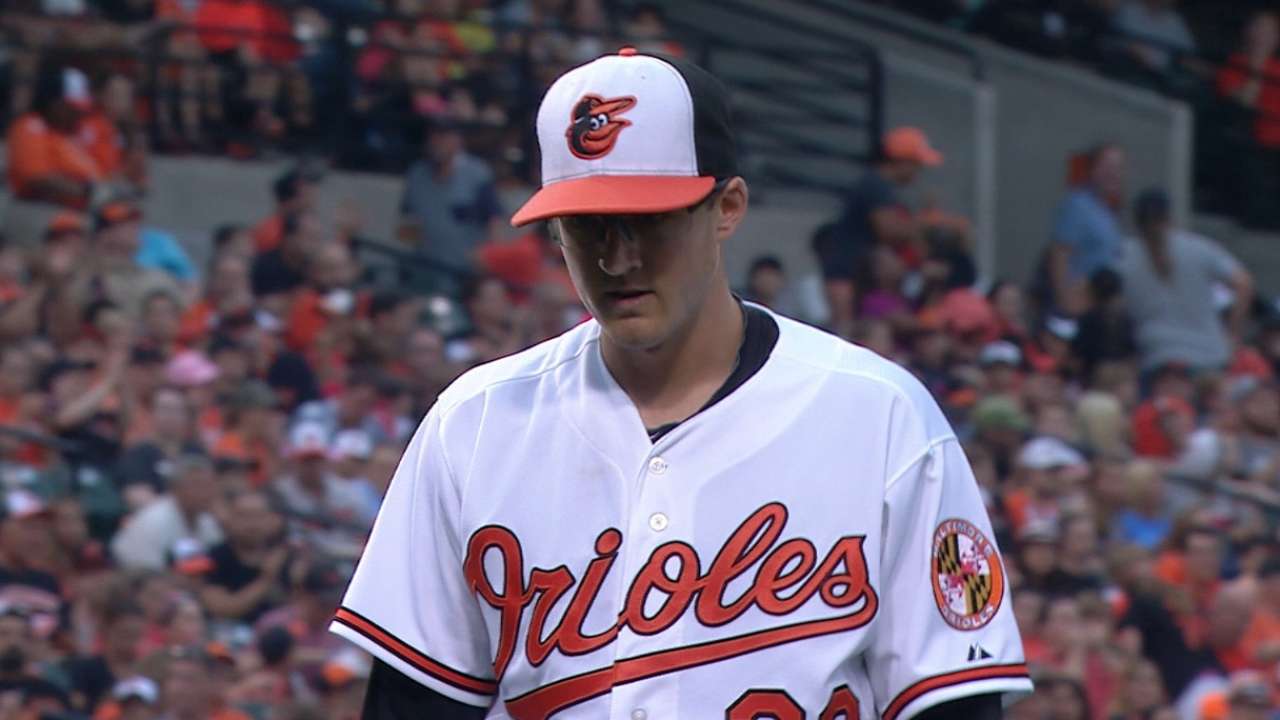 NEW YORK -- With trade rumors surrounding Orioles right-hander Kevin Gausman, executive vice president of baseball operations Dan Duquette said on Wednesday that the O's were glad to have Gausman. On Thursday, manager Buck Showalter indicated he found the rumors somewhat comical.
"Someone made me aware of Kevin's name being mentioned yesterday, and Kevin and I were laughing about it back in the food room," Showalter said. "It's kind of like autographs: When you've got to worry is when they quit asking. Good players' names are mentioned, but I don't expect and I really don't want Dan to bring up every [conversation].
"Experience tells you that so many of those things don't ever happen and really were very innocent conversations that we all would have had, but you never know."
• Infielder/outfielder Steve Pearce approached Showalter Wednesday, informing the manager that he needed a stint on the disabled list due to a left oblique strain. Pearce knew the O's had to make a roster move in order to activate Gausman, and he didn't want the club to prematurely option someone when he knew he would likely need to go on the DL. The plan was for Pearce to take a train to Baltimore on Wednesday night and undergo an MRI exam on Thursday.
"I know they were trying to get it done today," Showalter said on Thursday. "You come out of those things and get a pretty good idea about the severity of the obliques."
Showalter was asked if the plan would be to send Peace to Sarasota, Fla., where the team's Spring Training complex is located. That depends on the severity of the injury, he said.
•: Showalter said Thursday it will be a while before the O's can activate right-hander Jason Garcia, who was placed on the disabled list on May 13, retroactive to May 11, with right shoulder tendinitis. Garcia was transferred to the 60-day DL on June 20, and he began a rehab assignment with the Double-A Bowie Baysox on July 6.
"I know what they were thinking about," Showalter said. "It's a while. Nothing imminent that I know of."
The reports Showalter has gotten on the pitcher have been good, he said.
"Pretty good," Showalter said. "He's healthy. Velocity's up. He's only had one outing that wasn't as good as you'd expect it to be with his stuff."
Grace Raynor is an associate reporter for MLB.com. This story was not subject to the approval of Major League Baseball or its clubs.