Still recovering, Miggy will travel with Tigers
Cabrera is nearly halfway through rehab for Grade 3 calf strain
DETROIT -- Miguel Cabrera will travel with the Tigers during their 10-game road trip to Boston, Tampa Bay and Baltimore, and the slugger's presence may bode well for the club.
The 10-time All-Star is in his third week of recovery from a Grade 3 left calf strain that was expected to sideline him for at least six weeks, so he won't be contributing on the field. But Cabrera takes credit for Detroit's eight-run third inning during Wednesday's 9-4 win, when he was back in the dugout for the first time since the injury.
"He claims to have gotten us eight runs," manager Brad Ausmus said Thursday morning.
Cabrera will continue to receive treatment during the road trip, and Ausmus said there's no update to his prognosis. The manager joked the first baseman is on the energy bus, a motivational tool which has been drawn on the clubhouse whiteboard over the last several days.
"He's not driving on the bus, but he's sitting on the bus," Ausmus said.
Cabrera has been receiving treatment in nearby Royal Oak, Mich., and he underwent a protein-rich plasma injection two weeks ago.
Though the first baseman hasn't made many public appearances with the Tigers since leaving their July 3 game with the strained calf, he has been a regular in the clubhouse.
"When you have a player of that caliber not playing, but still involved with the team, it can have some upside to it," Ausmus said.
Detroit claimed first baseman Marc Krauss off waivers from the Rays on July 6, but Krauss is just a .190 career hitter. He's also the only true first baseman on the roster, and the Tigers have at times used catcher Alex Avila, third baseman Jefry Marte and utility infielder Andrew Romine at the position.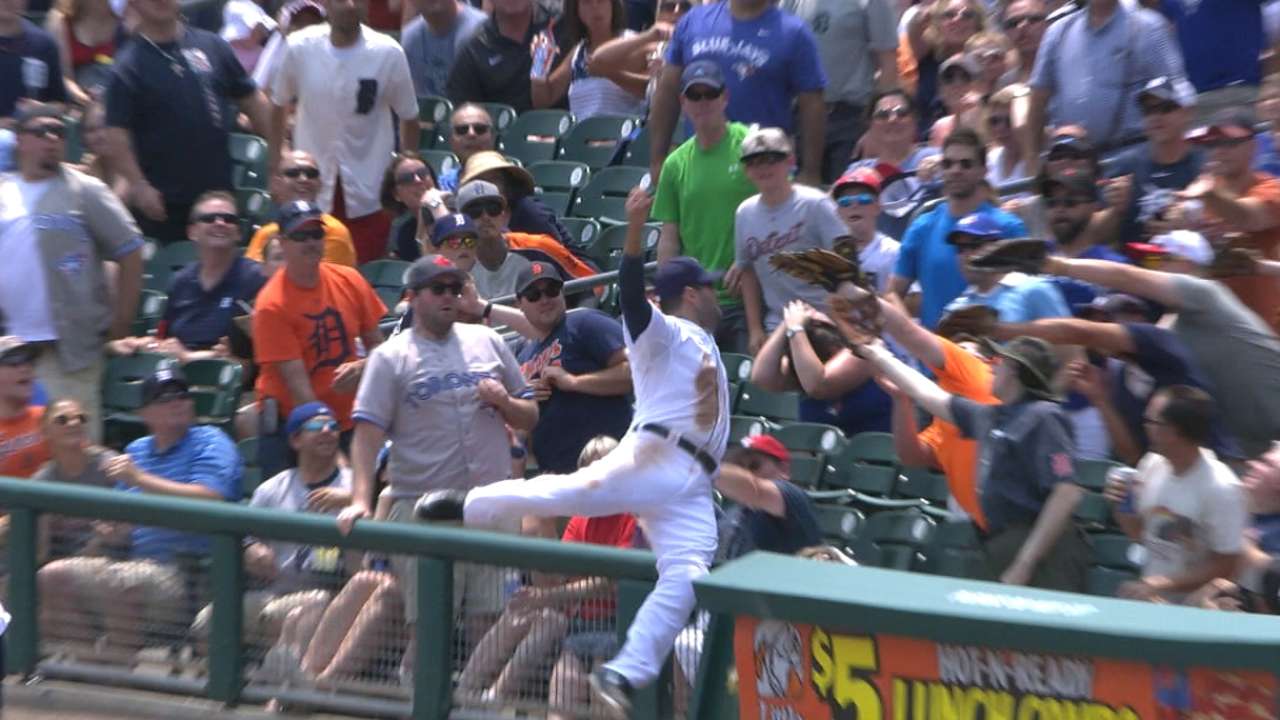 From an offensive standpoint, though, the Tigers have been doing just fine without Cabrera. In the 15 games since he was placed on the disabled list, they're hitting .295 as a team with 26 homers and are averaging 5.67 runs per game.
Detroit batted .277 and averaged 4.38 runs per game until July 3.
"It's funny how sometimes teams lose their best hitter and end up scoring runs for a period of time," Ausmus said. "But over the long haul, you're better off with [Cabrera] in the lineup. I guess I'm not shocked, but again, I'd rather have him in there."
Alejandro Zúñiga is an associate reporter for MLB.com. Follow him on Twitter @ByAZuniga. This story was not subject to the approval of Major League Baseball or its clubs.