Rangers' intern program breeds success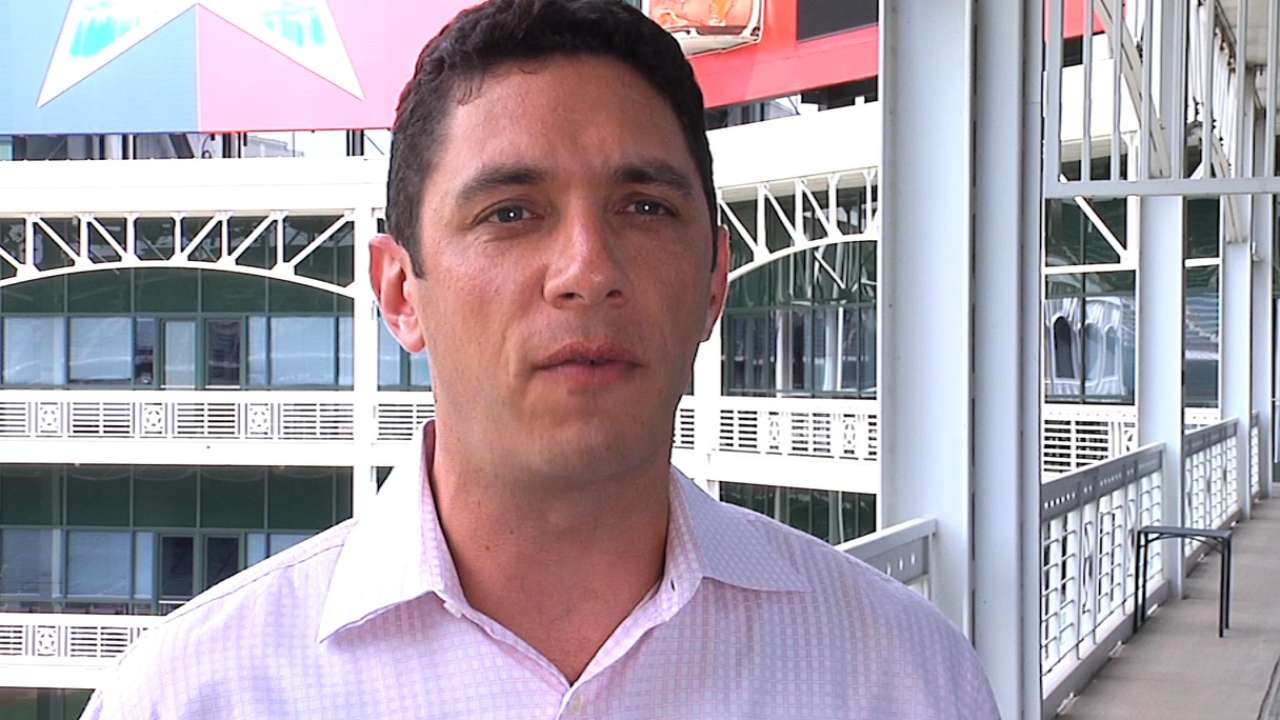 ARLINGTON -- When Paul Kruger started a baseball operations internship with the Texas Rangers in 2009, he may not have fully understood what he was getting into.
Kruger already knew this job wasn't going to be filled with coffee runs and paperwork. He was going to the Rangers' complex in the Dominican Republic, where he would be among the first Americans to serve in an administrative role.
Kruger thought of the Dominican resorts friends and family had visited in Punta Cana and Cabarete.
"I thought, 'Shoot, it's the Dominican Republic. It can't get much cooler than that,'" Kruger said. "In my head, that's what I was going to. Obviously, it's a little bit different, but it was a tremendous experience nonetheless."
Kruger got an intensive internship in which he organized tryouts, oversaw complex operations, assisted with player development and communicated with scouts. He went on to become the Rangers' manager of Minor League operations, and he is only one name on a long list of front-office interns in Texas' organization who have gone on to successful jobs in baseball.
The Rangers' intern tree in the Jon Daniels era includes names such as Billy Ryan, the Braves' director of baseball operations; Matt Arnold, the Rays' director of player personnel; and Andrew Percival, who runs advanced scouting with the Mariners.
The Rangers have also hired interns such as special assignment crosschecker Jake Krug, Texas-area scout Bobby Crook, pro scouting assistant Mike Parnell and others.
Daniels got his start in baseball as an intern with the Rockies in 2001. He said when he joined the Rangers, he wanted to model the program after his experience in Colorado. It didn't hurt that Daniels spent his first few years in Texas working under general manager John Hart, who helped produce baseball executives such as Mark Shapiro and Paul DePodesta when he was with the Indians.
"It was really an education on a lot of different levels," Daniels said. "Outside of my title being intern, they made me feel like I was part of the group, and that's something that stuck with me."
Daniels said the Rangers' internships can be different for each person based on personal interests and the organization's needs. Usually there are multiple interns, and most of them start in January, doing everything from helping prepare for the MLB Draft to sitting in on Trade Deadline discussions.
"I'll call it what it is -- it's cheap labor," Daniels said. "But it's also an opportunity, not just for the candidate, but for the club to get some bright minds and hungry individuals into the game. I don't think that [the Rangers are] the only ones by any stretch."
Percival interned with the Rangers in 2008, having already come off an internship with the Brewers where he focused on advanced scouting. With Texas, he was able to sit in a Draft room full of experienced baseball minds, take part in arbitration dealings, and work in player scouting and development.
Percival also took on a project on developing a spreadsheet that tracks the 40-man roster of every Major League team -- something he took with him to Seattle.
"When I started there, I didn't have any idea of how wide a term 'baseball operations' was," Percival said. "After that year in Texas, that certainly changed."
A Rangers baseball operations internship does come with some grunt work, such as making airport runs to pick up players, but Percival gained valuable perspective even in doing that.
"It really humanized the game for me," Percival said. "You see all these guys -- they come in, you talk to them, you get a sense of what their lifestyle is like as a player. It was cool to really be able to put a face on them."
Parnell completed his internship last year, and he went immediately to a full-time job with the Rangers. Before his internship, he knew he wanted to work in baseball. Actually getting to do it was a different animal.
"I didn't know that it was this overwhelming," Parnell said. "It was just a different experience. My biggest takeaway was learning how to work, and just learning how the whole process operates."
Kruger took a risk in going to the Dominican Republic. It allowed him to become one of the Rangers' most notable success stories. Now, he assists in hiring and working with interns. And just as Daniels wanted to recreate his own internship experience, Kruger does the same.
"One thing the guys here do very well is keep people involved, make people feel like they're a big part of the operation. They did that from minute one," Kruger said.
The Rangers have used their internship to create a type of pipeline that continues to bring talented and motivated people into their organization. And even when successful interns move on to join other teams, Parnell takes pride in creating a tree that keeps on growing.
"If they move up, it's kind of like we tell our coaches or players on the Minor League side," Kruger said. "Our goal is to get everybody to the big leagues. If you can continue to develop good people, whether they're with you or another organization, that's a win."
Cody Stavenhagen is an associate reporter for MLB.com. This story was not subject to the approval of Major League Baseball or its clubs.