Schwarber wants to be known as catcher first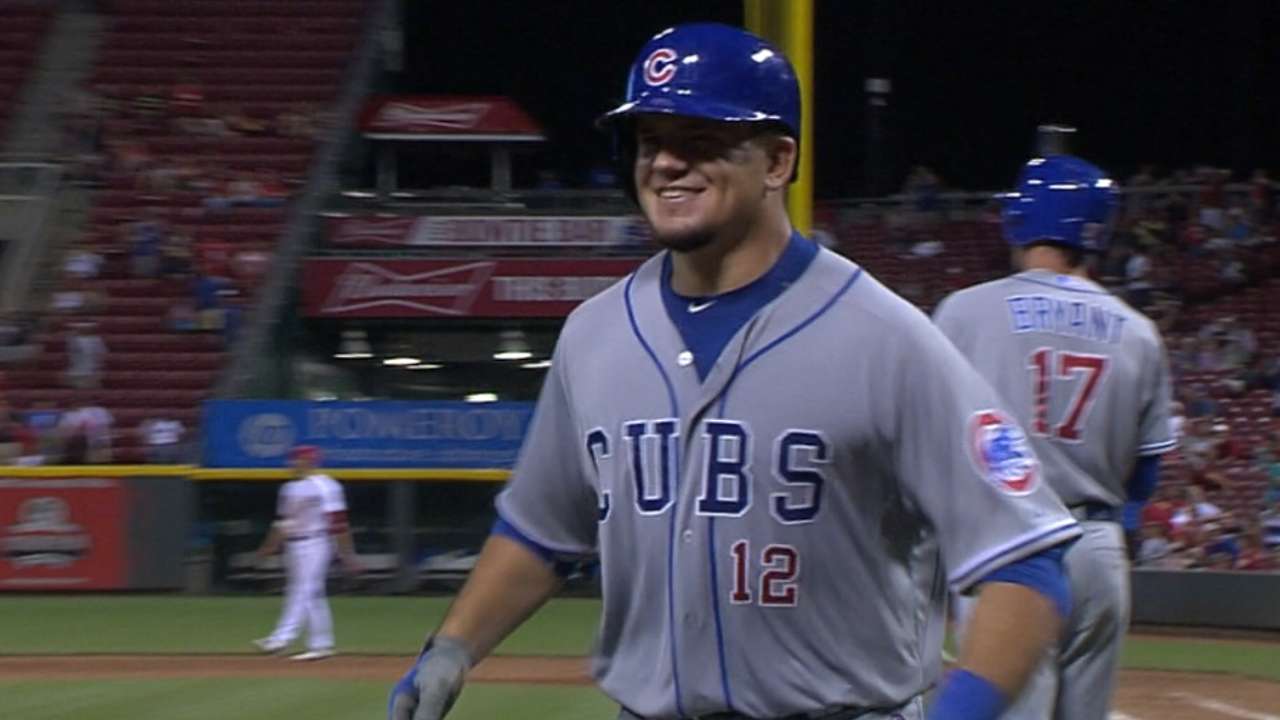 CHICAGO -- You know Kyle Schwarber can hit, especially in his home state of Ohio. But the key to the Cubs rookie sticking is whether he can catch, and a four-day boot camp in January helped the 22-year-old take a huge step toward being a big league catcher. It also was one more opportunity to show off his hitting.
Tim Cossins, the Cubs' Minor League field coordinator, hosts the defense-centric minicamp, and this year, he invited three players, including Schwarber. When the youngster arrived, he wanted to get started immediately, so they went to a junior-college field in Santa Rosa, Calif. Schwarber loosened up with a batting-practice session, then belted a monster shot over a fence that almost hit a patrolling campus police car.
"The [officer] came over and Kyle signed the ball," Cossins said. "[Schwarber] called [the shot], by the way. He said, 'I'm going to hit it over the double fence.' I didn't believe him. It took him four or five pitches to do it, but he did it.
"The next day at the high school, he hit another ball over a fence, over a batting cage, a berm, a creek and into a street that's never been done. It's comical."
But catching is the main focus of camp. Cossins breaks down every element of the position from squatting to dealing with sliders, while also focusing on technique.
"We do an insane amount of receiving drills with all different kinds of things going on," said Cossins, who uses machines to simulate pitches that sink or spin so the catcher is ready for anything.
How specific?
"You can literally put right-handed sinkers right on or off the left knee, which is the impact pitch, and control that 100 times a day, every single day [with the machine]," Cossins said. "By doing this, you can speed up your development."
Cossins and the catchers talk a different language, too.
"We 'catch' balls and 'receive' strikes," Cossins said. "You want the ability to identify visually what you feel is either on the plate or off the plate. Those pitches we try to receive well. Those are the impact pitches, those are the ones going to the plate every single night. It's a really minute thing, but such an important skill to have."
A hard worker, Schwarber enjoyed that the two-a-day sessions focused on technique.
"It's more functional things to do with your body," Schwarber said of the drills. "It's about the setups and just having your body work in certain ways to make it easier on yourself. It's little things that I didn't really pay attention to."
When the Cubs picked Schwarber fourth overall in the 2014 MLB Draft, there was a thought he would be converted to an outfielder.
"Some people wrote me off saying I couldn't catch, and it hit me personally, because I've done it my whole life," Schwarber said. "I think of myself as a good learner and someone who can take a lot of information and put it into a game."
The rookie showed that during three days last summer at Class A Kane County with Cossins and manager Mark Johnson, which may have been when he convinced the rest of the Cubs' staff that he could catch.
"That's when I started feeling comfortable, and that's when they noticed it," Schwarber said of his development from that point. "They wanted to give me a shot at it. That's all I can ask for. Now it's my job to prove I can do it. I'm giving it 120 percent, whatever you can give, to prove I can do it."
During the January minicamp, the first session began at 9 a.m., and they'd break down everything: blocking, throwing, receiving, popups, tag plays and game situations. After lunch, they'd have an afternoon session as well.
"It's just a chance to get to the guts of it without having the time constraints to go play a game that will affect a guy's performance," Cossins said. "You want a chance to hammer it in."
Schwarber took advantage of it.
"He would not accept one session [a day]," Cossins said.
Cubs president of baseball operations Theo Epstein likes to tell the story about a meeting he had with Schwarber before the Draft when he asked the Ohio native if he really wanted to catch. Schwarber pounded the table and said he gets mad "when people say I can't catch."
"He absolutely wants to play the position," Cossins said. "I think he has that competitiveness, and he believes in what he's doing and believes in himself."
At Double-A Tennessee, where Schwarber began this season, and again at Triple-A Iowa, the catcher was one of the first at the ballpark every day to watch video of that day's pitcher. His lessons have intensified since his promotion to the big leagues last Friday. During games in Atlanta and Cincinnati, Cubs catching coach Mike Borzello and Schwarber would be among the first at the ballpark each day to go over the game plan. If Schwarber isn't playing, he's probably next to Borzello in the dugout, asking questions.
Said Borzello: "He's like a sponge. He hears it, and he implements it."
To help Schwarber get to know the pitchers, he catches early side sessions. Last Saturday in the visitors' clubhouse in Atlanta, Schwarber and veteran catcher David Ross were seated knee to knee and involved in an intense discussion.
"He's trying to get as much information as he can and decipher what he can use," Ross said. "It's nice, because he wants to learn, and he's excited and he asks a lot of the right questions.
"There's so much talk about how good of a hitter he is and [the question is], 'Can he catch?' Everything I've seen from Spring Training to now, he's a really good catcher. I don't think I was as good a catcher coming up as he is now."
Ross, 38, a seventh-round Draft pick in 1998, made his Major League debut in 2002 at the age of 25, and he played eight games that season with the Dodgers. Schwarber is just 22, and in 13 games so far -- including five Interleague contests in June when he was the designated hitter -- he's batting .409 (18-for-44), with three home runs, two doubles and a triple.
"He belongs in the big leagues," Ross said. "Obviously, he's established he's a big league hitter, and I think he's done a phenomenal job catching."
There will be growing pains, but the Cubs need help as veteran catcher Miguel Montero is sidelined indefinitely with a left thumb injury. Schwarber has shown he can hit, going 10-for-24 in the past seven games, including the "Schwarber Game" on Tuesday, when he hit a game-tying homer in the ninth, then the game-winning blast in the 13th against the Reds.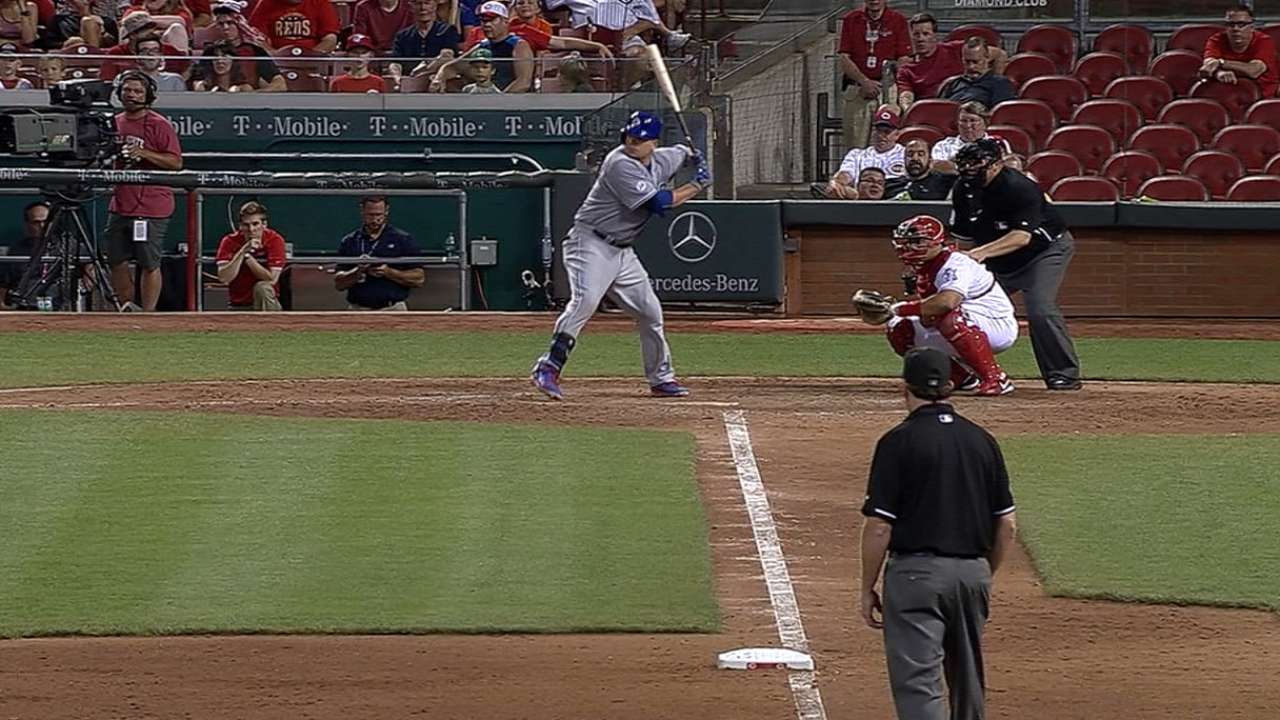 To keep his bat in the lineup, Schwarber may have to play the outfield, but Cubs manager Joe Maddon wants the youngster to practice there first. At this point in the season, it's hard to find time for that. Schwarber will do whatever the Cubs ask, but he will do everything and anything to catch.
"I love learning," Schwarber said. "I just like the position and I'm learning it more and more, and it's just making me better and better. It makes me want to stay there."
Carrie Muskat is a reporter for MLB.com. She writes a blog, Muskat Ramblings. You can follow her on Twitter @CarrieMuskat and listen to her podcast. This story was not subject to the approval of Major League Baseball or its clubs.