MLB.com Columnist
Roger Schlueter
Stats of the Day: Brantley thrives with RISP
Indians slugger raises average in situation to .364 on the season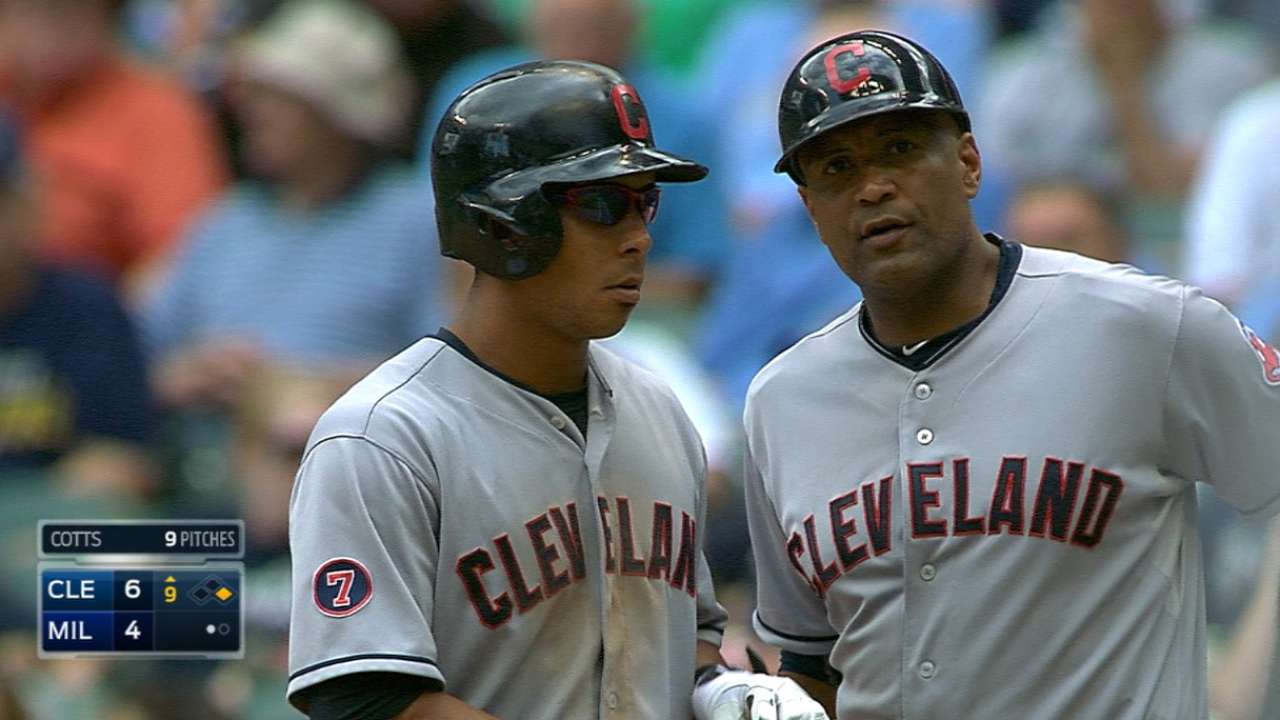 Here are four interesting items from around the big leagues on Wednesday …
• In the Indians' 7-5 win over the Brewers, Michael Brantley singled twice, doubled, homered and drove in four. Brantley went 2-for-2 with runners in scoring position, lifting his average in that split to .364. That mark is actually down from the heights Brantley has reached the past two years, when he hit .375 and .376. Since 2013, among players with at least 300 plate appearances with RISP, Brantley's .373 is the third-highest average in the Majors. The two ahead of him: Matt Holliday (.379) and Freddie Freeman (.378).
• In their 7-1 win over the Padres, the Giants saw Buster Posey single and double, Hunter Pence contribute one RBI and Brandon Crawford homer and draw a walk. Posey is carrying a career OPS+ of 143 through his first seven seasons. That mark -- among players with at least 2,000 plate appearances and half of their games behind the plate through their first seven campaigns -- stands as the second highest. Mike Piazza had a 160. The 2015 Giants improved to 21-7 when Pence starts. By Baseball Reference WAR, Crawford is at 4.6 for the season -- the highest in the Majors among shortstops. The highest for a San Francisco shortstop for a full season belongs to Rich Aurilia, who produced a 6.7 in 2001.
• In the Angels' 5-2 win over the Twins, Huston Street worked a scoreless ninth inning to record the 300th save of his career. Street, the 27th pitcher to record 300 saves, owns a career 86.5 save percentage. That mark is the fifth highest among the members of the 300-save club, behind the percentages from Joe Nathan (89.3), Mariano Rivera (89.1), Trevor Hoffman (88.8) and Jonathan Papelbon (88.6).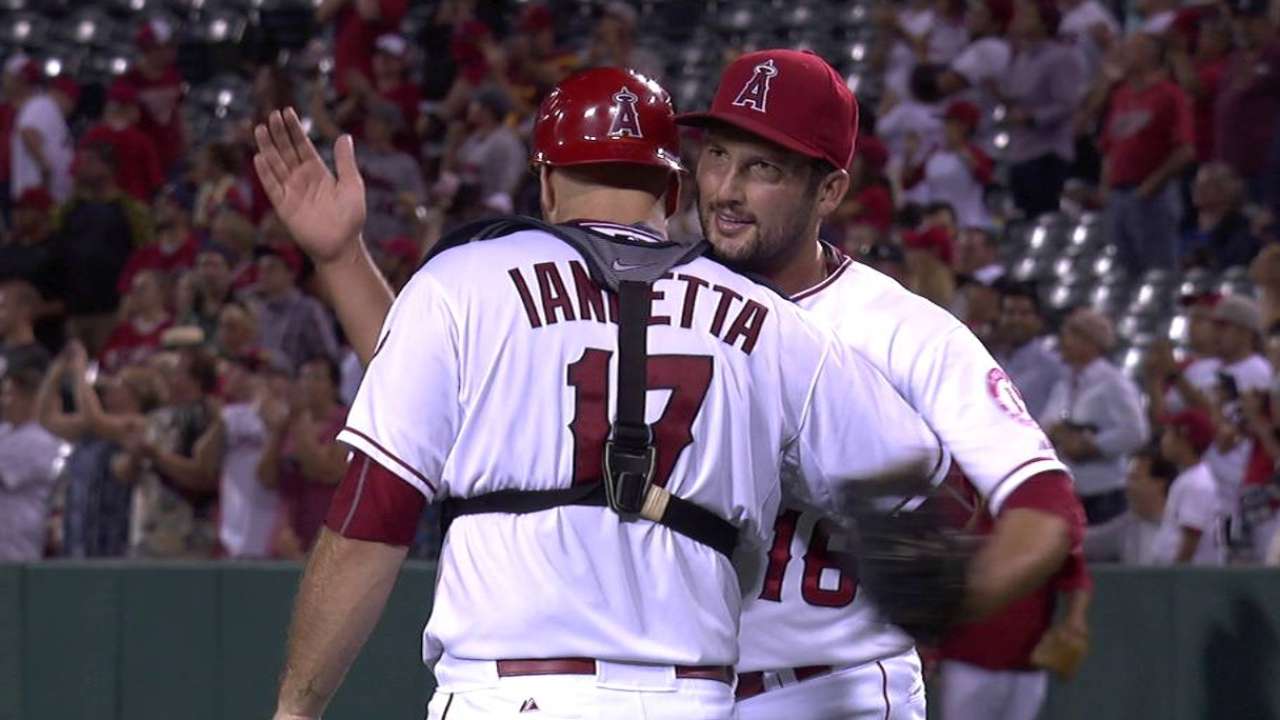 • In the Athletics' 4-3 win over the Blue Jays, Billy Burns nabbed his 20th steal of the season. Burns -- who also collected two hits and is batting .307 for the year -- is the 18th rookie for the franchise to have at least 20 steals. Among the first 17, four of them also finished the year batting at least .300: Stuffy McInnis (.321 with 23 steals in 1911), Mitchell Page (.307 with 42 in 1977), Home Run Baker (.305 with 20 in 1909) and Jemile Weeks (.303 with 22 in 2011).
Milestone watch for Thursday
• Ervin Santana is scheduled to make his 300th start on Thursday against the Angels (he made 233 starts for that franchise). He'll be one of 329 pitchers with 300, and will be the sixth Dominican-born hurler with at least that many (joining Juan Marichal, Joaquin Andujar, Pedro Astacio, Pedro Martinez and Bartolo Colon).
• Albert Pujols is one homer shy of 30 for 2015, a mark that will give him his 13th season with 30 or more homers. With 13 such seasons, he will tie Babe Ruth and Mike Schmidt for the fourth most all time.
Roger Schlueter is a contributor to MLB.com. This story was not subject to the approval of Major League Baseball or its clubs.