Manfred suggests Trade Deadline could be moved back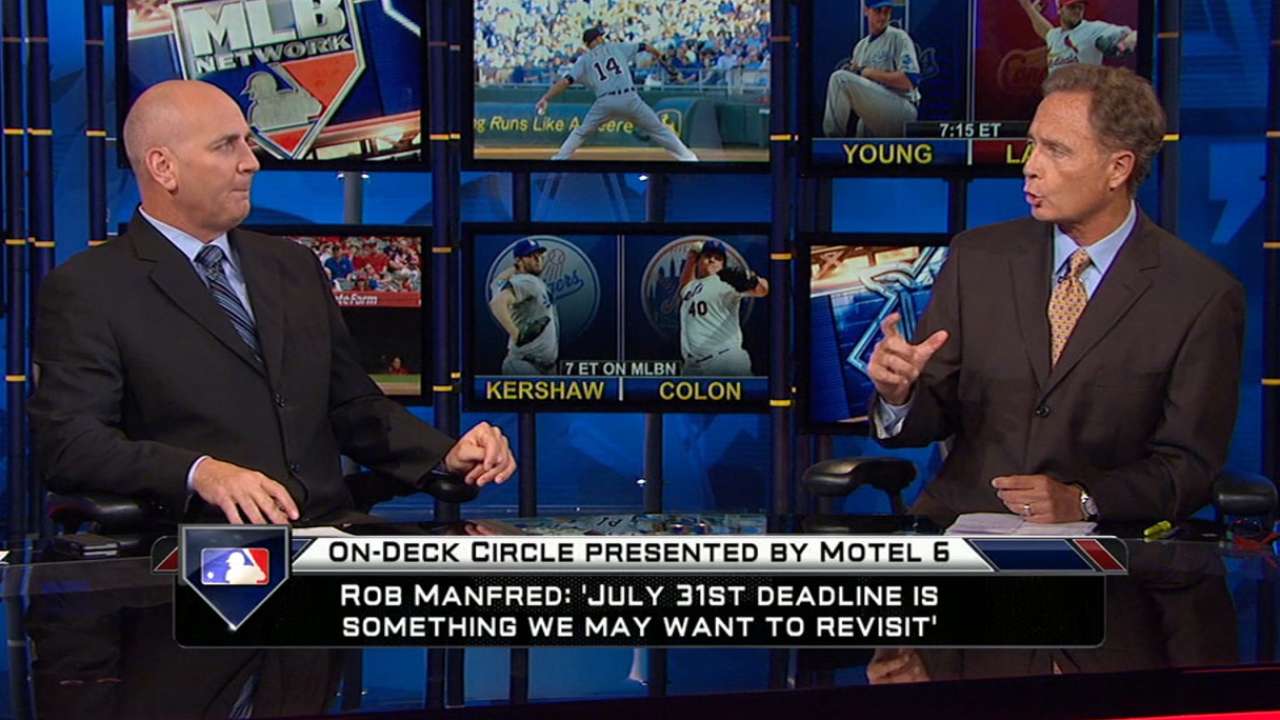 Since becoming Commissioner in January, Rob Manfred has demonstrated a willingness to at least consider almost anything. Now on the table, perhaps: Moving back the non-waiver Trade Deadline.
"I think that the July 31 Deadline is something that we may want to revisit in the context of the revised playoff format," Manfred said to the Associated Press on Wednesday in Newark, N.J. "Obviously when you have two additional opportunities to be in the playoffs, you have more teams in the hunt and they may want to wait a little longer before they make decisions.
"On the other hand, you've got to remember, we want teams that the core of which have been together for the year playing in the postseason. So you have to just balance those two issues, I think."
Major League Baseball added a second Wild Card team in each league in 2012. That has resulted in more teams staying in contention deeper into the schedule.
Until 1986, the Trade Deadline was June 15.
Manfred made his remarks before taking part in a panel discussion at the "Beyond Sport United Program," along with Billy Bean, MLB's ambassador for inclusion.
According to the AP report, Manfred also said he would like to see exhibition games in Cuba next spring and hopes there will be a more normalized process for Cubans to play in North America but also be able to return home. He added that he still intends to meet with suspended all-time hits leader Pete Rose this summer.
Paul Hagen is a reporter for MLB.com. This story was not subject to the approval of Major League Baseball or its clubs.