Rays' Ramirez sees reversal of fortune
Righty experiencing vast improvement after moving past early-season struggles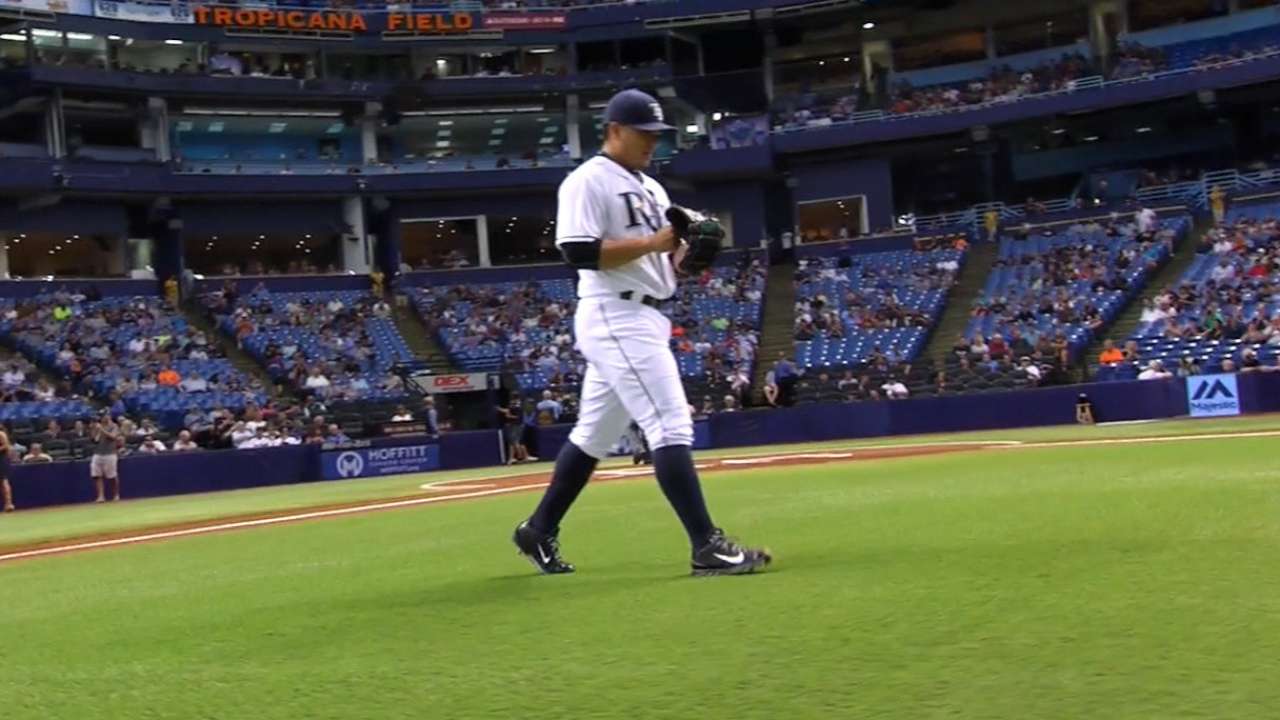 ST. PETERSBURG -- Erasmo Ramirez has become the Rays' model of consistency over the past three months, but back in April, it seemed unlikely that that title would ever be synonymous with the right-handed pitcher.
Acquired from the Mariners on March 31, for then-Minor Leaguer Mike Montgomery, Ramirez's first impression with the Rays did not go as planned, surrendering seven runs in two innings of relief on April 10 at Miami.
Five days later, Ramirez made his first start for Tampa Bay against Toronto and allowed nine runs -- eight earned -- on nine hits over 3 1/3 innings in a losing effort. Just two games in, it seemed as if the 25-year-old right-hander was destined for a season much like his past two in Seattle, where he went a combined 6-9 with a 5.14 ERA.
"It couldn't have gone much worse," Rays manager Kevin Cash joked.
Flip the calendar three months forward, and there stood Ramirez on the hill inside the Rogers Centre again, this time for the first start of the second half of a season that seemed improbable after his last visit.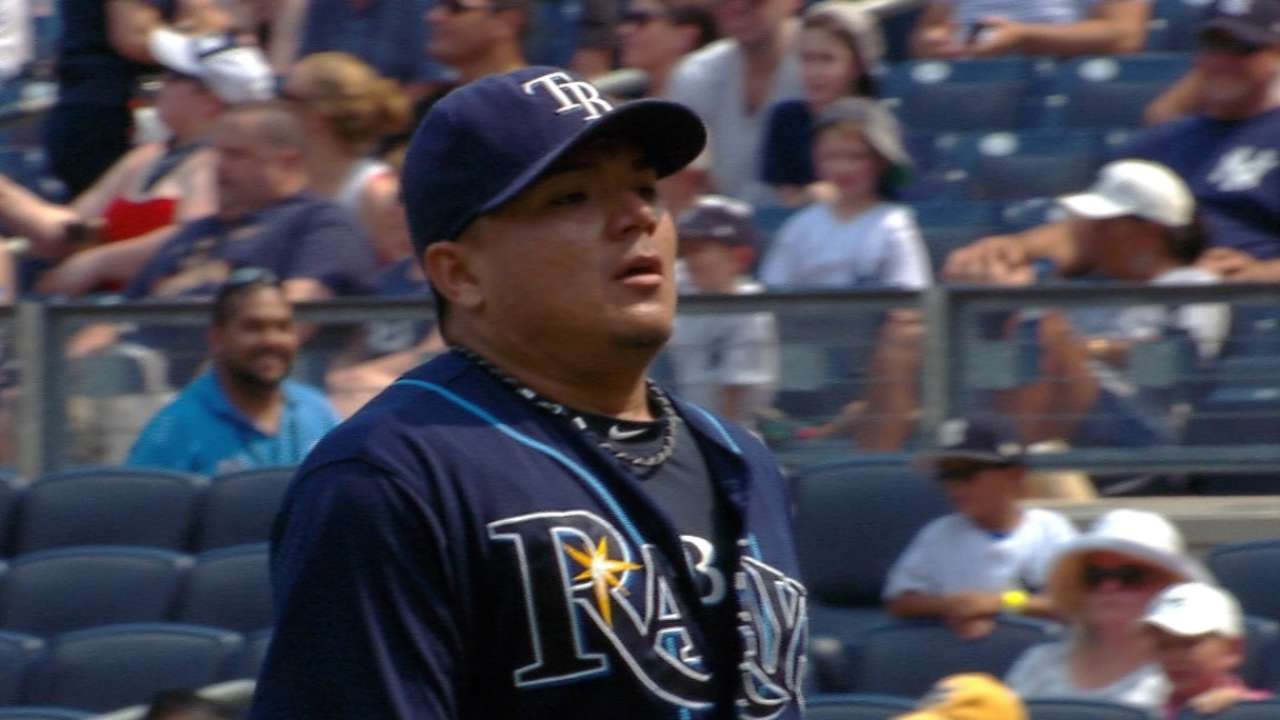 The start was one that included a surprisingly early exit for Ramirez after tossing just 65 pitches in 4 2/3 innings while allowing just one run. But nonetheless, it was more of the same of what Tampa Bay had seen over his past 12 starts, extending his streak of allowing two runs or fewer to nine straight starts -- tied for the second-longest streak in franchise history.
"At that time I was trying to just execute pitches, trying to show whatever I've got to the team," said Ramirez about his go-around with the Blue Jays. "The guy who is going to throw right now is a guy who cares about keeping the ball down, keeping the ball in play inside the ballpark, a guy who is going to be aggressive to any hitter no matter who is the hitter, righty or lefty, a guy who just believes in himself and is going to do what he has to do."
The turnaround that has since seen Ramirez stand atop the American League in ERA, opponent batting average and WHIP since April 19 may be in large part due to the time he spent as a member of the Rays' bullpen after that shellacking in Toronto.
Over the span of 14 innings, 10 of which came in relief, Ramirez allowed just three runs, dropping his ERA from 25.31 to 8.38 by May 11.
"I think when he got to the bullpen, he simplified some things and was able to kind of stick that back into the rotation when he got the opportunity," Cash said. "Since then, he has definitely made the most of it."
Ramirez's opportunity to pitch again in Tampa Bay's rotation came on May 14 after left-hander Drew Smyly landed on the 60-day disabled list with a torn labrum. Ramirez delivered his first win of the season after tossing five scoreless innings against the Yankees.
Since then, Ramirez, who is one of 14 players in Major League history to be born in Nicaragua, has definitely turned into a model of consistency. In 12 starts since being reinserted into the rotation, he is 8-2, which is tied for the most wins in the Major Leagues over that span.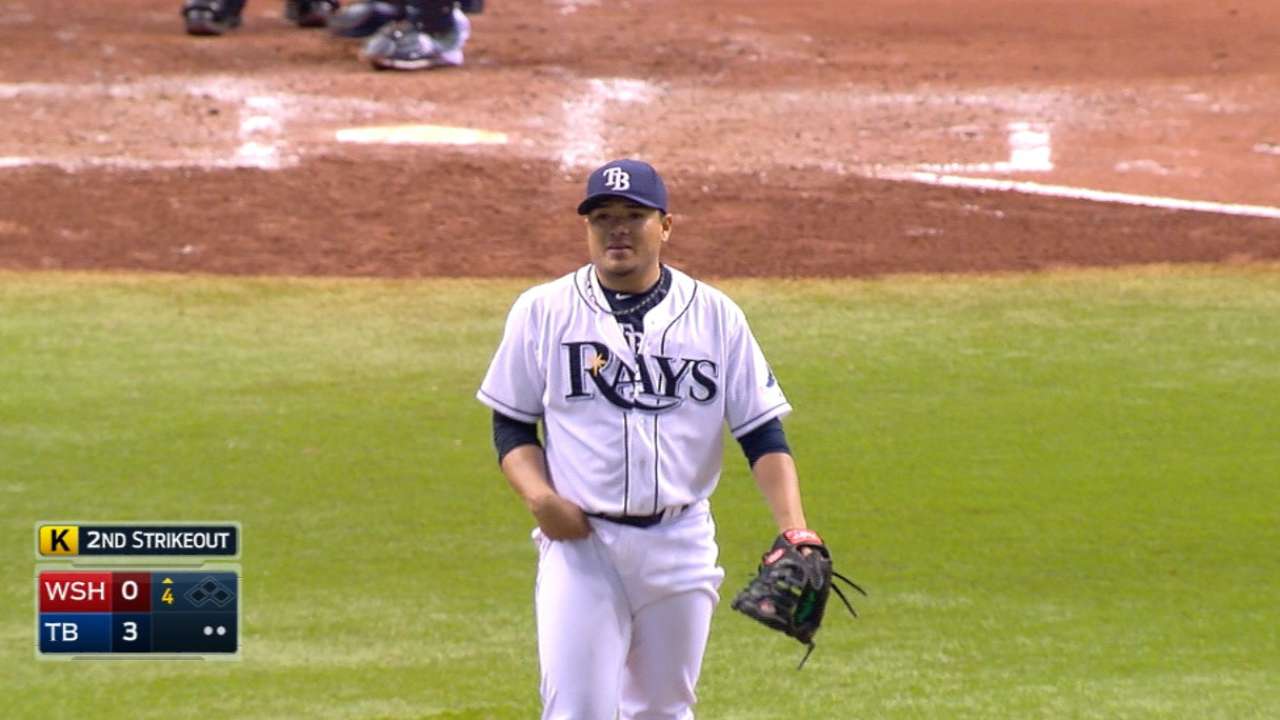 Ramirez headed into the All-Star break with eight wins, the most by a Rays pitcher in his first season after being acquired via trade.
"Back in April, we didn't really know what to expect, in fairness, probably just because of his first two starts -- there was a lot of uncertainty there," Cash said. "But he does give us a lot of confidence there, and it helps us because he has been so consistent."
In between those two trips north of the border, Ramirez has become everything a wounded rotation has needed, as well as transformed his season into one that breeds confidence heading forward.
"It's been the best season of my career so far," Ramirez said. "To get to this point, I feel like I don't have to stop. I just have to continue doing what I've been doing, no matter what happens."
Troy Provost-Heron is an associate reporter for MLB.com. This story was not subject to the approval of Major League Baseball or its clubs.