Frazier among 10 top prospect performers Wednesday
Indians No. 2 prospect homers for Hillcats and extends his hitting streak to 11 games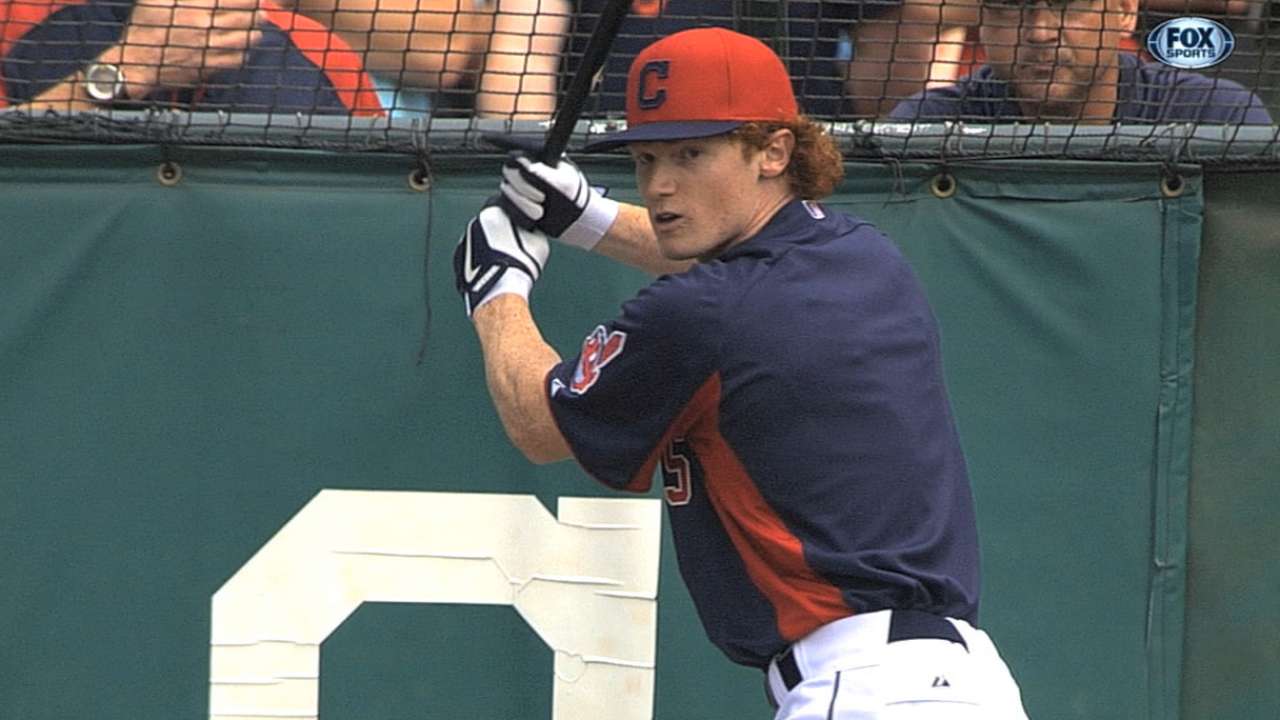 Indians No. 2 prospect Clint Frazier and No. 27 prospect Nellie Rodriguez put on a home run derby early in Class A Advanced Lynchburg's 10-4 win over Myrtle Beach.
The pair combined for three bombs in the first four innings, part of a franchise-record five homers for the Hillcats. Rodriguez, who finished 2-for-4 with a walk, went deep in the first and third innings, while Frazier, who went 2-for-5, added a three-run blast in the fourth.
Frazier, baseball's No. 41 overall prospect, extended his hitting streak to 11 games, during which he is batting .475 (19-for-40) with three homers and six RBIs for Lynchburg.
"I'm just having a positive mind-set," he told MiLB.com. "Going up there, trying to visualize base hits before I step into the box. Just going up there and trying to have fun. That's the biggest thing. It's a game and I'm trying to play it like I did when I was in T-ball."
Rodriguez, meanwhile, has hit in nine of his past 10 games, a stretch that's included five homers and nine RBIs. Frazier and Lynchburg's first baseman provide quite the back-to-back punch.
"Having Nelly behind you is awesome," Frazier told MiLB.com. "He's such a threat at the plate. Having a group of guys, it leads to a lot of runs and a lot of home runs as well. We have a very talented team."
The rest of the 10 best performances from top Minor Leaguers
• Angels No. 25 prospect Kody Eaves led the Class-A Inland Empire 66ers to a 7-4 win over High Desert with a trio of home runs. Eaves went 3-for-5 with three home runs and six RBIs in the win. All three blasts came off High Desert's twin pitchers, David and Ryan Ledbetter. Wednesday marked Eaves' first multi-homer game of the year and he's hitting .251/.314/.387 with nine homers and 47 RBIs. "It was awesome," Eaves told MiLB.com. "It was a good experience, I put good swings on the ball and just -- I can't even explain it -- it was fun."
• Brewers fourth-round pick Demi Orimoloye continued a torrid stretch for the organization's Arizona League squad, hitting two homers and collecting seven RBIs in a 10-5 win over the AZL Dodgers on Wednesday night. The African-born Canadian outfielder finished 3-for-4 and has hit in eight straight contests and has collected three homers and 10 RBIs in the past two games. Just 18 years old, he started hot with five hits in his first two professional games and has amassed five roundtrippers and 17 RBIs in 15 games.
• Padres No. 13 prospect Alex Dickerson was perfect at the plate Wednesday, going 5-for-5 with a double and three RBIs for Triple-A El Paso. The performance emphatically ended a four-game hitless streak (0-for-9) and got Dickerson back above .300 after dipping below that mark for the first time since June 5. The 25-year-old outfielder currently sports a .308/.385/.497 line with seven jacks and 52 RBIs.
• Rangers No. 6 prospect (No. 97 overall) Lewis Brinson collected his fourth homer of the month for Class A Advanced High Desert as the Mavericks fell to Inland Empire, 7-4. Brinson has hit in six of his past seven games and is hitting .307/.395/.566 with 17 doubles, three triples, 10 homers and 33 RBIs this season. The outfielder has also swiped 10 bases for the Mavs.
• Reds No. 1 prospect (No. 17 overall) Robert Stephenson rebounded in a huge way for Triple-A Louisville. The right-hander allowed just two hits while striking out five in six shutout innings against Columbus -- this after giving up six earned runs in five innings against Scranton/Wilkes-Barre on July 16. That rough start was a bit of a surprise given that Stephenson began his Triple-A career 2-0 and allowed just two earned runs in 11 total innings between July 3 and July 8. He improved to 3-0 and cut his ERA from 4.50 to 3.27 on Wednesday.
• Royals No. 1 prospect (No. 31 overall) Raul A. Mondesi ripped his first home run in more than a month for Double-A Northwest Arkansas. The shorstop missed roughly two weeks between late June and early July because of a lingering back issue. Mondesi still has not had a multi-hit game since June 19 and he's hitting .247/.280/.399 with five homers and 25 RBIs on the year.
• Twins No. 12 prospect Adam Brett Walker capped off a six-run comeback for Double-A Chattanooga with his Minor League leading 26th home run. Trailing 7-1 entering the seventh inning, the Lookouts made it 7-6 with a series of big hits. That's when Walker stepped to the plate and did what he does best. He connected on a deep shot to left-center to make it 8-7 and the Lookouts held on for a memorable win. Walker finished 2-for-4 with three RBIs and has 82 RBIs on the year.
• Yankees No. 4 prospect Greg Bird delivered three RBIs for Triple-A Scranton/Wilkes-Barre, thanks to a solo homer and two-run double that helped the RailRiders take down Indianapolis, 10-5. The blast was his third at the Triple-A level this season and he's sporting a .317/.386/.508 line with 11 RBIs through 16 games. Selected in the fifth round of the 2011 Draft, Bird has a shot to match or top career highs in home runs (20) and RBIs (84) this year, both of which he set in 2013 at Class A Charleston.
Alex M. Smith is a reporter for MLB.com. This story was not subject to the approval of Major League Baseball or its clubs.