MLB.com Columnist
Barry M. Bloom
Hudson talks ups, downs of 'emotional game'
Veteran Giants pitcher has dealt with illness of mother all season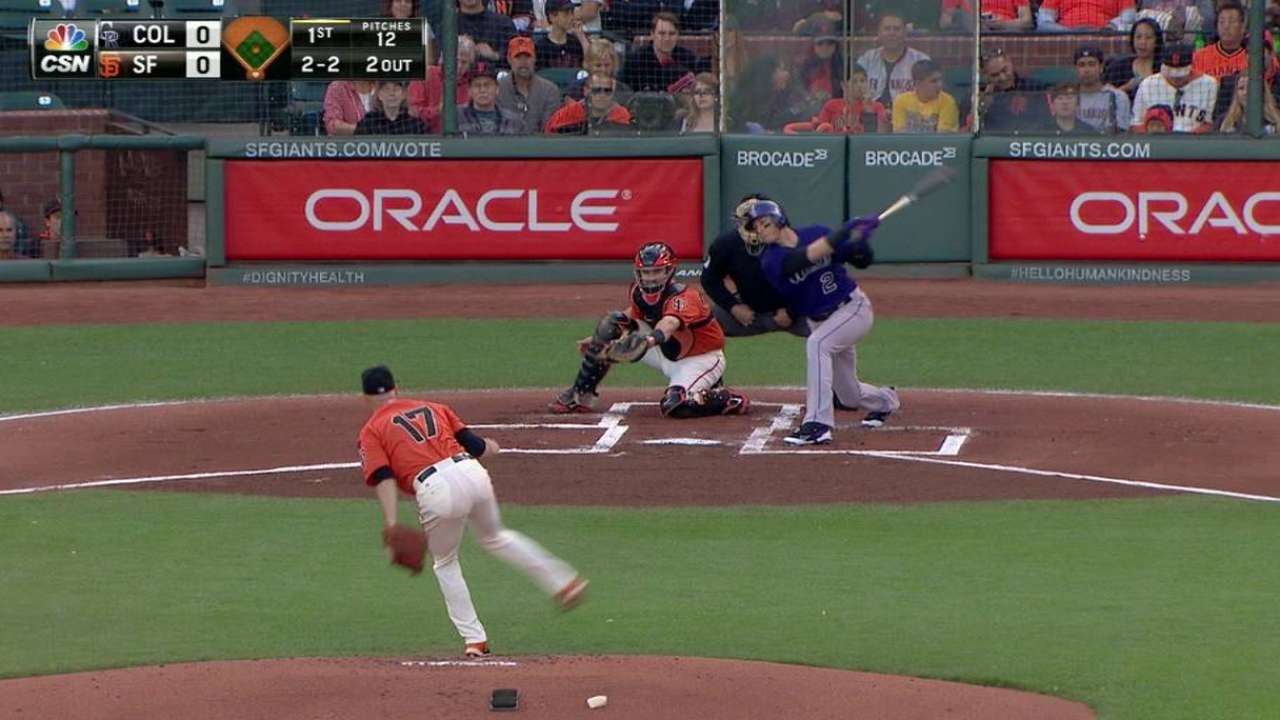 SAN DIEGO -- No one really knows what's going on behind the scenes in any person's life. To all appearances, Giants right-hander Tim Hudson is outgoing and gregarious. He's fun-loving, with a great sense of humor in a dripping southern drawl, courtesy of his hometown of Auburn, Ala.
As a pitcher, Hudson is in his sunset years. He just turned 40 and has hinted this will probably be his last season. When Hudson went on the disabled list recently, he said it was on account of a "cranky" right shoulder.
"Old-itis," Hudson called it. Funny. Glib. But that wasn't the real reason. Hudson struggled prior to the All-Star break, but primarily it was because his mother, Sue, 68, was home in Alabama suffering from acute liver disease. Sue Hudson was on a donor list, but the odds of that coming through were long.
That was the burden Hudson took to the mound, along with the wear and tear of 3,099 1/3 innings. He was getting lit up and only won two of five outings during the month of June.
"We're human, you know?" Hudson said on Tuesday, a day after his return to action in a 4-2 loss to the Padres at Petco Park. "It's such an emotional game."
It's wonderful to report that Sue had the transplant and is doing well. She has been in a rehabilitation facility for the past month, and if all continues to progress, Hudson said she may be able to go home by the end of the week.
"The timing of this was just amazing," Hudson said. "She was on the list for about two weeks and something miraculously came through for her."
Even if you're not a particularly religious person, sometimes it's hard not to believe in divine intervention. Sue Hudson was 18th on the list in her area to receive a liver.
"Divine intervention, it certainly has a hand in it," Hudson said.
She had arrived at that point because acute hepatitis, which she contracted as a child, caused continuous deterioration of her liver. She also was a heavy smoker her entire adult life.
Sue was at death's door, and the last time Hudson went home for a visit, the situation had become so dire that he was sure he'd never see her again.
"She's a very small lady," Hudson said. "And the liver was so small, nobody above her on the list could use it. It has to be a certain size and blood type. It just came to her. She's doing good, man. She sounds better and looks better than she has in 15 years. Already! I can't believe it."
That was certainly not the case as Hudson's mom hung on the precipice in early May. On May 7, in a loss to the Marlins at AT&T Park, Hudson allowed 15 hits in a start for the first time in his 17-year career. He returned six days later and threw better against the Astros in Houston.
But unbeknownst to anybody outside the Giants' inner circle, Hudson made a beeline for Auburn after the Miami start and returned when his spot in the rotation came around again. Henry Schulman of the San Francisco Chronicle was the first to report it.
"I went there when she was really sick," Hudson said. "They sent her to Birmingham. She wasn't even on the list. I flew down to see her before the game in Houston. I pitched, stayed there for about four days and flew to Houston. Honestly, I didn't think I was going to see her alive again. I mean, she was really bad."
She also had to pass a myriad of health tests even to qualify for the donor list.
"I was sure they would find cancer or something else going on and they would say, 'Sorry,'" Hudson said. "But everything checked out. That blew me away."
That's when she was placed on the list. The Giants were toying with the idea of taking Hudson out of the rotation. But Hudson's bullpen experience is nil. He's made 474 appearances in his career, 473 of them starts. Instead, Hudson was placed on the 15-day disabled list to give him both a mental and a physical breather.
Hudson was with the team in Miami on June 30 when he received the call. The doctors had found a donor that met all her requirements. She was told to make haste and drive the nearly two hours from Auburn to Birmingham for surgery the next day.
Hudson quickly found a flight and left Miami. The surgery was at 3 p.m.
"The only flight we could get was in the evening," Hudson said. "We got there at about 8 o'clock. When we got there, she was just getting out of surgery."
The Giants reactivated Hudson on Monday, and certainly now his personal burden is a lot lighter. It's time to write off May and June. He's looking for a lot more consistency. If this indeed is the end of the line, Hudson has two more months to enjoy life as a ballplayer. He's just one of the guys. Always has been. A guy with a very representative 219-132 record and a 3.49 ERA.
"It's been tough," Hudson said. "You just try to compartmentalize things, put a window on it and do your job. You just try to get through it. But it's good, man, you know? It couldn't have gone any better for us."
Barry M. Bloom is a national reporter for MLB.com and writes an MLBlog, Boomskie on Baseball. Follow @boomskie on Twitter. This story was not subject to the approval of Major League Baseball or its clubs.