Crafty McHugh pitches out of trouble for win
Right-hander allows just two runs over seven strong innings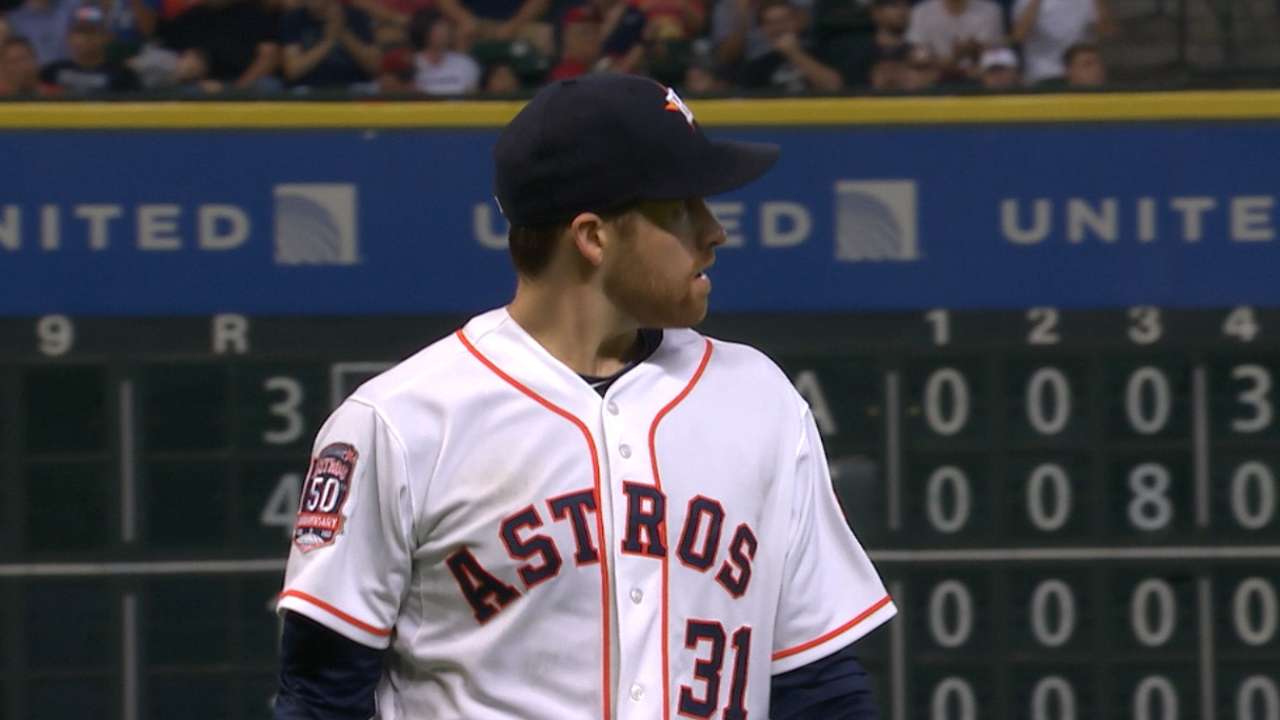 HOUSTON -- The talk surrounding the Houston pitching rotation of late centers on consistency and craftiness. Many speculate the Astros, who rely on two rookies on the back end of their revolving rotation, will grab a veteran arm before the Trade Deadline -- and arm that's seen playoff action and one versatile enough to suit any situation.
That possible addition will only buoy Collin McHugh, who's shown in his last two starts that same craftiness craved by the surprise playoff contenders. It could be the start of his familiar second half surge.
After he tiptoed around 11 singles in his last start to eke out a 3-2 victory against the Rangers, McHugh faced the go-ahead run six separate times in the sixth and seventh inning of Wednesday's 4-2 win against the Red Sox, trusting his curveball and moxie to wiggle out of the jams and preserve his 11th win of the season, matching his career high.
"The way he stepped up in this game and a couple of previous games, showed him in a nice position to get some momentum and be a strong contributor for us," said Astros manager A.J. Hinch. "When you can hand the ball to a guy that's difficult to score on, it's an advantage for us."
McHugh carried a no-hitter into the fifth inning before the hard-luck Red Sox offense finally cracked him, striking for four straight hits in the sixth to cut their deficit in half before David Ortiz stepped to the plate as the go-ahead run with no outs.
Ortiz and Alejandro De Aza sandwiched feeble fly balls around McHugh's buried third strike curveball to Hanley Ramirez to get the righty out of a major jam.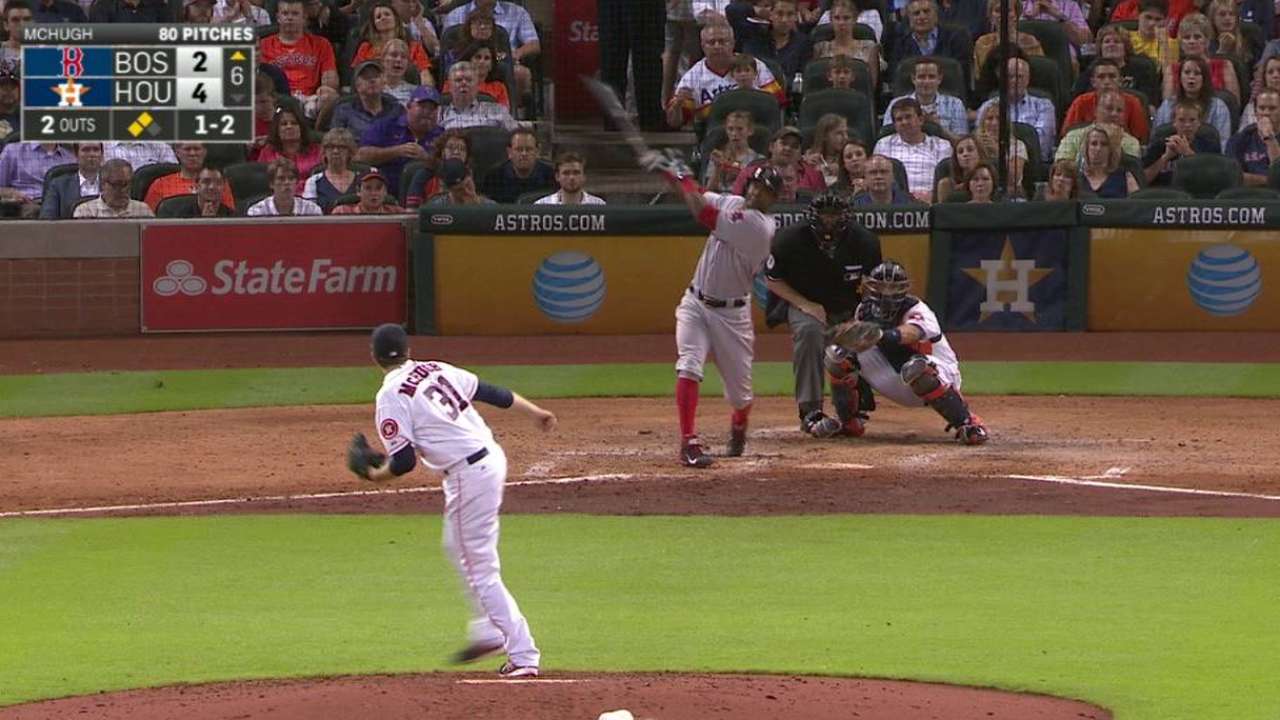 "I think it's a good matchup for me, I try to attack his weaknesses which also happen to be my strengths," McHugh said of facing Ortiz in the tight spot. "We can elevate on him a little bit, we can spin some stuff and hope he gets himself out and we were able to do that a couple times tonight."
Shane Victorino and Mike Napoli slammed back-to-back singles to open the seventh, again putting the go-ahead run at the plate with no outs. But, again, McHugh was economical, cutting down Victorino at third on a poor bunt from Blake Swihart before getting Dustin Pedroia to fly out and fanning Brock Holt with another curveball.
"He lost the feel for it a little bit, but he finished pretty strong with it," Hinch said. "It's a good pitch. Guys don't recognize it. They swing at a ball in the dirt. He's got pretty good command on it. Some of these guys are pretty good breaking-ball hitters in the zone and he made them expand to his advantage, and it was a nice game for him."
McHugh's now rattled off two straight victories after the All-Star break, setting him on a similar track to last season, when he picked up seven of his 11 wins after the break, including victories in his last five starts.
It's a trend that doesn't go unnoticed on the fourth-year pro, who reiterated his focus on simply winning the series at this juncture in his season to achieve the ultimate playoff goal.
"I take a lot of pride in finishing well, even in the Minor Leagues, the same way," McHugh said. "The first half of the season, it is what it is, but the second half is what people remember, and it's what you remember going into the offseason, so I've always tried to take a lot of pride in preparing myself really well, preparing my body well all year and being better down the stretch than I was at the beginning of the season."
Chandler Rome is an associate reporter for MLB.com. This story was not subject to the approval of Major League Baseball or its clubs.