Red Sox offense continues tough cold stretch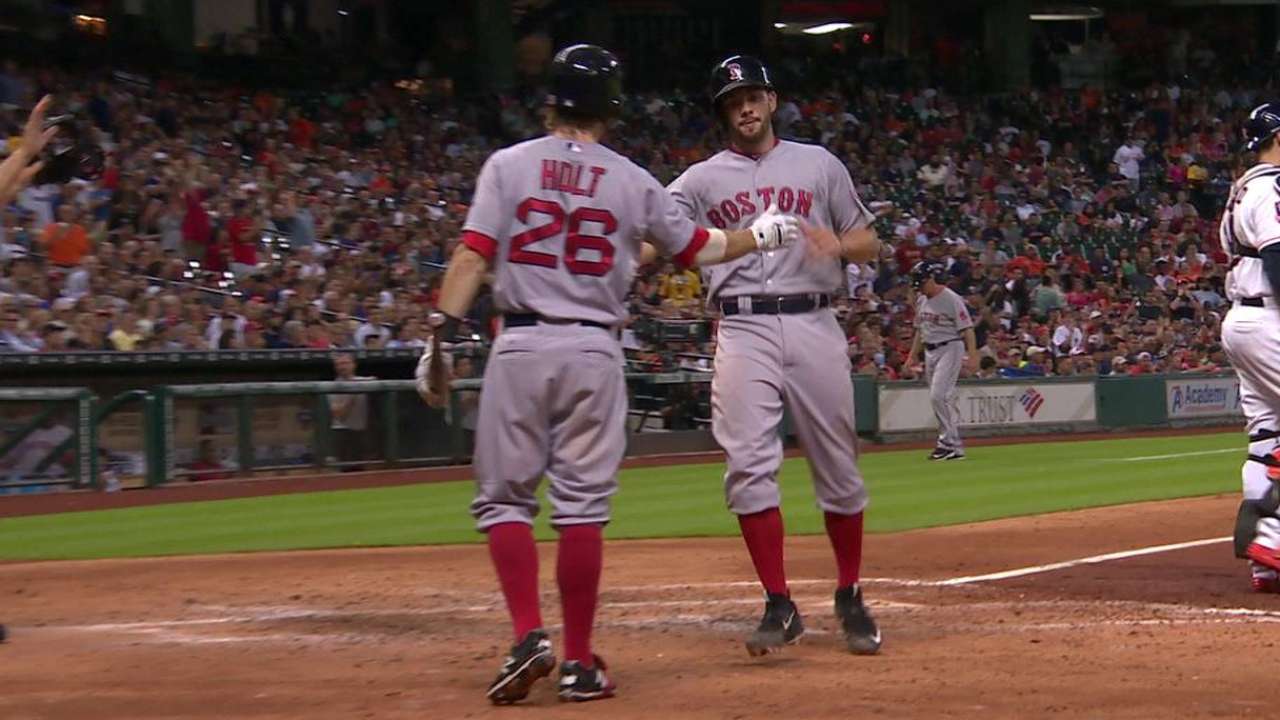 HOUSTON -- There is really no good time for an offensive slump. But the one the Red Sox are in now has come at the most inopportune time.
Needing to get hot coming out of the All-Star break, Boston has instead gone ice cold as a team -- and that's exactly the temperature of the offense.
In the last six games, all losses, the Sox have scored a total of nine runs, culminating with Wednesday's 4-2 loss to the Astros. Overall, manager John Farrell's team has lost seven in a row to fall a season-high of 11 games back in the American League East.
"We just haven't put it together," said Dustin Pedroia, who broke out of an 0-for-20 drought with a double to right-center. "That's basically it. When we get guys on, haven't been able to find a way to get 'em in. It's not like guys are pressing or anything. We've hit some balls good. I mean, our at-bats aren't bad. We just haven't found holes, haven't clicked together."
There were chances to break out of it on Wednesday. In the fifth, the Sox had runners on first and second and nobody out, and didn't score.
After slicing Houston's lead to 4-2 with a two-run rally in the sixth, the Red Sox opened the seventh with a pair of singles. But Blake Swihart couldn't get down a good bunt, and Shane Victorino was thrown out at third. The rally was stifled from there.
"I know we've been having some tough luck lately and losing a lot," said shortstop Xander Bogaerts. "It's just one swing away, and things can change."
The calendar suggests the Red Sox need to get it going -- and quickly.
"You go through a period where you don't score or things like that, yeah, it's frustrating, it's tough, but you've got to show up tomorrow and try to find a way to play better," said Pedroia. "Season's not over. We've got a lot of games left. We've got to find a way to get through this together. It's all we can do. Try to block everything out, have a good at-bat, play pitch by pitch, and that's it. That's all we can focus on."
With 67 games left, Boston has the worst record in the AL.
"I remember when Manny [Ramirez] used to say 'It's not the end of the world.' Sometimes things aren't working your way you have to keep on trying," said David Ortiz. "If things don't come your way, what can you do? Keep playing until they come your way. Everybody is trying [their hardest]."
Ian Browne is a reporter for MLB.com. This story was not subject to the approval of Major League Baseball or its clubs.